Clark County students return to classes amid a year of transition — PHOTOS
August 29, 2016 - 5:44 pm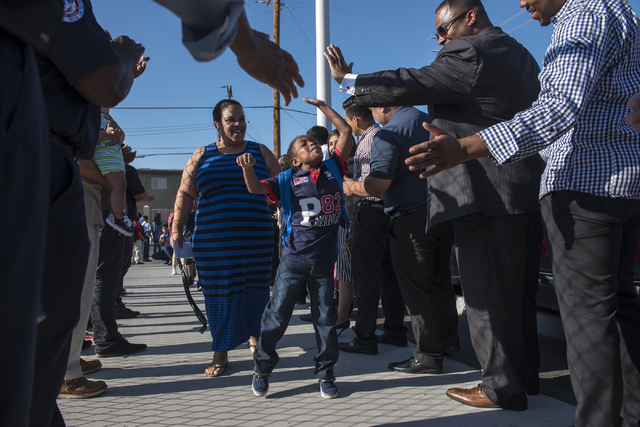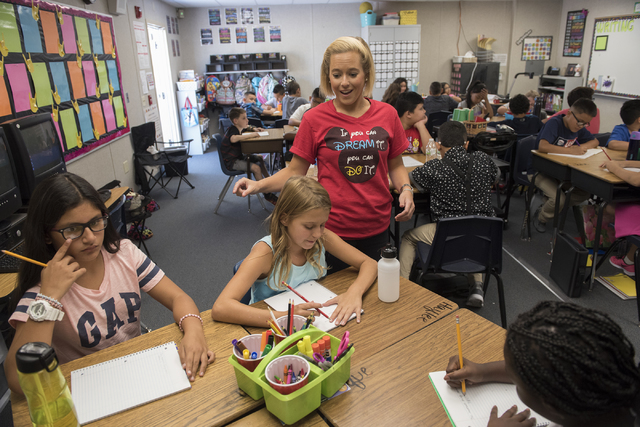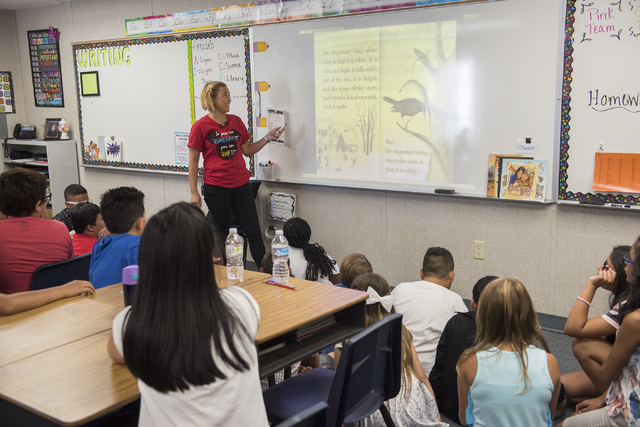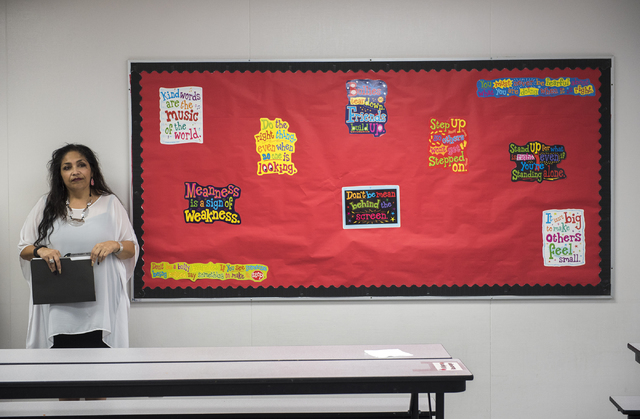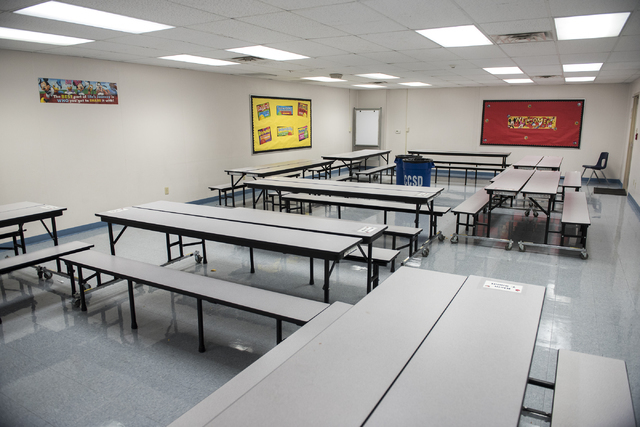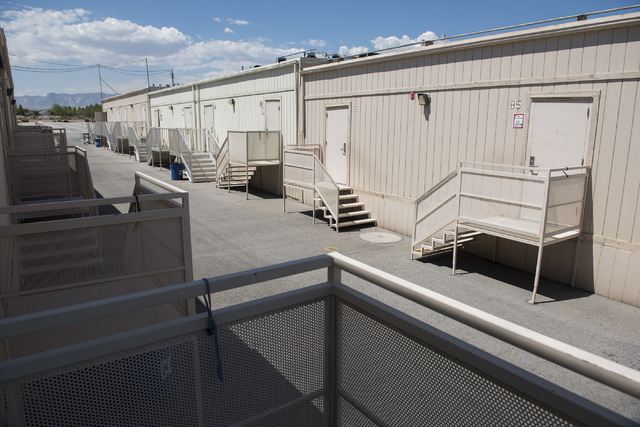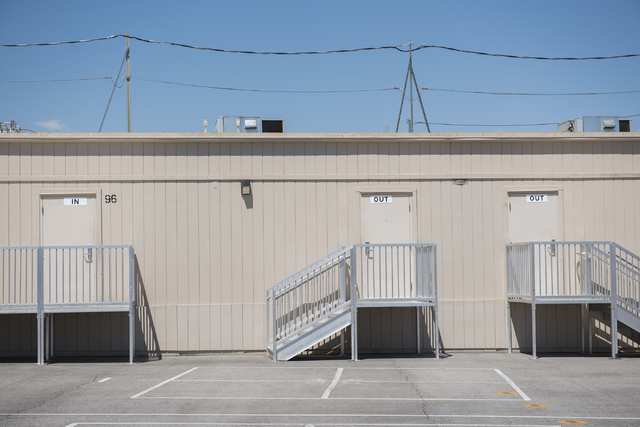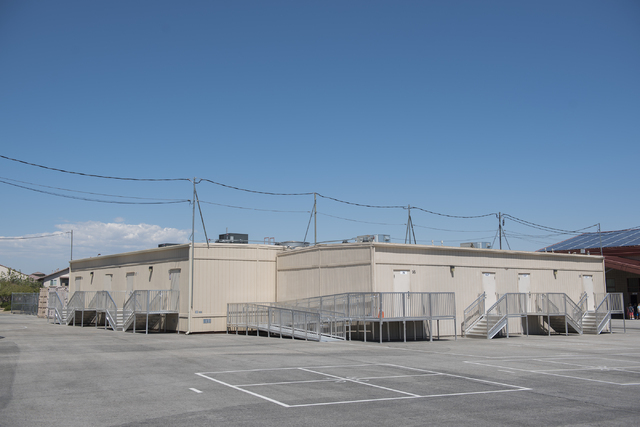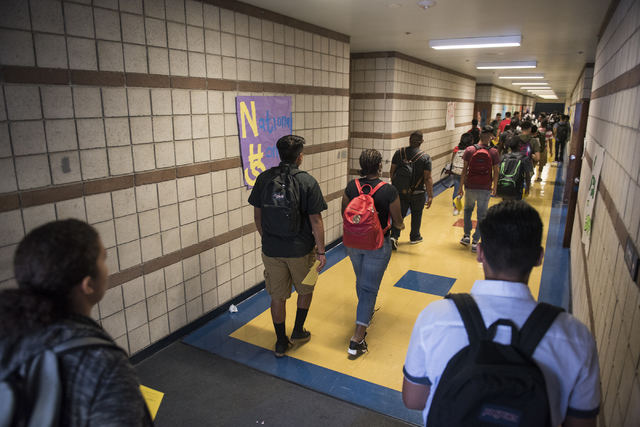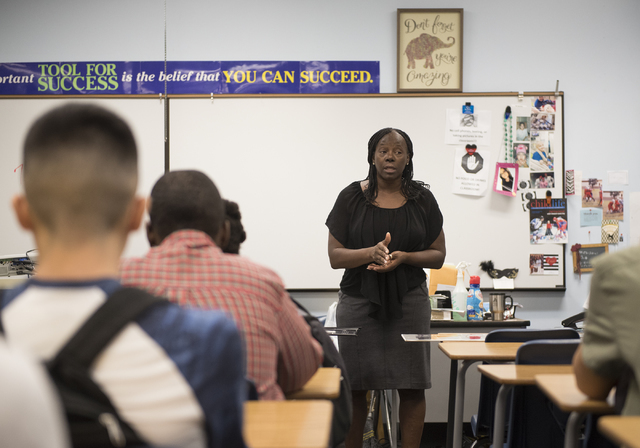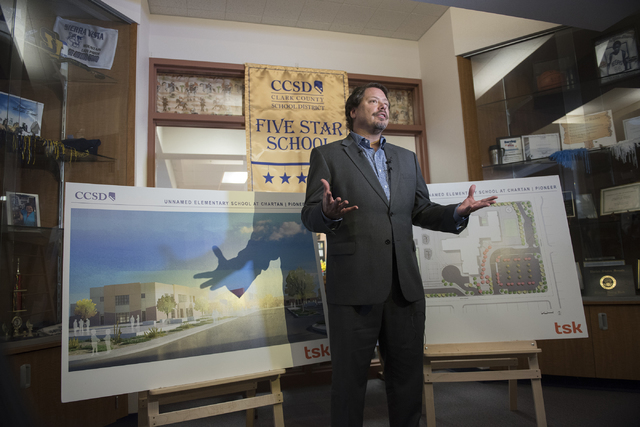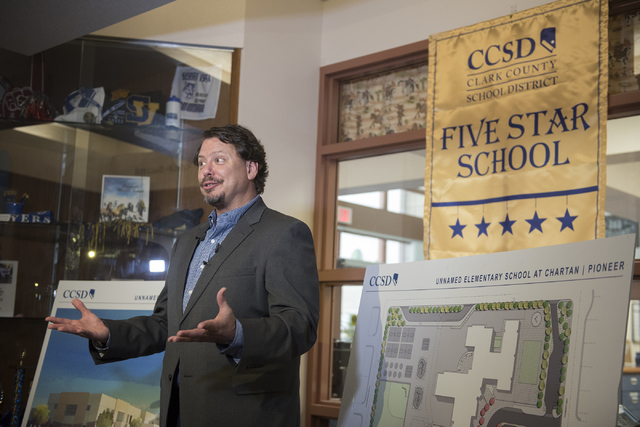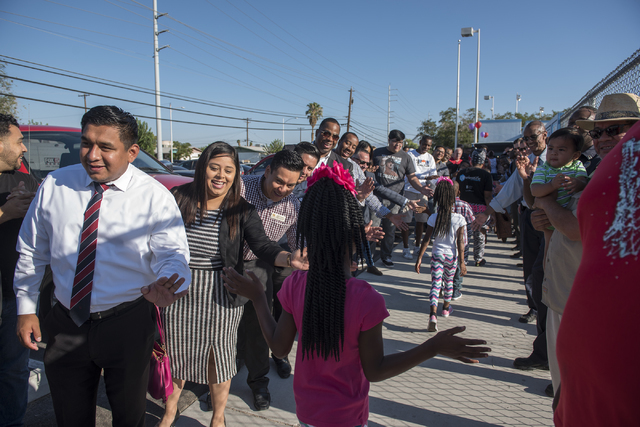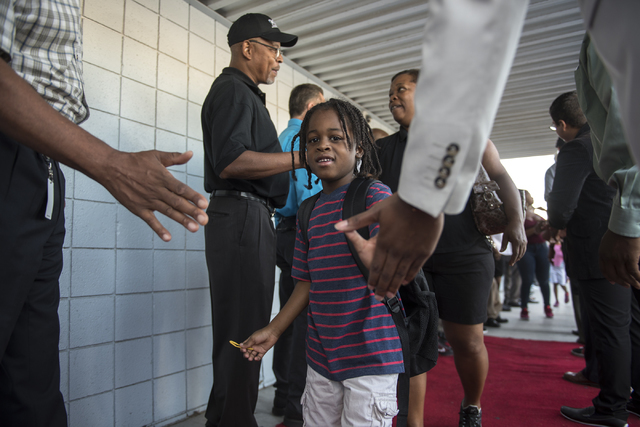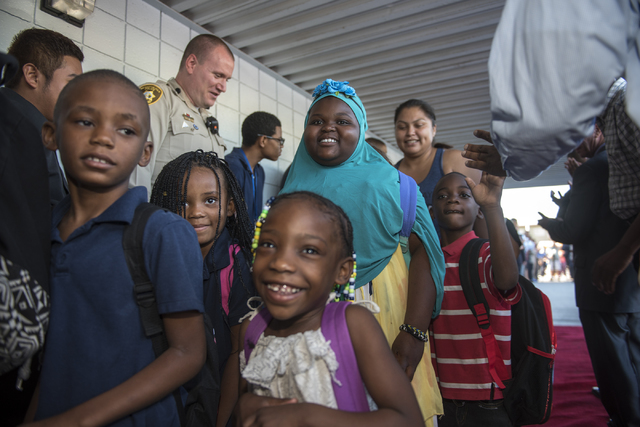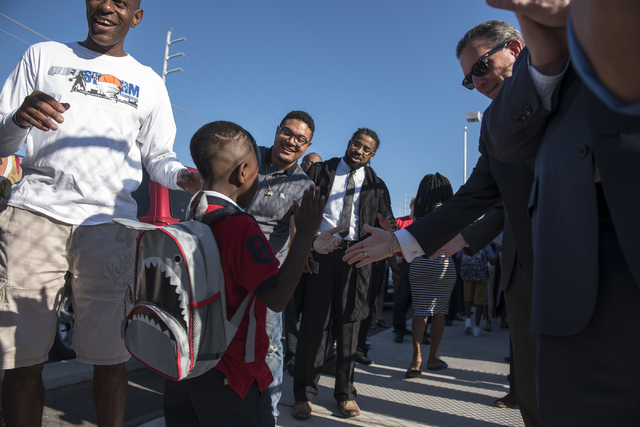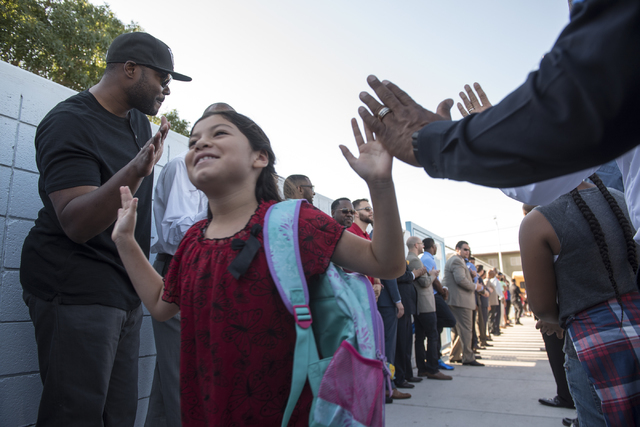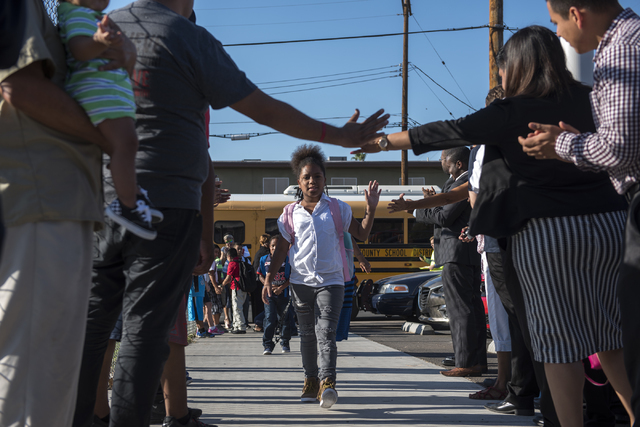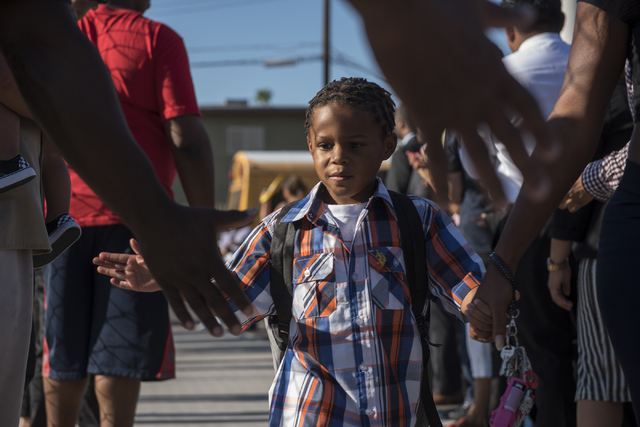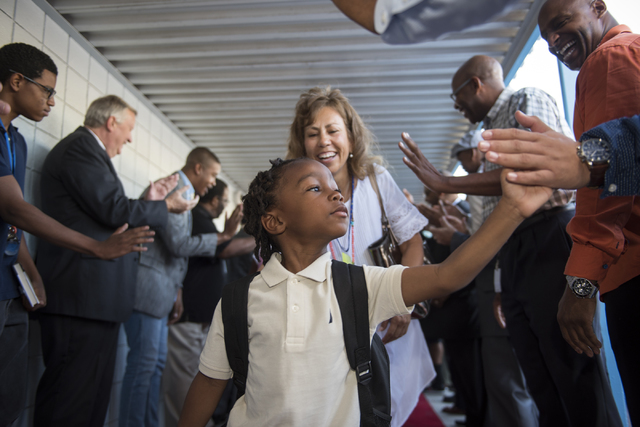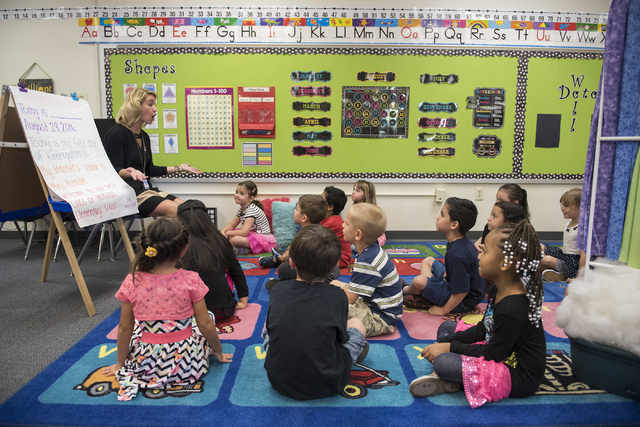 As slower speed zones and approximately 320,000 students returned to Clark County schools Monday, parents and teachers described the 2016-17 academic year as one of transition.
Early learners transitioned to a longer day of classes as the Clark County School District expanded its full-day kindergarten program to all elementary campuses. Three campuses made their debut as so-called "reinvent" schools that partner community organizations, such as UNLV and the Encore and Wynn Las Vegas resorts, with neighborhood schools to provide more resources for students.
Construction crews, meanwhile, continued working on eight new or replacement schools as some students spent the day in aging or overcrowded classrooms across the Las Vegas Valley.
Wright Elementary, near the intersection of Blue Diamond Road and Durango Drive, already exceeded capacity before the district implemented full-day kindergarten. District officials estimated about 1,300 students attend the school, almost double its intended capacity of 755 students.
"We are about 167 percent over capacity," said Principal Maribel Mcadory. "It's like having two schools in one."
Mcadory said two portables were added to school grounds to accommodate the new kindergartners and teacher, for a total of 28 portable classrooms, restrooms and one additional lunchroom.
The principal added that the opening of one elementary school southwest of Wright, slated for 2019, should provide relief to her crowded campus.
FRANCHISE SCHOOL EXPANSION
The district's franchise school model, in which one principal takes over a second or third campus, expands this year by two schools. That includes Keller Middle and Wynn Elementary schools.
Las Vegas High School principal Debbie L. Brockett will take over leadership at Keller, where she plans to get middle schoolers thinking about their college and career choices before they step foot in high schoo.
This summer, high school juniors received low ACT scores. And Keller will focus on preparing students for the college-entrance exams as early as the sixth grade.
Brockett also plans on using her high school students to mentor middle schoolers and help them build a student council program to give Keller's student body a stronger voice.
Already at their first meeting, current Las Vegas High School student council officers and Keller students began brainstorming ideas for how they could build more school pride and traditions at Keller Middle School.
Junior Zoe Johnson was assigned to mentor eighth-grader Jordan Beverly for the year. Johnson said she wished she could have had this kind of support when she was transitioning to high school and added that getting middle schoolers involved in their school would make them stand out in the future.
"People see that you are proud of your school and they think you are a good student," said Johnson, who serves as the secretary for Las Vegas High's student council.
FULL-DAY KINDERGARTEN
The first school bell rang loudly as Principal Antoinette Irby competed for the attention of dozens of students waiting to start their first day of kindergarten at McMillan Elementary, located on the corner of Lake Mead Boulevard and Tenaya Way.
McMillan mother Shanice Henry was unaware full-day kindergarten is now offered universally throughout the district.
"It's very welcome," said Henry, whose daughter Mariah celebrated her fifth birthday Sunday and joined the line of other kindergartners eager to meet their new teachers.
While Mariah attended half-day pre-kindergarten classes at McMillan last year, her cousin went to a full-day program and Henry noticed the difference.
"He already knows how to read," she said. "So this year I'm looking forward to (Mariah) learning to read and getting on the same path that he is."
A line of about two dozen students and their parents formed outside the school entrance as office workers rushed to register the children for classes.
Superintendent Pat Skorkowsky, rushing to visit another campus, noted new state rules change how per-pupil funding is distributed over the school year.
"It's never too late to register," he said. "What we do though is we calculate (attendance) based on starting the first day and taking an average over time.
"Last year we were at more than 296,000 (students) the first day. That jumped to 318,000 within 20 days, but when you take the average, that's quite a significant difference" Skorkowsky added. "We want to make sure we get every dollar we can from the state to educate kids."
DIGGING DEEPER
In the north valley, two graduation coaches prepared for a busy year at Cheyenne High School as they work with 200 seniors at risk of not earning a diploma.
That school, located on Alexander Road just west of Simmons Street, joins the district's turnaround zone and received about $750,000 to provide extra support for struggling students. Cheyenne posted a graduation rate of 67 percent for the Class of 2015, but preliminary figures for the Class of 2016 show a 10 percentage-point increase.
Graduation rates on average rise nearly 11 percent within one year of a school entering the turnaround zone and 26.6 percent after four years.
The Cheyenne coaches, Jane Gibson and Javona Underwood, said 2016-17 will be critical to help deficient students as the state transitions from high school proficiency tests to end-of-course exams.
"That's going to require them to really, you know, step up as far as attendance and their grades," Gibson said. "For this year, they need to focus on their awareness of where they're at."
Throughout the year, Cheyenne will invite successful graduates and community leaders, including judges, to share their experiences with students.
Javona said their stories play a role in encouraging students to remain in school and letting them know others have overcome challenges such as homelessness and teen pregnancy.
"It's eye-opening, because I never knew all this stuff was going on with students," Javona said. "Sometimes it's a little heart-breaking, but it's nice that they actually trust and talk to me. I just want to be able to (impact) them more and dig in a little deeper with them."
RED-CARPET TREATMENT
Other changes across the district include the removal of seven elementary schools from a shrinking number of year-round campuses. Many principals also started the school year with zero classroom vacancies, though more than 300 teaching positions remain open across the valley.
At Kelly Elementary School, students were greeted by an opening-day crowd of about 150 male volunteers, part of a Nevada Youth Network mentoring program designed to show community support for one of Clark County's most challenged schools.
A red carpet was rolled out at the school's entrance, and as the kids filed in they were high-fived and cheered from both sides by police officers, fire fighters, city officials and others.
Grandmother Sheryl Shaw took her grandson Harrison Shaw to his first day and was surprised to see how many people were outside ready to greet them.
Harrison, who's entering third grade, said the event made him feel good.
"My favorite part was the red carpet, because who doesn't like a red carpet," Harrison said.
Contact reporter Neal Morton at nmorton@reviewjournal.com or 702-383-0279. Follow @nealtmorton on Twitter. Contact reporter Rocio Hernandez at rhernandez@reviewjournal.com or 702-387-5208. Follow @rociohdz19 on Twitter.
RELATED
Southwest-area elementary schools hoping to relieve overcrowding issues
Summerlin set to see new elementary school to ease overcrowding
Northwest and North Las Vegas seeing eight new schools under construction
Henderson's charter, private school options expanding into new year
Las Vegas' east valley schools receiving Zoom School Program's focus