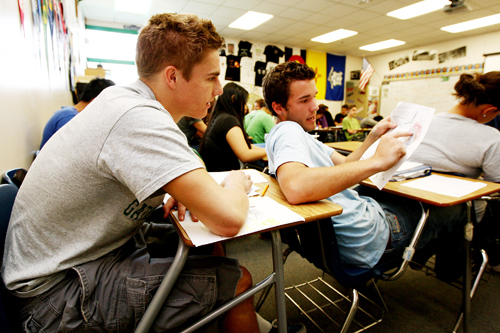 By many standards, the students in a government honors class at Green Valley High School are a politically conservative lot. Maybe it comes from the demographics of the Henderson-area school. Or, possibly, it's a sign of changing times and attitudes.
Regardless, an early April class discussion finds strong support for prayer in school, banning gays from the Boy Scouts and capital punishment, even if the accused is mentally disabled.
There is even a bumper sticker in the back of the classroom that wonders, "Where have all the hippies gone?"
When teacher Bud Beam's homework assignment was writing a law, however, many students took a more liberal approach. Deciding to address the crowding that is turning parts of their campus into a claustrophobic nightmare, they proposed federal legislation that would guarantee every student some personal space.
Like a desk in every classroom.
"It's sad that's where their mindset is, but it's cool that they're thinking," Beam said.
The honors class began the school year with 50 or more students, forcing some students to stand or to sit on the floor.
"They were sprawled out everywhere," Beam said. "I often had to go look for extra chairs."
The class has since slimmed down to the mid-40s, but one girl still sits on a table in a corner.
"Testing becomes very difficult," Beam said. "You almost hope people are absent."
In a nearby geometry class, listening to the hubbub of 41 students turning in their homework is much like hearing a flock of seagulls flapping their wings in preparation for takeoff.
"All right, everyone quiet down, please," teacher Blaine Thompson commands with the seriousness of a cop making an arrest. "Drop the conversation."
Perhaps because they sit so close together, with some desks in between aisles, students in large classes seem compelled to share. They instinctively form small groups to solve a geometry exercise they are supposed to do on their own.
"Guys, this is an individual thing," Thompson pleads in exasperation. "It's not about how much we can learn between the ten of us."
Like public schools across Clark County, Green Valley is preparing for even bigger class sizes next year. The local school board, reacting to a proposed reduction in state funding, will likely mandate even-larger class sizes at all grade levels.
At many schools, courses such as government honors already tend to be much bigger than the currently mandated average of 32. Green Valley Principal Jeff Horn tries to hit the average by keeping classes smaller for students who are struggling or not as motivated. There are exceptions; some advanced classes might have 15 or fewer students.
Horn's dilemma: If he offers a class to just a few students, another class will have to be much bigger. He expects Green Valley classes with 50 or more students won't be unusual next year.
Since he anticipates losing as many as 11 teachers, Horn will have difficult choices in trying to accommodate students as different as one in special education and the scholarship recipient headed to Harvard University.
While Green Valley has become creative in managing large class sizes, students acknowledge that quality suffers whenever resources are stretched too thin.
Student frustrations
Erin Wohletz, 18, describes herself as a liberal Democrat. She usually is not afraid to speak her mind in government honors, even though the numbers are against her.
"Mr. Beam is a good teacher, but it's almost impossible in a 55-minute class to hear from 47 different people," Wohletz said. "That's about a minute per person."
She gets particularly annoyed when class discussion stagnates.
"Somebody will say something and I want to respond to it," Wohletz said. "Then you get somebody who says, 'Oh yeah, I totally agree with that.' The point is to debate, not say the same thing over again."
Beam worries that students with contrary opinions are afraid to speak up: "If you are in the minority in a class that large, there's a bit of an intimidation."
Wohletz admits that there was a "time when I gave up a little bit and didn't want to say anything. People get really angry in that class."
Because he teaches honors students, classroom discipline is never an issue for him, Beam said, but he adds, "I don't know how you teach 45 kids in a lower-level class."
Ben Bondoc, 14, plays the violin in an orchestra class with more than 50 students. The concentration level "gets pretty bad sometimes," he said.
"The people in the front are paying attention, but farther back people are just mucking around. Sometimes they get the teacher in a really bad mood."
Teachers can also struggle when a class has students at different learning levels. More advanced students will fidget from boredom if the teacher slows down the pace to tend to students trailing behind, Horn said. And if struggling students feel a sense of futility, they will typically act out in frustration.
Jared Lee, 16, said he is often reduced to "twiddling his thumbs" when his Spanish III teacher must "stop and go over first year stuff, how to form a verb in the present tense. It's very simple stuff, but she has to go over it again and again."
Tihon Barnes, 18, said he would like to get the attention of his chemistry teacher in a class with 36 students, but "whenever I have my hand up, he's on the other side of the room."
Eric Cohee, 16, raises yet another issue: "Sometimes, you have too many people speaking over a teacher. You have no chance to listen."
Crowd Control
Some Clark County principals have cut the arts and other elective classes to keep class sizes manageable in core subjects like English, math and science.
Horn anticipates eliminating computer-assisted drafting and foreign language classes in Italian and Chinese, but won't touch band, orchestra and theater.
Those classes keep the kids coming to school, he said, and because they can accommodate so many more students at a time, they relieve pressure on other classes.
It can also be a matter of space, since theater and orchestra are taught in rooms much larger than regular classrooms.
Shelly Burger said the key to teaching orchestra with 50 plus kids is organization: "As long as I can fit them in my room, I'm OK."
Art teachers can also serve more students at a time because their workload is different than teachers of core subjects, and they're not grading as many papers.
For example, Beam said he is usually up until midnight grading homework for government honors and preparing for the next day's lesson.
In contrast, music teachers test skills that must be performed in the classroom.
"We have a very set procedure" for grading music students, Burger said.
"One kid plays his (musical) excerpt and as soon as he hits his last note, the next student begins. The band teacher is the master at this. She gets 70 students through one class period of testing skills."
Because of the space issue, Green Valley is considering offering classes in a college-style lecture hall format next year.
"Everything is on the table for consideration," Horn said.
School district officials said they will monitor for possible fire code violations but don't expect any problems next year because of increased class sizes.
Back to Class
To ease the workload on his teaching staff, Horn has returned to the classroom this semester to teach an Algebra I class. So, in addition to principal responsibilities, he is responsible for teacher duties such as updating grades, taking attendance and making himself available for parent conferences.
Horn has urged his assistant administrators to consider teaching their licensed subject areas in English and science, but knows it's a lot to ask.
He volunteered to teach 23 freshmen who didn't do well in their first semester of Algebra I. If they pass Horn's class and take their second semester over a three-week, condensed summer course, they will be on track to take geometry as sophomores and pass the math proficiency exam required for graduation.
It's a lofty goal, Horn admits, but with just 23 students he has advantages that most other Green Valley teachers don't.
For one thing, Horn is free to move about the classroom. Teachers with 40 or more students are usually frozen in place.
While a student in a larger class is observed sleeping through his teacher's lecture in early April, Horn gets after students if they're suspected of chewing gum.
He also is effusive in his praise.
"Dude," he tells one student, "you're the bomb again. Good job."
Students in his class are maintaining a C average with a few Bs and As.
Dennis Jarquin, 15, gives Horn some credit: "He's so focused on his students."
But Jarquin's previous experience with Algebra I?
"Horrible," he said. "I couldn't get help."
Contact reporter James Haug at jhaug@reviewjournal.com or 702-374-7917.
Editor's note: Gov. Brian Sandoval's proposed budget promises major funding cuts for public schools and higher education, and Nevada's education leaders are scrambling to figure out how to get by with fewer employees and programs. During the next three weeks, a multipart Review-Journal series will take a closer look at those cuts and how education officials plan to deal with them.
AHEAD THIS WEEK:
TUESDAY — With less money and fewer teaching positions, individual principals must decide which elective classes will be eliminated and which will survive.
WEDNESDAY — The 50 percent cut in money for textbooks and school supplies will save some jobs but may leave some schools looking for donations.