CSN Foundation's gala makes dreams come true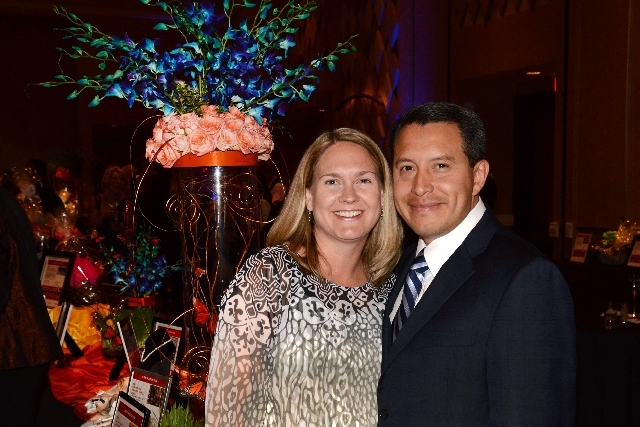 The theme for the seventh annual Legacy of Achievement Gala held at the Rio was "Touching Tomorrow, Transforming Lives" and that is exactly what the more than $375,000 that was raised will do. Seamlessly orchestrated by the College of Southern Nevada Foundation and volunteers, this major fundraising dinner brought together more than 500 community partners, faculty members and scholarship recipients to celebrate student success and recognize community leaders.
The Foundation presented Legacy of Achievement Awards to Freeman, Hussmann Corp., NV Energy and the Las Vegas Hospitality Association. Recipients were selected in recognition of their professional achievements, civic endeavors and support to CSN.
Two outstanding faculty members also were recognized: Dennis Soukup and Joseph Quagliano. Soukup is the department chair of applied technologies and has been teaching at CSN since 2004. Professor Quagliano teaches in CSN's exemplary accredited Food and Beverage Management program. He has worked and taught in the hospitality industry for more than a half century.
Launched in 2007 to raise funds for much needed student scholarships, the Legacy Gala highlights the significance a financial award can make to a student's success. In addition, the 2013 event shined a light on the CSN Disabilities Resource Center and its role in helping students with disabilities secure access to the support needed to succeed at the college.
The true significance of the scholarship fundraising event came when entertainer Jennifer Lier sang "Believe" and five outstanding CSN scholarship recipients were introduced along with video depicting how their lives were greatly impacted by the scholarship and access support each received.
n Ben Jantzen received the MGM Mirage-Hites Education Endowment Fund scholarship. A CSN honors graduate, his goal is to earn a law degree.
n Jessica Jones, a recipient of the Cardenas Markets Endowed Scholarship and the Ralph and Betty Engelstad Scholarship, is enrolled in the CSN registered nursing program.
n James Martin received a scholarship from the Southern Nevada Retired Teachers' Association. He is pursuing a degree in special education.
n Edward Shelley is a psychology major who received Cardenas Markets and the Southwest Gas Endowed scholarships.
n Alexis Sutton is the recipient of the Gap Skills of America's Future Program Scholarship and is working toward a degree in business management.
Following introduction of the 2013 outstanding students, members of the Las Vegas Hospitality Association pledged $10,000 in new scholarship matching funds and CSN Foundation Chair Peter O'Neill announced a new scholarship endowment from Kenneth Goodrich pledging $100,000 to support CSN's School of Advanced and Applied Technologies HVAC program.
CSN is Nevada's largest and most ethnically diverse publically funded higher education institution. CSN offers more than 200 degree and certificate options in more than 130 areas of study, including 25 degree and certificate programs available entirely online.