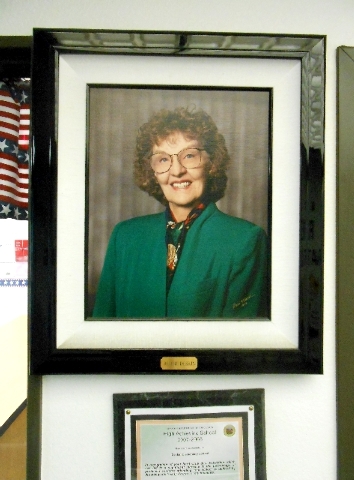 Ruthe Deskin Elementary School, 4550 N. Pioneer Way, is named for a journalist who had a big impact on Southern Nevada.
Deskin was born on Feb. 20, 1916, in Yerington, a sagebrush town in Western Nevada originally known as Pizen Switch. Her parents were Jim Goldsworthy, a mining engineer, and Viola West.
Deskin graduated from the University of Nevada, Reno, where she studied journalism and worked on the Nevada Sagebrush, the school newspaper. Upon graduation, she worked for the Reno Evening Gazette and became its women's editor. She married Jim Deskin, and they moved to Las Vegas in 1950.
She worked at KENO 1460 AM, a sports/talk radio station, for four years before joining the Las Vegas Sun as assistant to publisher Hank Greenspun. She worked for the Sun for 50 years. While handling a plethora of administrative duties, she also wrote columns, sometimes using a pen name. Her columns championed the rights of women, children, seniors and those who were neglected and abused.
In 1954 Deskin was president of the Las Vegas Press Club. According to her oral history with National Public Radio affliliate KNPR, she was at the Sahara, supervising the rehearsal of a skit for the club's event at the Branding Iron Club. Howard Hughes came in with a bevy of giggling young women and stayed to watch. The group made a lot of noise, and Deskin suggested that someone ask them to leave. But no one wanted to stand up to Hughes. Undeterred, Deskin confronted him herself.
A year later, she was instrumental in starting the Sun Youth Forum, an annual full-day discussion program involving high school students. She also helped found Child Haven, Clark County's home for children in at-risk conditions, as well as the Sun Camp Fund for underprivileged children.
Deskin was a member of the Child Welfare Advisory Board and served as director of the Spring Mountain Youth Camp. In 1984 she was honored by the Nevada Press Association with its top award, the Silver Makeup Rule. She was inducted into the Nevada Journalism Hall of Fame in 1998.
Her husband had his own success. Jim Deskin found his calling in boxing, not as a fighter but as a referee. He later was executive director of the Nevada State Athletic Commission.
Las Vegas Review-Journal columnist John L. Smith was a sportswriter at the Sun in the late 1970s. He said Ruthe Deskin tempered the strong personalities of her bosses, Greenspun and Mike O'Callaghan.
"She was about the nicest person you'd meet in your life … the den mother of the Sun," he said. "She'd help you if she could; she kept confidences. She was one part Mrs. Cleaver and one part bomb diffuser."
Another former employee of the Sun, Gary Thompson, now a spokesman for Caesars Entertainment, recalled Deskin as gracious, dignified and warm and said she was a fount of knowledge. He said she was also a hard worker.
"She came from a generation of people who believed in putting in a full day's work," he said. "You'd see her there late at night or early in the morning."
On Feb. 5, 1998, Deskin was interviewed on KNPR and recalled the atom bomb tests beginning. She said she watched the first one from her backyard. Her windows rattled from the blast.
"Most of the scientists were staying at the Frontier at that time," she said in that interview. "And every time there was going to be a bomb detonated, (journalist) Drew Pearson in Washington announced it in advance, and nobody could figure out how he found out because this was all top-secret stuff. And the way he found out was the head of all the bellhops. (The hotel) would get an order from the scientists to prepare lunches, and they were leaving the hotel at 4:30 in the morning, so he knew that if they were going out there at 4:30 in the morning, that that's what was going to happen, so he would alert Drew Pearson. So Drew Pearson always had the first notice of a bomb blast."
She said it was years before the devastating effects the bombs had on people upwind from the blasts were known.
"And the milk was contaminated at one time," she said. "… And yet the DOE was always telling us there was no problem, no problem. Of course, now we know that there was a problem. And I think we all had lost a lot of faith in the federal government over that."
Deskin had heart issues. She worked up until the week she died, turning in her final column well before deadline, despite admitting to feeling poorly. She died Feb. 14, 2004, at age 87.
Contact Summerlin/Summerlin South View reporter Jan Hogan at jhogan@viewnews.com or 702-387-2949.
Naming Las Vegas
The history behind the naming of various streets, parks, schools, public facilities and other landmarks in the Las Vegas Valley will continue to be explored in a series of feature stories appearing in View editions published on the first Tuesday of every month.
If you're curious about how or why something got its name, post a comment on our Facebook page, facebook.com/viewnewspapers, or email sblust@viewnews.com.
Thanks for reading View.