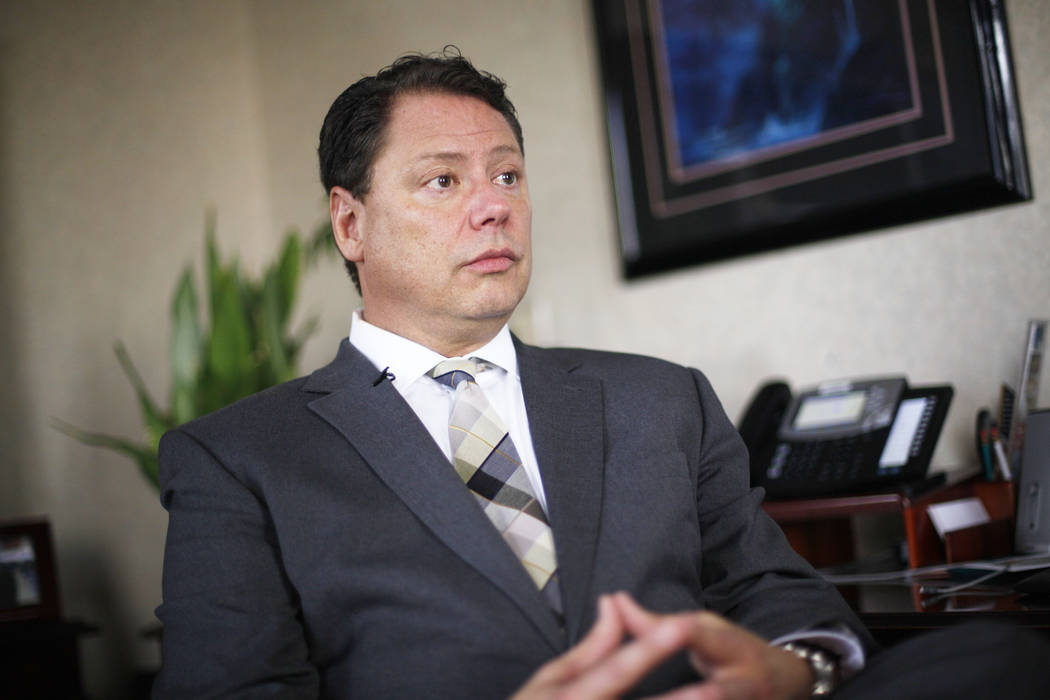 The next superintendent of the Clark County School District faces a hard job — but first the School Board must land a top-notch candidate in what promises to be a tough competition.
The hunt for the next leader of the nation's fifth-biggest school district has barely begun, but experts warn that finding a qualified superintendent is growing more challenging for a number of reasons — including a shrinking applicant pool. And the battle to attract those candidates is often competitive.
"It's a tough job, and so boards are constantly on the lookout for individuals with experience," said Dan Domenech, executive director of the American Association of School Administrators. "But here again, the individuals with experience that are doing a good job are in jobs, and not necessarily looking to move."
The confidentiality problem
The School Board will interview four search firms on Nov. 30 before deciding which company will conduct the national search for a successor to Superintendent Pat Skorkowsky, who will retire next year.
The chosen firm will bring a small number of finalists to be interviewed publicly before the board.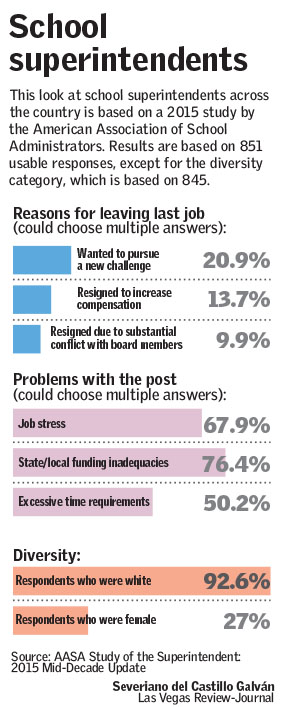 That process also can deter some of the best-qualified candidates from applying, experts say.
"The majority of the candidates that they would want — again because they would be looking for someone who is a sitting, experienced superintendent — will not chance a public meeting where the information of the candidate becomes public," Domenech said.
Encouraging confidentiality, though, can fly in the face of the public meeting law that school boards are often required to uphold.
Trustee Chris Garvey, who has met with constituents on the search, said one of their biggest concerns is having an open process.
"They want to make sure that this is a transparent process, and that the individuals that are being considered are put out there so that the public also has a chance to look at who they are," she said at a board meeting last week.
A tougher environment
Debra Hill remembers that when she began conducting superintendent searches about 17 years ago, she would often have over 100 applicants for a job.
Now, Hill — a former superintendent in Illinois and managing partner at BWP and Associates, a national education search firm — sees more like 40 to 50.
"Particularly for urban districts, that's a challenge in terms of having people who have experience in urban areas who are applying and moving to another district," she said. "If you get 30 to 40 you feel like you've made some headway."
That shrinkage of the applicant pool is largely attributable to the difficulty of an urban superintendency, Hill said.
"There was a point in time when superintendents just had to manage," she said. "Now … you have to be very financially astute, you have to be very politically astute, you have to have great communication skills. You have to know curriculum and instruction, you need to know what's the latest and what's happening in terms of student learning."
Hill said that her firm is not competing for the Clark County contract.
Domenech agrees that the number of qualified applicants is diminished.
Assistant superintendents — likely aspiring applicants — often no longer feel that the salary increase from their current post is sufficient given the responsibilities of the new job, he said. Plus, sitting superintendents are afraid of jeopardizing their current job if they apply and their name becomes public.
Board President Deanna Wright believes the job in Clark County is tougher today than 10 years ago — particularly because the superintendent has "to be everything to everybody."
But she's confident that the School Board will ultimately get to choose from four to five highly qualified applicants.
"I think the process of how we get there is going to be ultimately very, very important," she said. "I think that we're going to have to have this group really doing some serious recruiting."
Fighting turnover
The School Board will also need to find a leader who's willing to stick around for at least five years — the amount of time experts say superintendents need in order to implement real change.
Yet the average tenure of an urban superintendent is just over three years, according to a 2014 study by the Council for Great City Schools.
Since 2000, however, Clark County School District leaders have tended to stay longer than the average. When he retires in June, Skorkowsky will have served five years.
Four search firms have responded to the request for proposals. Once the district hires a search firm, it will work with both the firm and the community to define the characteristics needed in the district's next leader.
Contact Amelia Pak-Harvey at apak-harvey@reviewjournal.com or 702-383-4630. Follow @AmeliaPakHarvey on Twitter.
Urban superintendent salaries
— Michelle King, Los Angeles Unified School District: $350,000.
— Pat Skorkowsky, Clark County School District: $280,788.
— Forrest Claypool, Chicago Public Schools: $250,000.
— Tom Boasberg, Denver Public Schools: $236,220.12.
Source: School district data