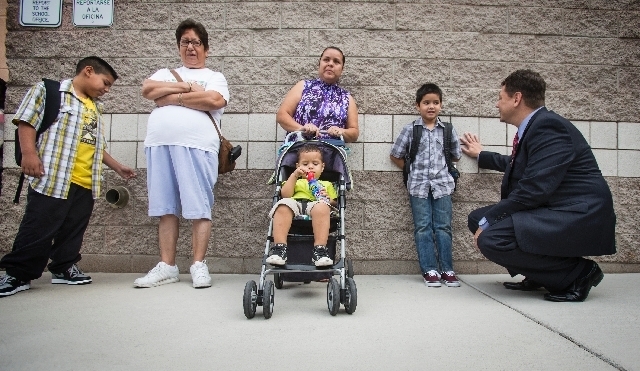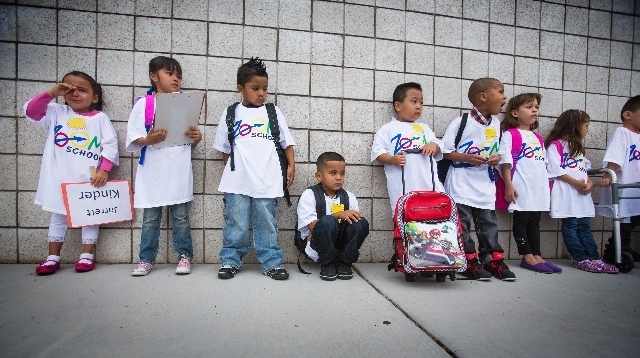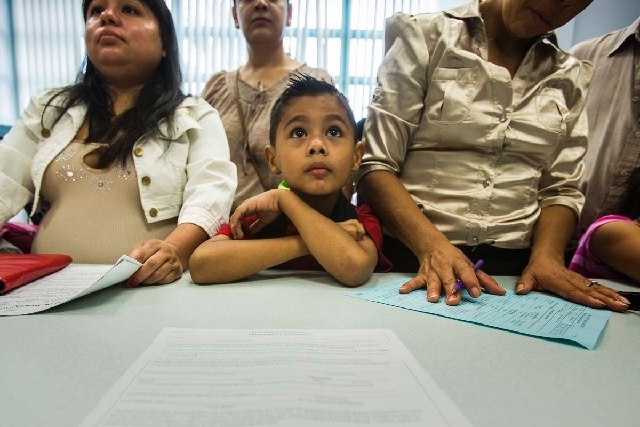 A crowd of concerned parents linger outside Cambeiro Elementary School.
Principal Pamela Simone receives word of the growing group and rushes to the door. Zig-zagging through rows of children eating breakfast, she steps outside and stands in front of the parents who dropped off their children Monday but can't seem to leave.
"We're going to take good care of them, real good care of them," she says but receives little response from the apprehensive parents who give little indication they understand her.
Many don't. One parent leans toward the principal, translating for a mother who wants to make sure her kindergartner is cared for.
First day of school. The bell hasn't even rung yet. But it's already quite clear. Cambeiro couldn't be more different from Simone's last school, Smalley Elementary School in Henderson.
Smalley is something rare in the Clark County School District. It's predominately Caucasian and serves an area with little to no poverty. At Cambeiro in east Las Vegas, 90 percent of the students are Hispanic and 98 percent qualify for free or reduced lunches. The challenge – 96 percent of students come with little to no English-speaking abilities.
Simone knew she'd be under a microscope when she took the job. State lawmakers are looking down the eyepiece, having given – for the first time in Nevada history – extra money specifically for English-learning students across the state.
The amount: $50 million.
The directive: use the money in the state's lowest-performing schools with the highest populations of English language learners. Clark County School District received $39.4 million and is putting it into 14 elementary schools over the next two school years. The schools are dubbed "zoom schools."
The plan is to provide full-day kindergarten to all students in reduced class sizes of 21 students. Many kindergarten classes were in the mid- to high 30s. Zoom schools also offer pre-kindergarten to all students, not just a handful of those testing lowest in basic skills, as was previously done. Summer school will also be free and reading skills centers will be opened.
The expectation is that students, many of whom enter kindergarten having never spoken a word of English, will catch up with their English-speaking peers. If measurable improvement isn't made, the state's first funding for English language learners could be its last.
"If successful, this could change education funding for 10 to 20 years," says Mike Barton, the district's chief student achievement officer, whose office will track student performance this year. That's easier said than done in pre-school and kindergarten, grade levels where state testing isn't conducted.
The funding needs to be expanded beyond two years, says Nevada Senate Majority Leader Mo Denis, D-Las Vegas. But, he realizes, state lawmakers won't do that without being "convinced" in 2015 that they're receiving a return on the investment. That means student improvement needs to be made this school year, says Denis, who, as a kindergartner, didn't speak English.
Simone has high hopes for the school near Washington and Eastern avenues.
"There is no reason student performance should be so low," she says of her school where just a quarter of students in grades three to five had grade-level writing skills last year. Less than half those students are at grade level in math.
Clark County Superintendent Pat Skorkowsky is of the same opinion.
"Language is not a barrier to intelligence. It's a barrier to the curriculum," he says while visiting Cambeiro with legislators and Las Vegas Mayor Carolyn Goodman.
At Craig Elementary School in North Las Vegas, Principal Kelly O'Rourke is under the same pressure Simone faces. O'Rourke believes that, above all else, the resources aimed at pre-kindergarten students will pay off.
She just needs to get students in the door, which is why on Monday, banners were strung around the school facing the road, reading "NO MORE WAITING LIST" in big, bold letters.
In previous years, funding only allowed 36 pre-kindergarten students. She'd fill those spots and have 50 more on the waiting list.
"No more cap now, though," she says. "That alone is going to make a difference."
By the time her students reach kindergarten, they'll be a year ahead, familiar with English instead of being at a total loss, she says.
She was able to add 12 staff members, including 7 teachers, with the zoom money. Among the new hires is teacher Brittany Harsen, 22, who is straight out of college from Pennsylvania, having never before been farther west than Ohio.
O'Rourke was frank with her about the student poverty at Craig, near Civic Center Drive and Gowan Road. She was also candid with her new teachers about the fact most students starting kindergarten speaking Spanish but no English.
"Everybody has the ability to learn," says Harsen, a special education teacher who received job offers back East but chose Las Vegas, despite having no Spanish skills. "Silly me, I took French."
Contact reporter Trevon Milliard at tmilliard@reviewjournal.com or 702-383-0279.