In Nevada, poor eighth-grade math scores come with asterisk
September 25, 2017 - 12:00 am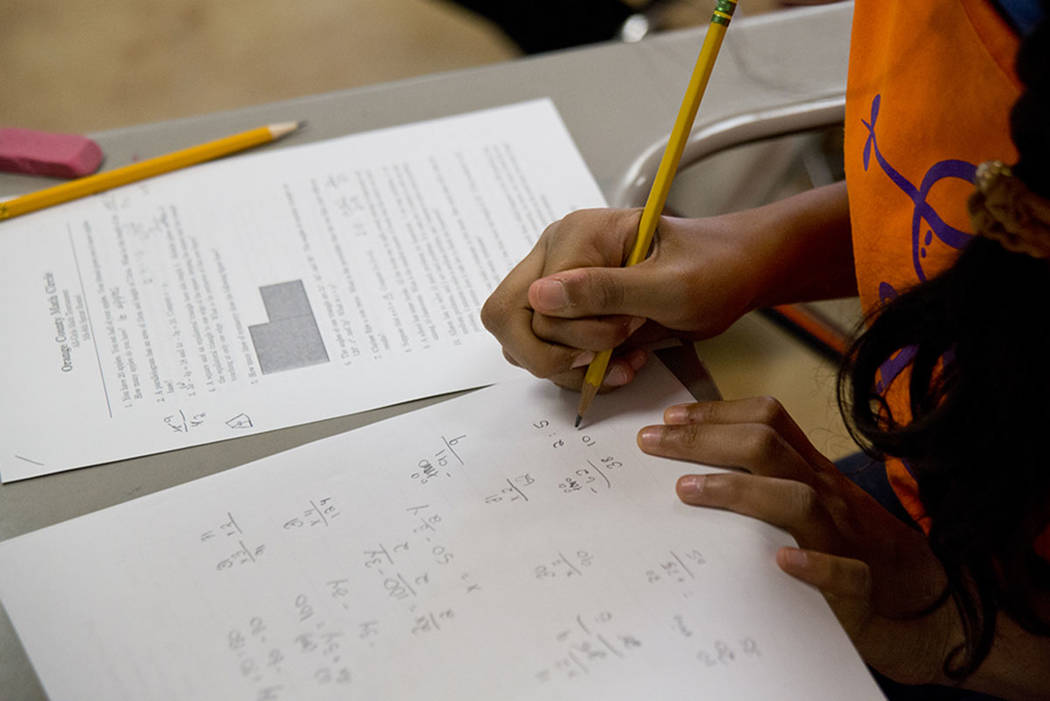 Nevada students are slowly making gains in math in elementary school, but by the time eighth grade rolls around that progress comes to a screeching halt.
At least that's what the most recent testing data released by the state suggests. Only 18 percent of students reached the proficiency level on the eighth-grade math exam, compared with 29 percent for seventh-grade math students. That made eighth-grade math the scoring nadir on the Smarter Balanced test in Nevada among all grades.
Other states that use the test don't show similar drop-offs for their eighth-grade students.
Although the sharp decline is alarming on its face, state education officials say there is a partial explanation that has nothing to do with eighth-graders suddenly forgetting what they've learned: Each year, overachieving eighth-graders who take a high-school-level math course while still in middle school are not reflected in the testing data.
"The best math students in eighth grade are taking algebra or geometry. You're basically removing the highest-performing eighth-graders from this sample, which is why it dips down," said Mark Newburn, vice president of the state Board of Education. "I will point out there is a line starting in third grade that slowly declines every year. That's just one of the natures of the way math works in the state."
'A double-edged sword'
State policy allows districts to decide whether students take both tests, but officials say most districts don't want to stress students and teachers more than they have to.
"This is a double-edged sword. You've got schools that want to show better results to the public, but to make that happen you have students who have to double test," said Mike Barton, the Clark County School District's chief academic officer.
In Clark County, 16,726 eighth-grade students took the Smarter Balanced test, while 5,864 took the high school "end-of-course exam." That means about 26 percent of the eighth-graders were excluded from the Smarter Balanced results.
Take, for example, Rogich Middle School. It's the highest-performing middle school in math in Clark County on the Smarter Balanced test. Even there, only 52 percent of the students score as proficient in the subject. (State figures showing how Rogich's eighth-grade students performed on the Smarter Balanced exam are not yet available. The 52 percent proficiency is a combined rate for students in grades six, seven and eight.)
More than 300 of the school's 500 eighth-graders took the high-school-level exam, and all of them passed, according to the school. That leaves only about 200 eighth-graders reflected in the Smarter Balanced test results.
A testing question
State officials aren't blind to the consequences of putting out data that appear to show student performance heading the wrong way.
"It's that overtesting question," State Superintendent of Instruction Steve Canavero told the Board of Education last week in a discussion of the testing results.
It's unclear how many of the 14 other states that use the Smarter Balanced tests — and serve as points of comparison for Nevada — have a similar policy. But some do require students to take two tests if they are taking advanced classes.
Delaware and Washington, for instance, require all eighth-graders to take the Smarter Balanced test. Their students showed proficiency rates of 38 percent and 49 percent, respectively.
Of course, both states also score well above Nevada in math for other grades, too.
Not all the states in the Smarter Balanced consortium have released their 2016-17 data yet, but Nevada's eighth-grade math scores are the lowest among states that have reported results.
An unfair comparison?
Comparing students in Nevada to students in Delaware and Washington is unfair, said Felicia Ortiz, a State Board of Education member.
Looking at states with similar demographics, populations and funding levels to Nevada would provide a better picture, she argued.
"We have really no way to measure ourselves against other states that are similar in makeup to see how we would compare against a more (a)like state," she said.
State officials recognized Ortiz's concern but said it's hard to compare Nevada's proficiency rates with student proficiency rates in other states, because many don't use the Smarter Balanced exams.
"We're starting from a place where there's a lot of opportunity for growth, and we know that our kids are capable of reaching that. Is it perfect? No, it won't be," Deputy Superintendent of Instruction Brett Barley said about the comparison. "It does give us a snapshot on how (14) other states are doing on the exact same test and standards."
Contact Meghin Delaney at 702-383-0281 or mdelaney@reviewjournal.com. Follow @MeghinDelaney on Twitter.
By the numbers
State data show a 2 percent uptick in elementary school students who are proficient on the Smarter Balanced math assessments compared to last year, even though only 41 percent of students are considered proficient.
But in middle school, there was a less than one percent rise in proficiency in math overall and only 26 percent of all middle school students who took the state test are proficient.