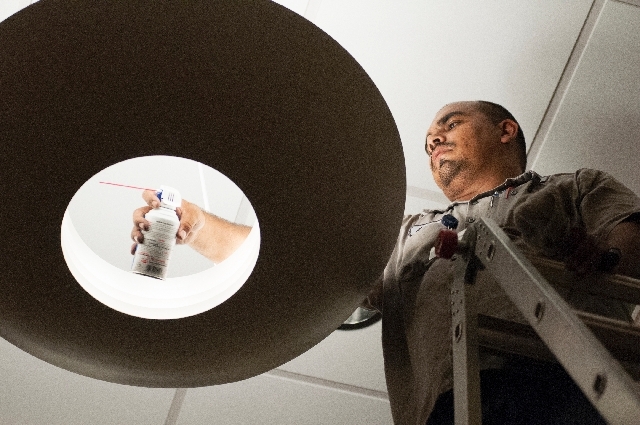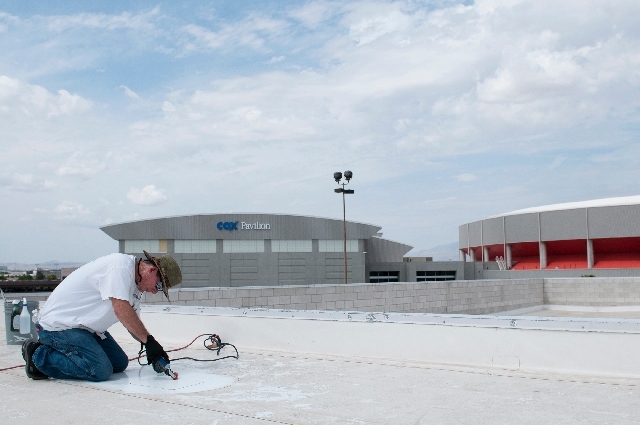 Nevada higher education officials grapple to extend the lives of aging buildings at the state's colleges and universities.
But the cost estimate of deferred maintenance at most college campuses throughout the state is snowballing.
At the University of Nevada, Reno, which has some of the higher education system's oldest buildings, the maintenance backlog could be as much as $1 billion, officials said, adding the need is much greater than the available funding.
"It's a huge struggle," said John Walsh, UNR's senior director of planning and construction services.
At the University of Nevada, Las Vegas, the price tag for deferred maintenance projects is approaching $300 million.
Officials at higher education institutions across the country wrestle with the same situation, doing what they can to maintain and keep existing buildings operating for as long as they can.
"It's more of a Band-Aid approach," Walsh said.
Deferring maintenance means focusing mainly on the most necessary repairs and replacements of mechanical, electrical, plumbing and roofing systems and anything with a life-safety issue, said Gerry Bomotti, senior vice president for finance and business at UNLV.
Painting and replacing carpets counts as needed repairs, but those are not a priority.
UNR officials estimate deferred maintenance costs to be anywhere between $800 million and a billion dollars, Walsh said. The average age of buildings at the UNR campus is five to 10 years higher than those at other campuses. Morrill Hall was the first building constructed at UNR in 1885.
"That increases our deferred maintenance (costs)," Walsh said of the age of the structures.
Based on national averages and recommendations, the university should be spending about $29 million per year catching up on deferred maintenance projects, but it only receives $2.5 million to $2.7 million a year, Walsh said. Those funds are distributed by the Nevada System of Higher Education.
It's a very small fraction of the cost, Walsh said.
The Nevada System of Higher Education receives $15 million every biennium for such projects, and that is spread among eight higher education institutions in the state, Bomotti said. In 2009, the state rolled back about half of the $15 million because of budget cuts.
"We all struggle to find other sources of revenue," he said.
UNLV's deferred maintenance cost was at $276.8 million in fiscal year 2011, including projects ranging from repairing leaky roofs to replacing failing heating and cooling systems. UNLV only receives about $2.5 million a year for deferred maintenance, although it also pulls some additional funds from the university's operating budget for that purpose.
"The good news is that we are a little better than the average, but we still have deferred maintenance," Bomotti said. "It hasn't gotten worse over the last few years or over the last decade."
UNLV made a commitment to invest more in building upkeep if in the long run it will result in savings. The university also focuses on preventive maintenance, which Bomotti likened to taking care of a car.
If the vehicle gets an oil change regularly and other needs are addressed earlier on, it will be more affordable than having the car break down because regular maintenance was ignored.
"It keeps our deferred maintenance log from going up," he said.
University officials also made maintenance a priority in the midst of budget cuts and didn't lay off any preventive maintenance staff.
Patty Charlton, senior vice president for finance and administration at the College of Southern Nevada, said the college has a current backlog in deferred maintenance that is close to $200 million. The college receives about $1.5 million a year for its deferred maintenance needs.
"We are doing everything we can to sustain the lives of our buildings," she said. For example, she said, some of the mechanical units have a life expectancy of 10 to 15 years, and CSN is using them for 20 to 25 years.
"Just out of necessity," she said. "We are doing the best we can."
Kevin Butler, associate vice president for finance and administration at Nevada State College, said deferred maintenance is not really an issue for the institution. The college has only been around for about 10 years.
"Right now, the majority of our buildings are all leased properties," he said. "Any maintenance that accumulates, it's not the college's to bear."
Constance Brooks, assistant vice chancellor for government and community affairs at the Nevada System of Higher Education, said the $15 million that the Legislature provides is not enough to meet the needs of all the institutions.
"It's what we have to work with at this time," she said.
However, that could soon change.
Officials are working on an agenda item for the Board of Regents meeting in September that will focus on deferred maintenance, Brooks said.
It will include a presentation with an update for regents in "regard to the need and the gaps of what we can and can't provide."
The agenda item will start dialogue about what can be done to remedy the situation. More funding would be helpful, but there are other solutions, Brooks said.
Officials are gathering overall deferred maintenance numbers for all the higher education institutions for the agenda item.
Contact reporter Yesenia Amaro at yamaro@reviewjournal.com or 702-383-0440.