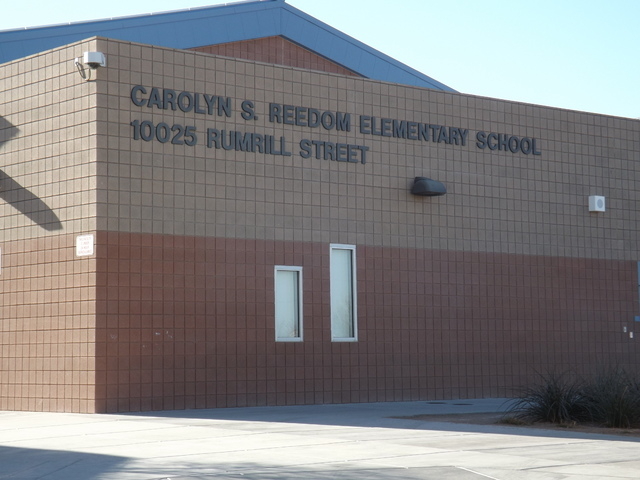 Even after working for the Clark County School District for 35 years, Dr. Carolyn Reedom still cannot get enough of teaching.
"I have a passion for education," Reedom said. "I truly care about children, and it's important to me that they experience success. They are our future."
Her passion and natural inclination to go above and beyond did not go unnoticed. A year after her retirement, a committee pushed to have a school named in her honor.
Reedom Elementary School, 10025 Rumrill St., opened in 2008.
"They thought I deserved to have a school named after me," Reedom said. "Just that alone makes me feel very honored and humbled. It's truly an honor."
Born in New Orleans, Reedom received her bachelor's degree from Dillard University. In 1970, she moved to Las Vegas to teach kindergarten and first grade.
"I took some time off to get my master's and doctorate's degrees at UNLV," Reedom said. "When I came back, I went into administration."
From there, Reedom climbed the education ladder. She worked as a dean at Rancho High School, as an assistant principal at Chaparral High School and as a principal at Red Rock and Paradise elementary schools.
"I opened Estes McDoniel and John C. Vanderburg elementary schools as the principal," Reedom said. "I spent about 25 years working as a principal before I became the assistant superintendent of the (school district's) southeast region."
During her time at Henderson's McDoniel Elementary School, 1831 Fox Ridge Drive, Reedom played a vital role in opening a marine lab in 1999. The lab is home to about 200 warm and coldwater organisms.
"It's a way to make life science interesting to students," Reedom said. "We brought the ocean to the desert."
Reedom was also the mastermind in 2002 behind the rainforest biosphere at Vanderburg Elementary School, 2040 Desert Shadow Trail in Henderson. The 3,200-square-foot science facility cost about $1.4 million and serves as a hands-on science experience for students.
"I had a lot of volunteers and did a lot of fundraisers," Reedom said. "It involved the school, parents and the community. It's a districtwide field trip destination. I didn't do it just for the school, I did it for the whole district."
Reedom Elementary principal Kalandra Sheppard said the school is proud of Reedom's accomplishments.
"We have a lot of her things displayed in the hallways," Sheppard said. "She's an African-American woman, and if she can do it, anybody can do it. That's the type of attitude she has."
Reedom Elementary School has more than more than 1,180 students enrolled this year. Sheppard said Reedom visits the school at least three times a year.
"She recently provided a half-day of training to the entire teaching staff on effective ways to communicate with parents," Sheppard said. "All our staff knows and loves her. We take her suggestions seriously and have utilized a lot of her techniques."
Though retired from the school district, Reedom runs the CSR Education Consulting Firm, which provides educational development strategies to schools, districts and organizations across the country.
"When I travel, I tell people that they named a school after me in Las Vegas, and they say, 'Wow, that's incredible,' " Reedom said. "It's just that. It's an incredible honor."
Contact Southwest/Spring Valley View reporter Caitlyn Belcher at cbelcher@viewnews.com or 702-383-0403.
Naming Las Vegas
The history behind the naming of various streets, parks, schools, public facilities and other landmarks in the Las Vegas Valley will continue to be explored in a series of feature stories appearing in View editions published on the first Tuesday of every month. If you're curious about how or why something got its name, post a comment on our Facebook page, facebook.com/viewnewspapers, or email sblust@viewnews.com.