Nevada accepts $1.8M settlement over student testing program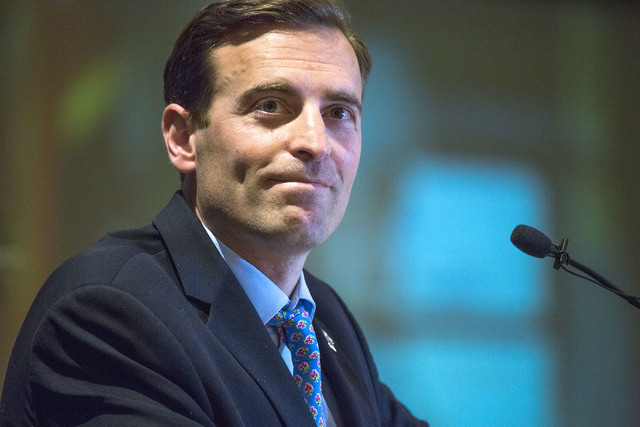 CARSON CITY — A state panel on Tuesday approved a $1.8 million settlement in favor of the Nevada Department of Education over a botched student testing program.
The settlement with the Smarter Balanced Assessment Consortium, a part of the UCLA Graduate School of Education and Information Studies, follows a $1.3 million settlement reached last year with Measured Progress Inc. The Smarter Balanced part of the contract involved providing test content and the platform to provide the testing.
The settlements will allow Nevada to avoid litigation over the failed testing system that prevented thousands of Nevada students in grades three through eight from taking federally mandated assessments under new Common Core standards in the spring of 2015.
The Board of Examiners, including Gov. Brian Sandoval, approved the Smarter Balanced settlement, which is composed of several parts, including goods and services from the organization worth nearly $1 million. Another $100,000 is being spent by the organization to hire a firm to assess the validity of the 2015 criterion-referenced test scores.
The 2016 testing effort was accomplished with no major glitches, said Greg Bortolin, public information officer for the state Department of Education.
"In light of what happened in the previous year this was really good news," he said.
Only 30 percent of the roughly 214,000 students expected to take the online tests in 2015 successfully completed the assessments because the system repeatedly crashed and many students were unable to log into the testing server. School officials eventually gave up.
Sandoval acknowledged the good news this year, but noted that the 2015 effort was a disaster that almost put the state's federal funding at risk.
The settlements also show clearly that the two entities were responsible for the failures in 2015, he said.
"The people who got hurt were the kids," Sandoval said.
Attorney General Adam Laxalt said his office worked to settle the matter without going to court.
"My office is committed to ensuring that all vendors hired by the state deliver their promised goods and services," Laxalt said in a statement. "With this settlement, litigators from my office ensured that the state will be reimbursed for its losses and that the Department of Education was able to deliver this year's examinations without interruption."
Steve Canavero, Nevada superintendent of public instruction, said in a statement: "Nevada's citizens and most importantly, Nevada's students, have received a fair settlement that will help us in developing the most effective assessment system that not only provides a snapshot of where our students stand academically but also informs our teachers and parents where to focus their efforts. We just finished a very successful testing period in which more than 200,000 students completed the Smarter Balanced online assessments."
Contact Sean Whaley at swhaley@reviewjournal.com or 775-461-3820. Find @seanw801 on Twitter.