Nevada Public Education Foundation names Desert Rose High School principal to Hall of Fame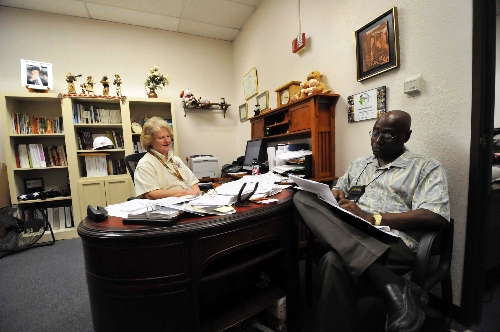 The Desert Rose High School principal's office is an "eclectic travel house," as described by its resident, Sandra Ransel.
A framed tablecloth made of bark hangs on the wall across from her desk. A friend gave it to her during a trip to Maui. The symbols on the light and dark brown sheet stand for hospitality, honesty and integrity, the friend told her.
A framed blueprint of her grandfather's patented pencil sharpener design also hangs on the wall.
The most recent addition is a gold trophy of four kids hoisting an apple above their heads. It reads: "Dr. Sandra L. Ransel, Unsung Hero."
She received it when the Nevada Public Education Foundation and Nevada Legislature inducted Ransel and five others into the Nevada Education Hall of Fame on May 16 in Carson City.
Others honored included Lucille Keaton, principal of Hewetson Elementary School, 701 N. 20th St. , who was recognized in the Educator category.
"I kind of consider the school an unsung hero," Ransel said of Desert Rose.
Desert Rose, 444 W. Brooks Ave., serves thousands of nontraditional students. It offers traditional high school diplomas, adult high school diplomas, GED diplomas, English language and citizenship classes, and career and vocational training.
Ransel is the one who gives the second, and sometimes third and fourth, chances to people wanting to complete their high school education.
It's a chore to keep Ransel from digressing about individual students and their success stories. She can't help it because she's so proud of them.
Ransel's aged desk is the same one she worked on as a child. It belonged to her aunt and uncle. Today it's covered in various paperwork and grant applications. Her school is losing more than a quarter of its funding, and Ransel is determined not to let that affect the students.
Ransel grew up in a military family, constantly moving around the country. She graduated from high school in Alaska before receiving her master's degree in education from Colorado State University in Fort Collins, Colo. She later received her doctorate from the University of Oklahoma in Norman, Okla.
She, too, married a military man and spent much of her adult life traversing the globe with her husband, Alfred, who was in the Air Force. Everywhere they moved, she'd find a job teaching.
Upon her husband's retirement, they moved to Las Vegas in 1993, and Ransel worked her way up through the ranks as a teacher, dean and assistant principal at various schools and became principal of Desert Rose in 2001.
Her longtime friend and colleague, Valley High School teacher Elizabeth Bell, called Ransel a "true student advocate."
"She's a workaholic," Bell said. "I don't know anyone in the district who has moved education like she has. I've been in the district 20 years and it just amazes me.
"Whoever came up with the Unsung Hero (category), it's well deserved. To do what she does with so little, I don't know anyone who deserves it more than her."
Ransel has dealt with Parkinson's disease for nearly two decades. Her legs and hands shake and twitch uncontrollably, which prevents her from climbing ladders or carrying valuable things.
She hasn't let it stop her from enjoying her favorite pastime, snow skiing, even at 61.
On a shelf behind Ransel's desk are photos of her two sons and grandkids. Her father, whose photo sits atop her bookshelf, showed up at her campus one day to enroll in classes, unbeknownst to Ransel. He finally received his high school diploma in 2005 at 86 years old.
Ransel is proud of the award because "it means that someone recognized what alternative education does."
Her trophy is one piece in her collection that won't stay in her office because she doesn't feel it necessarily belongs to her. She plans to put it in a case in the hallway.
"It's an award for my school, my students and my family," she said.
Contact View education reporter Jeff Mosier at jmosier@viewnews.com or 224-5524.