Nevada student testing much smoother than 2015 catastrophe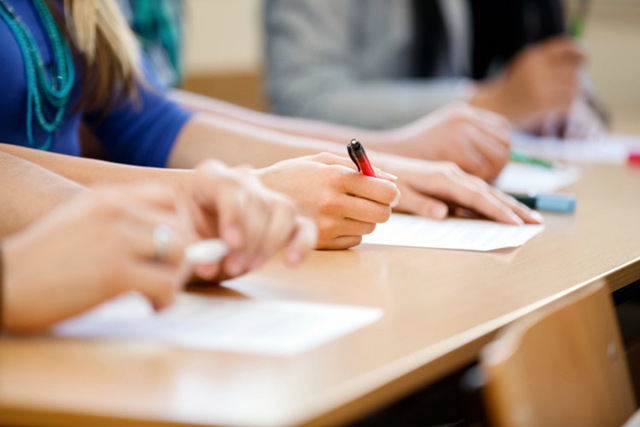 Education officials in Nevada breathed a collective, yet tentative, sigh of relief as the state's standardized testing season appears to be running much more smoothly than the debacle that students encountered in the spring.
As of Monday, more than 15,000 third- through eighth-graders successfully completed an online assessment in English or math, according to the Nevada Department of Education. The department reported Tuesday that an additional 5,200 fifth- and eighth-graders also have taken a new science test since the administration of the statewide assessments started last week.
Compare that to last year, when the state for the first time converted all standardized testing to a fully digital platform.
A rash of computer glitches prevented many students from even logging into the system. In the Clark County School District, which serves roughly 70 percent of the state's student population, less than 5 percent of third- through eighth-graders completed either the English or math test.
"We're pleased with the first week of testing and the numbers of students who are taking the tests throughout Nevada," Steve Canavero, state superintendent of public instruction, said in a statement Tuesday.
"After thoroughly reviewing the process during the past year, we're hopeful the times students are spending completing the tests are reduced and the testing itself is more seamless," the statement reads.
The testing season will continue through May 31 in Clark County, and high school students will start taking their end-of-course exams on April 25.
As required under federal law, the elementary and middle school tests attempt to gauge a students' mastery of a standard set of skills in each subject. The state uses the test scores as a part of its school accountability ratings and, starting in 2016-17, districts must tie the scores to teacher evaluations.
Last year's testing issues — which Canavero previously described as a "fiasco" — prompted the state to dump and reach a $1.3 million settlement with the vendor, Measured Progress, which provided the faulty system.
In August, the State Board of Examiners awarded a nearly $51.5 million contract to industry heavyweight CTB/McGraw-Hill to develop, administer, score and report the litany of standardized tests that public school students take every year in Nevada.
A subcontractor, Data Recognition Corp., or DRC, spent the past several months working directly with districts to prepare them for the testing season that began March 7. On Wednesday, hundreds of testing coordinators from across Clark County and surrounding rural districts will join DRC for a second round of training on the new tests.
"Anytime you have a new vendor, there's always growing pains," said Tiffany Seibel, director of assessment for Clark County schools.
Last week, for example, about 52 third-grade students encountered an issue with one question on the English test. DRC resolved the issue within two days, according to the education department.
Between January and March, the district tested over 63,000 students who identify as English language learners through the new vendor's system.
"We really didn't know what to expect, I guess because it was new," Seibel said.
"In the end, we feel very confident in how many students we were successful with," she added. "We estimate 96 percent of our (English language learners) were successfully tested."
Seibel predicted a similar success rate for the 150,000 students who will participate in the current testing window.
As for last year, the U.S. Department of Education on Friday gave Nevada a rare exemption from a federal mandate requiring at least 95 percent of students to participate in the annual statewide tests.
The state requested the waiver in January after releasing the limited test scores that it cautioned were likely invalid.
"We're pleased with this result. We think it's fair," said Canavero.
The exemption signals an end to financial uncertainty that has hung over Nevada for nearly a year, after the federal department warned that it intended to hold states accountable for not meeting the mandate tied to millions of dollars in federal funding.
The Associated Press contributed to this report. Contact Neal Morton at nmorton@reviewjournal.com or 702-383-0279. Find him on Twitter: @nealtmorton