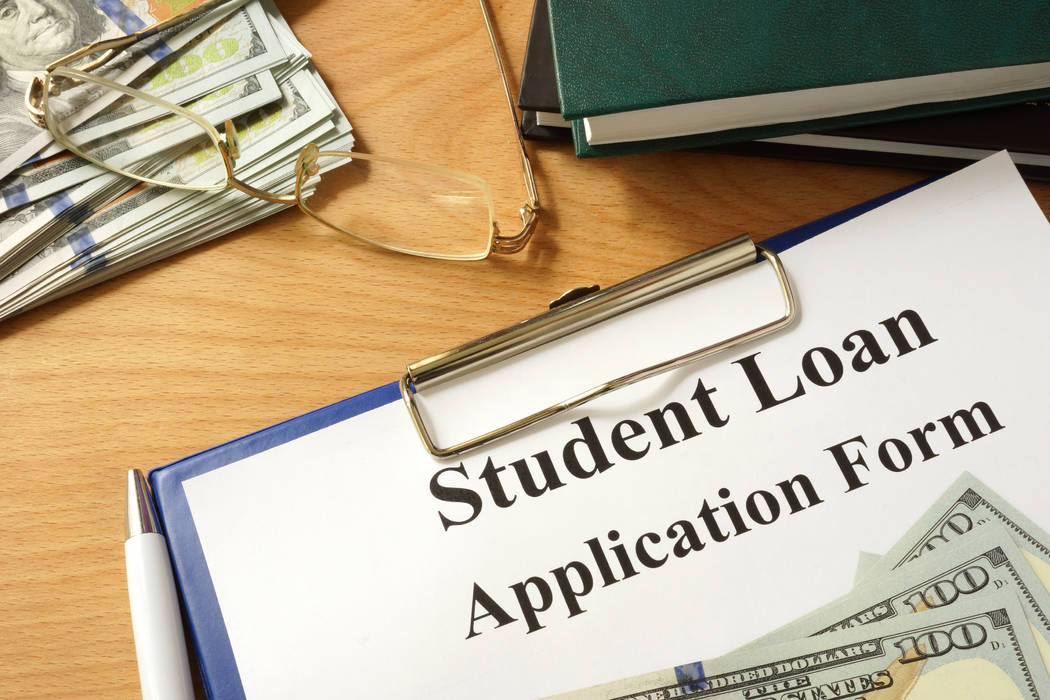 Nevada usually finds itself at the bottom of national education rankings.
But a new study examining student loan debt in America paints a more positive picture.
Nevada residents carry less student loan debt than a majority of Americans, according to a new report, "Debt in America," from the Urban Institute. The median student loan debt in Nevada is $14,218 — a debt load that's greater than that of only two other states: Utah and Wyoming.
That's the good news.
"Nevada is a little bit of a jewel out here," said Norm Bedford, the director of financial aid and scholarships for UNLV. "The state Legislature and state lawmakers have done a good job of supporting higher education the best they're able to. And schools have done a good job of keeping tuition and fees low for students."
The median student loan debt nationally is nearly $17,000. To the east, Utah residents carry a median debt load of $13,797. And to the west, California residents have more to pay back: a median amount of $15,798.
"This is a ranking where Nevada, in a positive way, starts separating ourself from the rest of the nation," Bedford said. "It's a wonderful statistic. We don't always come in first place."
Caroline Ratcliffe, a senior fellow at the Urban Institute, said it could be because Nevada has a lower average cost in attending a public four-year college.
New Hampshire — a state with high student loan debt — asks residents to pay more than $15,000 a year to attend a four-year public college. In Nevada, in-state tuition and fees amount to just over $7,000 a year.
Nevada is part of the Western Interstate Commission for Higher Education, and lands in the middle of the pack for cost of tuition and fees. The state of Wyoming ranks No. 1, charging students $5,055 for in-state tuition and fees, while the University of California ranks No. 16, charging $13,548.
"I read that student loan indebtedness is growing at an exponential rate every year," Bedford said. "Our student loan indebtedness has gone up, but not like the exponential rates that we've been reading about in these studies."
At UNLV, student loan disbursements for both the subsidized and unsubsidized loan program have decreased by 3.4 percent and 10.4 percent respectively since the 2010-11 academic year.
And over the same period, scholarships and grants have increased significantly, Bedford said. Since 2010, UNLV has seen an increase of 86 percent in scholarship disbursements, and a 14.9 percent increase in grants.
"The economy, and more scholarships and grants that we're receiving from federal, state and the institutional level, all of that combined is working together well for our students," Bedford said. "It certainly makes it more affordable when you look at Nevada than our friends in the rest of the union."
But there's another side to the picture that doesn't bode as well for Nevada, Ratcliffe said.
Among those who hold student loan debt in Nevada, 15 percent have defaulted, and their loans are in collections. That figure is 7 percent in Utah.
"As compared with the national average, you have more people who don't have a bachelor's degree than other states … but among the people who hold that debt, a higher share are struggling," Ratcliffe said. "For Nevada, it's a good story, bad story picture."
Contact Natalie Bruzda at nbruzda@reviewjournal.com or 702-477-3897. Follow @NatalieBruzda on Twitter.