New bus routing system aims to keep kids safer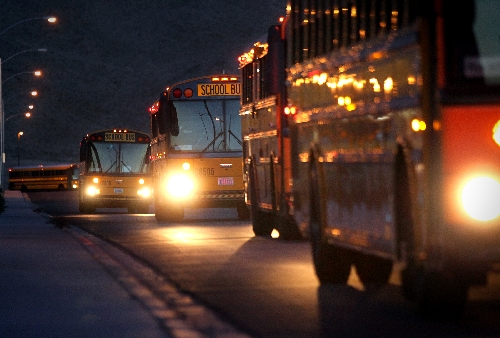 The Clark County School District is in the middle of rolling out a sophisticated software system to manage the 36,000 stops its 1,500 school buses make daily.
Officials hope the system could better manage drivers, create more efficient routes and potentially save money.
It also could prevent situations like the one that cost 11-year-old Kaylee Derks her life.
This fall, district officials plan to have all standard bus routes avoid taking unnecessary trips into residential neighborhoods, keeping them on main thoroughfares instead.
That means that the bus that drove into a northwest valley neighborhood only to loop in the other direction on March 16 would not have been there to strike Derks. District officials have since reassigned the bus to a route that avoids driving around children.
"There's got to be a better way," said Shannon Evans, the district's bus operations coordinator.
Preventing buses from going into private neighborhoods is just one benefit of the new $875,000 system, called Compass, by U.S. Computing, Inc.
Officials say the new system will allow them to integrate traffic information, avoid accident-prone intersections and monitor whether drivers are adhering to their assigned routes.
Frank Giordano, the district's transportation director, said the software is like moving from analog to digital; the district has been using an older system for the past two decades.
SOFTWARE TO BLAME?
Compass came under fire last month by John Carr, president of the Education Support Employees Association, which represents the district's bus drivers. He blamed the system for pressing drivers "to the limit" and said Derks' death was the inevitable result.
But the system has only been rolled out this school year for buses transporting children with special needs, about half of all bus stops. The routes, which stop at children's homes, do change frequently. The district gets between 40 and 50 requests to pick up a new child or change a new location each day.
The software will start routing standard buses, such as Derks' bus, this fall. And buses used for field trips and after-school events will start for the 2013-14 school year, officials say.
Carr has not responded to requests for comment since the meeting.
While the Las Vegas police investigation into the accident is still open, district officials believe the results will show the crash was an accident.
"That particular incident was an accident in every sense of the word," school transportation investigator Andre Simms said.
Derks had been safely dropped off at Ann Road and Pebble Rock Drive, near U.S. Highway 95, about 3:30 p.m. March 16 . Bus driver Leslie Rice then had to head in the opposite direction — east — on Ann. To do so, his assigned route was to drive onto Pebble Rock, into a neighborhood, and make a large loop so he could make a left turn onto eastbound Ann.
He entered the neighborhood, which was lined with cars of parents waiting to pick up children, and made an immediate right turn.
At some point during the turn, Derks walked into the street and fell under the bus.
All Clark County School District buses are outfitted with GPS devices, and district investigators looked at data from that day to see if Rice had been speeding at the time of the accident. He was not, they concluded.
Rice also passed a drug and alcohol test at the scene.
PRIVATE STREETS VS. MAJOR ROADS
But what of the decision to route the bus into the neighborhood in the first place? Nationally, there's little consensus on when and where school buses should be driven.
"There's no such thing as a national norm for almost anything dealing with school buses," said Ned Einstein, an expert on transportation safety.
School districts set their own policies for locating bus stops and setting routes to and from those stops.
Some, like Clark County, don't allow stops on residential streets. Such stops can generate complaints from neighbors; police can't ticket people for not stopping for the bus; and during drop-offs the children can scatter in all directions, increasing the chance of the school bus running one of them over on the narrow streets.
The exception is for special needs children, who are picked up at their homes.
But other districts don't set those restrictions, believing stops on residential streets can be safer than those on busy roads. Rural districts will sometimes stop on the sides of highways since that's all that is available sometimes.
School district officials don't expect major changes to bus stops with its new software. But they will be able to set restrictions on how buses get to and from their stops.
Administrators expect to have the software assign routes to avoid driving around other schools, into neighborhoods and around high-traffic areas.
For years, UPS has had its drivers make as many right turns as possible on their delivery routes, since there is a shorter wait making a right turn than a left turn. The school district will be able to make their buses do that, too.
"It's going to take us to a place where we're so much better," Giordano said.
Contact reporter Lawrence Mower at lmower@reviewjournal.com or 702-383-0440. Contact reporter Trevon Milliard at tmilliard@reviewjournal.com or 702-383-0279.