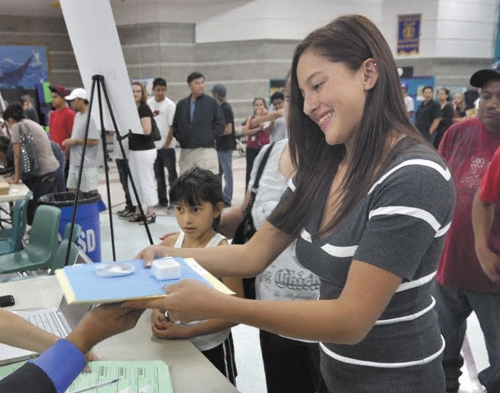 Kelsey Leos balanced on her tiptoes, trying to look over the shoulders of those ahead of her. She was desperate for a glimpse at her new Algebra 1 textbook at the front of the line.
Kelsey, self-admittedly not a natural mathematician, is a junior retaking the freshman-level class. She has never been eager for her math textbook, until now. It's an iPad, a computer tablet with touchscreen and everything.
Kelsey was one of 500 students at Silverado High School who received an iPad on Tuesday night. This year, about 1,150 Clark County middle and high school students will use iPads for their built-in interactive Algebra 1 textbook called Fuse, developed by publisher Houghton Mifflin Harcourt.
It's a trial run costing the district $687 per iPad, including the Fuse software. That makes the total cost $790,000 for the pilot program
And Kelsey is a perfect example of its purpose.
If she doesn't improve in math, she won't graduate. It's a concern for half of Clark County sophomores who finished Algebra 1 freshman year but still can't move on. That's because all Nevada students must pass four tests — high school proficiency exams — in math, science, reading and writing to graduate.
And the math test, consisting of Algebra 1 and other concepts, is dragging down Clark County students.
Only half the county's students score high enough in math, when first tested as sophomores, to be diploma worthy. That is the lowest passing rate of the four tests. And students must retake it until they pass.
A quarter of students don't pass the math test after three years of trying, therefore they don't graduate at the end of their senior year.
"Hopefully, I won't have to be a super senior," said Kelsey, who failed the math proficiency test and is preparing for a second try. "We should move to another state, Mom."
Not all states require high schoolers to pass proficiency exams.
Kelsey is taking an algebra class for sophomores and upper classmen to pass the test. It is taught by Eric Drum.
"I'm thrilled, and I haven't always been thrilled when they throw something at us and say it's 'technology in the classroom,' " Drum said, noting that this will be the first time that students can take their teacher home with them.
Fuse isn't just text on a computer screen, said Josef Blumenfeld, Houghton's vice president of corporate affairs. iPads contain a library of videos in which an instructor explains concepts while visual displays pop up simultaneously.
The publisher can track students' every keystroke, and the students seem to replay videos over and over more than anything else, based on findings from 400 students in Fresno, Long Beach, San Francisco and Riverside, Calif., who used it last year. They need repetition to understand, Blumenfeld said.
"Rewinding your teacher is not so easy in the classroom and embarrassing to ask for," he said.
Kelsey and other students, whose teachers already introduced them to the program, agreed that the function would be most helpful.
And it seems to be working, based on testimony from Riverside's superintendent, who said the percentage of students proficient in Algebra 1 jumped to 90 percent from 60 percent after they used Fuse, Blumenfeld said.
Clark County is waiting to see Fuse's effect here before buying new textbooks, Deputy Superintendent Pedro Martinez said. The district is due to adopt new textbooks, which is done every five years, but wants to consider "blending" the traditional with the technological, he said.
Silvestri and Leavitt middle schools also got iPads, as did the Academy for Individualized Study. But the academy paid for its own. The schools were picked out of 30 applicants based on principals' and teachers' eagerness to incorporate the program into the classroom.
"It will be a tug of war at the end of the school year," a mother said Tuesday. Her daughter was already experimenting with Fuse while walking out the door.
Contact reporter Trevon Milliard at tmilliard@
reviewjournal.com or 702-383-0279.