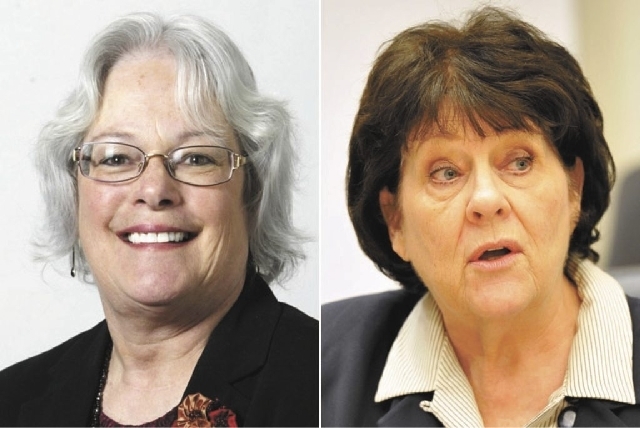 Without rendering an opinion one way or the other, the Nevada attorney general's office has closed its investigation into allegations the Clark County School Board violated the open meeting law on May 21.
Senior Deputy Attorney General George Taylor said it's "not necessary … to find fault," because the School Board corrected its questionable action, redoing the vote at issue — choosing a new superintendent without proper notice to the public — two weeks later.
Complainant Kevinn Donovan called the nonjudgment a farce, comparing it to not prosecuting a thief because he agreed to return the stolen item after being identified.
But, in this case, School Board members never admitted to any wrongdoing. They asserted before the second vote that they did no wrong, and the new vote was being done out of an "abundance of caution" to put the state's investigation to rest, which Taylor acknowledged in a letter announcing the closed investigation.
The state's investigation was prompted by two citizen complaints alleging that the School Board broke the state open meeting law by holding a surprise interview and appointing Pat Skorkowsky without proper notice given on the agenda. The board acted under a boiler-plate item, "superintendent search," that had been included on every agenda for 2½ months. But no indication was given on the agenda that Skorkowsky would be interviewed or hired May 21.
The attorney general's office has found in past cases that agendas must be specific when the subject is of special interest to the public, such as hiring the superintendent in control of the nation's fifth-largest school district, which annually spends $2 billion.
Clark County School District spokeswoman Amanda Fulkerson reiterated Wednesday that there was "no wrong­doing and certainly no intent of wrongdoing."
"The district, as well as the board, is committed to transparency and an open meeting process," she said.
But the attorney general's nonruling sends a message that less transparency is needed, Donovan said. It tells the School Board, as well as other Nevada elected officials, they can break the open meeting law, he said. If someone complains to the state, just go back and revote.
That's the problem, said Donovan, who was approached by a Las Vegas lawyer to take the matter to court but hasn't decided whether to take that route.
"I haven't ruled that out," he said.
Although the School Board has dodged one state investigation, members are under state scrutiny for other actions.
A state investigatory panel has found sufficient evidence to conduct a hearing into whether School Board President Carolyn Edwards and Associate Super­intendent Joyce Haldeman used taxpayer resources to campaign for Question 2, the district's proposal on last November's ballot to increase property taxes, which is illegal under Nevada's Ethics in Government law. The Nevada Commission on Ethics will hold a closed hearing on July 17.
If Haldeman and Edwards are found to have willfully violated the law, they could be fined up to $5,000 each and face the possibility of being removed from office or from their jobs.
Contact reporter Trevon Milliard at
tmilliard@reviewjournal.com or 702-383-0279.