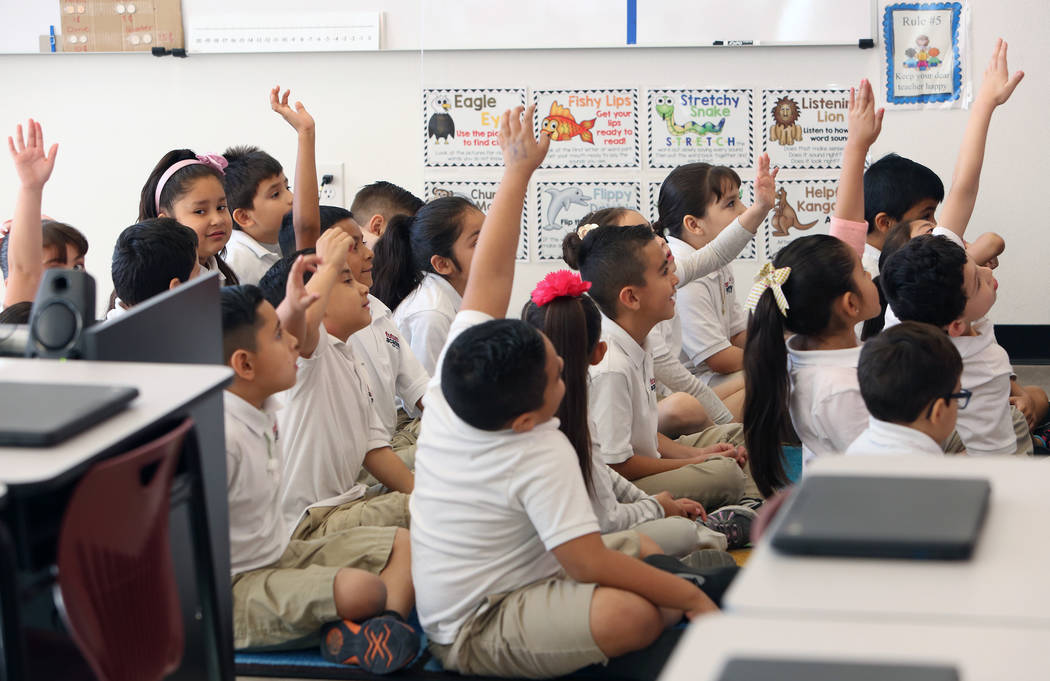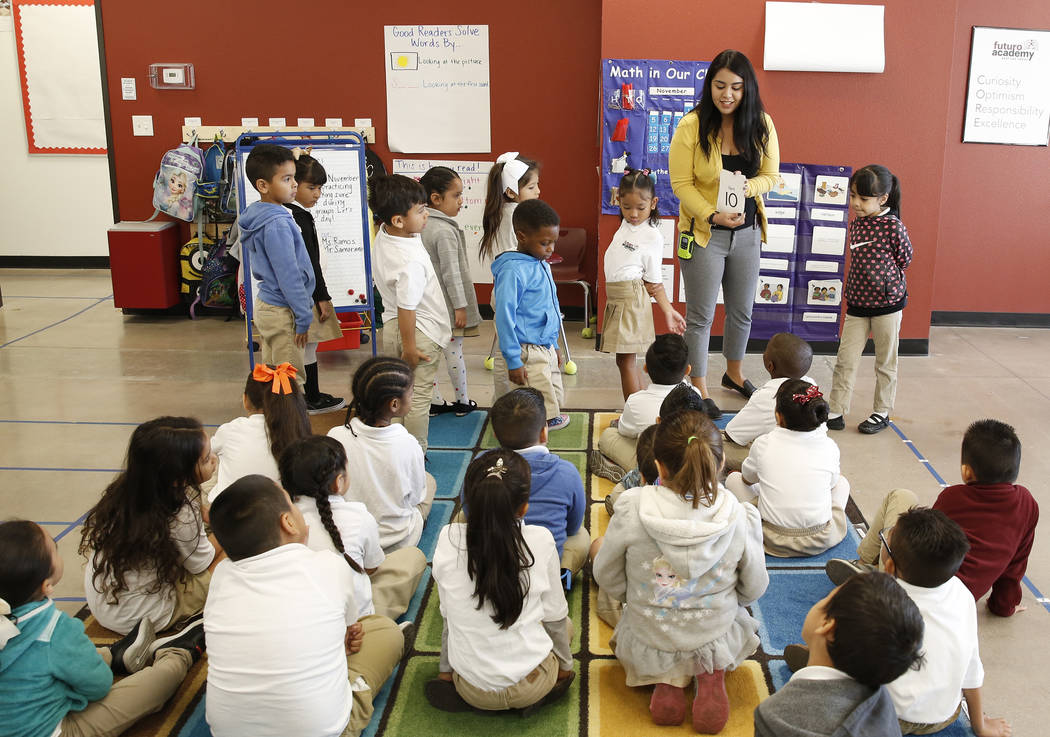 Neatly nestled on individual squares on a rug in the classroom — in what was once a grocery store — Viviana Ramos' kindergarten students learn a new "sight word."
"The new one we're going to do today is blue," she said, holding up a poster with the word on it. "Everyone, together now, blue."
A chorus of little voices calls out the sight word, an education term referring to a list of words students should know immediately just by seeing them. That day, Ramos introduced another new sight word to the children — "can" — before moving on to review last week's words.
It's the kind of scene that plays out every morning in the four classrooms at Futuro Academy, a new charter school that opened as part of the state's Achievement School District this year in east Las Vegas. The new statewide initiative pairs underperforming traditional public schools with charter schools in an effort to increase student performance.
Futuro was one of two schools selected to participate in the first year of the program. Agassi Prep, which was already a charter school, was taken over by Democracy Prep, a charter network based in New York City.
The state is beginning the cycle again. Last month it released a list of 24 underperforming schools eligible for the program, and this week it named three new charter operators that may be partnered with the schools for the 2018-19 year.
The Futuro campus — three kindergarten classrooms and a first-grade room — offers a glimpse of the "neighborhood-option school" model, meaning a charter that operates alongside a struggling school rather than taking it over. Cambeiro Elementary was on the Achievement School District eligibility list last year because of poor test scores. Futuro opened nearby to give those families a new option.
The school has just 10 staff members, including six licensed teachers, and 110 students. It's a small start, but Futuro executive director Ignacio Prado has big dreams.
Culture and commitment
Prado's school is slated to grow slowly, adding a grade or two each year until it covers kindergarten through eighth grade. He was originally planning to open only for kindergarten students this year, but after talking to families he realized there was a need for first grade, too.
"These neighborhoods are so dense with families," he said.
Futuro is partnered with Cambeiro, but parents in the area have other options, including Lunt Elementary School, Diaz Elementary School and a new campus of the Mater Academy charter network.
Prado plans to stand out based on three factors: routines, traditions and culture. He calls them his "game-changing variables."
He and his staff worked hard to create the routines in the first weeks of school and have made some shifts along the way. Early on, there was a schoolwide morning meeting every day. Now it's just on Fridays.
The school has a cheer that's recited every morning. Each classroom has its own cheer as well.
As they build routines, they build traditions, like classrooms named after colleges. Prado said he tried to focus on schools that were diverse and had similar values of serving all students. The classrooms named now will never change. So even if the teacher in the kindergarten class leaves to move up a grade, for example, the college stays with that classroom.
Prado is also proud of meeting families and being accessible. Six of the 10 staff members speak Spanish. Parent-teacher conferences and community meetings are held at multiple times to hit as many parents as possible.
Messages go home on slips of paper in backpacks, but staff members also call, email and use social media.
They're intentional and strategic moves, said Jana Wilcox Lavin, the former head of the Achievement School District for the state. She's now the acting director of Opportunity 180, an education nonprofit focused on improving overall quality.
"There's a clear sense of understanding the lives of families," she said.
Moving forward
It's early to measure the success of the school, though both Wilcox Lavin and Prado say it's off to a strong start.
He's got a wait list right now of about 100 students.
Only half a dozen students came from Cambeiro this year, even though, as a state-designated "neighborhood option," Futuro offers priority seating to Cambeiro students.
A majority of the school's enrollment — 73 percent — comes from school with one- or two-star ratings, the lowest given out by the state. And every student came from a school that is operating at between 90 and 125 percent capacity.
Prado said he's planned the school's staffing with growth in mind, and it can continue its core values even as it expands to include a middle school. Instead of having the traditional principal model, he wants to think of the school as being made of smaller parts and focus on instructional leaders within grade levels to preserve the traditions as he continues to hire.
"We'll make sure someone who knows these things is staying and holding down the grade level," he said.
Contact Meghin Delaney at 702-383-0281 or mdelaney@reviewjournal.com. Follow @MeghinDelaney on Twitter.