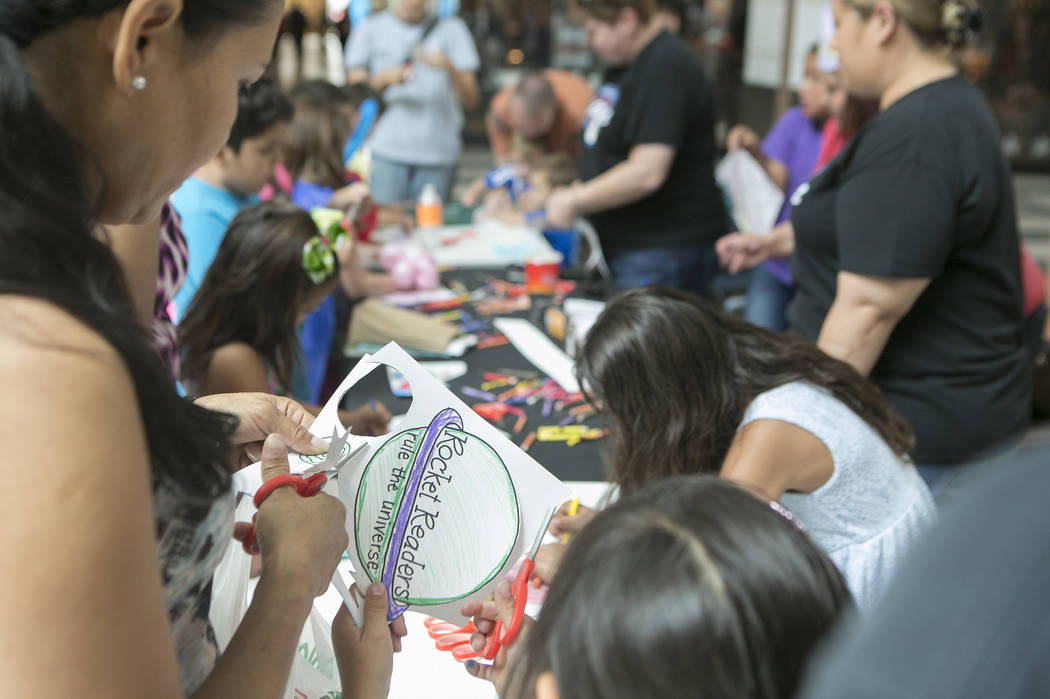 Wearing a red cape and paper headband, Nubia Ortega alternated between waving her balloon sword and piling books into her father's patient arms.
"I like to read because when you read it gets you from Rainbow Reader all the way to Mega and Scholar," said Ortega, who just finished second grade.
Rainbow Reader, Mega and Scholar are different levels in the Clark County School District's Reading Rangers program, which gave students free books Saturday at the Boulevard Mall. From 11 a.m. to 2 p.m., any student from kindergarten to fifth grade could complete 10 activities around the mall to receive a free book and ice cream to start the school hiatus, said Christine Dessormeau, the event's coordinator.
"If the kids go three months without reading again, then you see a decline in test scores," said Dessormeau, who's also a kindergarten teacher at Goldfarb Elementary School.
She said 22 schools from Clark County attended the event along with local businesses and charities that donated books and prizes. Spread the Word, a Nevada nonprofit that promotes children's literacy, brought about 1,800 donated books to give to children.
Teachers and an administrator dressed as superheroes representing the program's nine levels of "rangers." When students read 25 books and pass a quiz, they graduate to the next level and the next ranger, Dessormeau said.
Even Stinky McNoReads appeared as the rangers' archnemesis, who tells students that playing video games is better than reading.
"I've never seen something like this with all the years I've been teaching in the district," said Dessormeau, who's worked in the school district since 2005.
She said that although Reading Rangers is in its fourth year, this is only the second time the mall event has been held. Four hundred students walked out with free books and prizes Saturday, twice as many as those who did so last year.
Dessormeau said the program helps Clark County schools meet the Read by Grade Three Act, a statute that went into effect in July 2015 to ensure that students are reading at grade level by third grade.
When she talked to students and posed for photographs Saturday, Lisa Larsen was no longer a fourth-grade teacher from Rundle Elementary School. In her black cape and light-blue dress she was Thunder, a ranger representing the program's seventh level.
She said teachers have seen growth in students' reading abilities and excitement to read because of the program. The students relate their achievements to the costumed teachers-turned-rangers.
"It makes a difference for the kids when they see it come to life," Larsen said. "It's almost like I'm their favorite character from TV, but it's from reading."
Although she liked the coloring, capes and balloons, Ortega said she most enjoyed going through the donated books. Her favorite books are a series called "Dork Diaries," and she said the program is fun.
"You get to graduate to different levels," she said. "Right now, I am a Storm."
Contact Katelyn Newberg at 702-383-0240 or knewberg@reviewjournal.com. Follow @k_newberg on Twitter.
Organizations that donated supplies for the event
— Nonprofit Spread the Word brought 1,800 donated books
— Goodwill donated gift cards for school supplies and clothes
— Sears donated 20 backpacks
— Animal Riders provided 400 servings of ice cream
— Prizes included free entrance for 23 students into SeaQuest, which the aquarium provided
— Representatives from John's Incredible Pizza made balloon animals for the kids