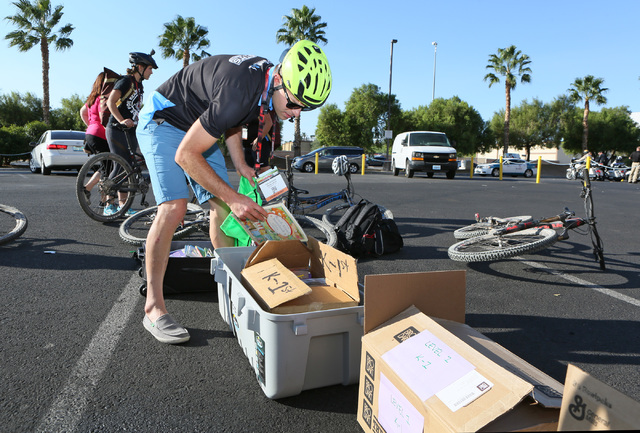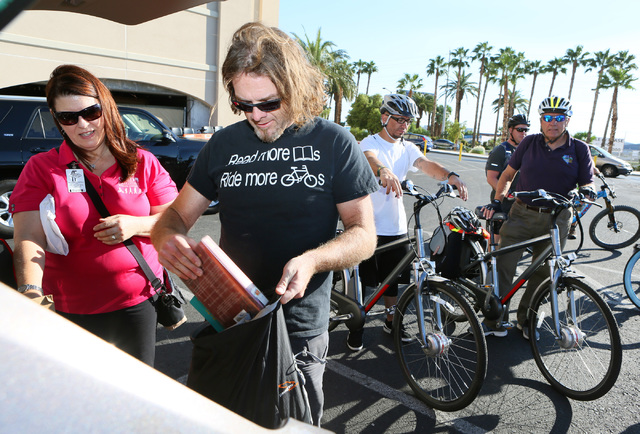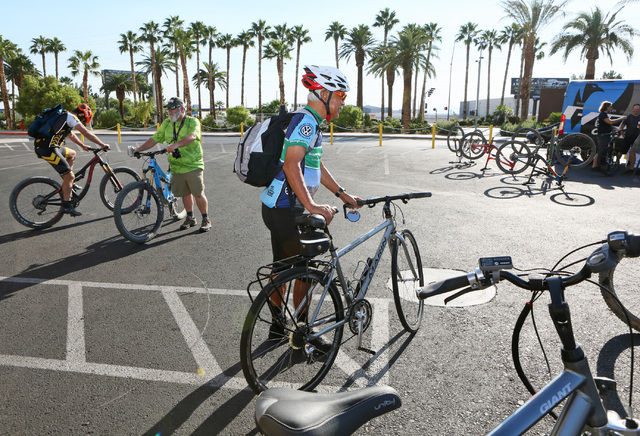 A healthy body is not complete without a healthy mind.
To get students excited about exercising their brains and bodies, the Clark County School District partnered Sept. 22 with Ride for Reading to bring 2,500 books to Gene Ward Elementary School.
The sixth annual event — conducted in partnership with the Ride for Reading nonprofit based out of Nashville, Tenn. — had the books, donated by the Las Vegas-Clark County Library Foundation and Better World Books Corp., transported to students at the school, 1555 E. Hacienda Ave., via bicycle.
Volunteer cyclists — many attendees of the Interbike International Expo at Mandalay Bay — transported the books from the hotel to the school. Escorted by Metropolitan Police Department officers on motorcycles, the cyclists paraded into the school, where students greeted them with cheers and posters.
The books were geared toward pre-kindergarten through fifth-grade reading levels. Each of Ward's 800 students received a free book to keep. Those not given out will be kept in the school's library for students to access throughout the year.
A majority of the students at Ward come from lower-income households, said principal Lea Chua, and many are also enrolled in the English language learners program.
Chua hopes the event helps students understand the importance of reading, which she considers a key for success.
"Many of our students don't have books at home, and having these available to them would allow them to be able to practice at home," Chua said.
Fourth-grader Samantha De Lares said she loves reading and looked forward to receiving her book all week. She chose "Ballet Shoes," thinking it would be a motivational read.
"I spend most of my time reading at home," Samantha said. "I thank the riders for coming."
After the students received their books, some asked the cyclists to sign their books and posters.
Cyclist Ryan Storm, who organized the event, said that even though he has competed in and won professional cycling competitions, Ride for Reading leaves him feeling better than any other experience.
"I hope that the kids get a book and learn to become more literate, even if it's just through that one book," Storm said. "I realize that not every kid is going to read their book, but even if we can just get one student to read, we are changing the life of somebody."
Visit rideforreading.org.
To reach Southwest View intern reporter Rocio Hernandez, email rhernandez@viewnew.com or call 702-387-5233. Find her on Twitter: @rociohzz.
Ride for Reading
For more information on the nonprofit, visit rideforreading.org.