Robots teach lessons at Coral Academy of Science
February 6, 2018 - 5:37 pm
Updated February 9, 2018 - 10:06 pm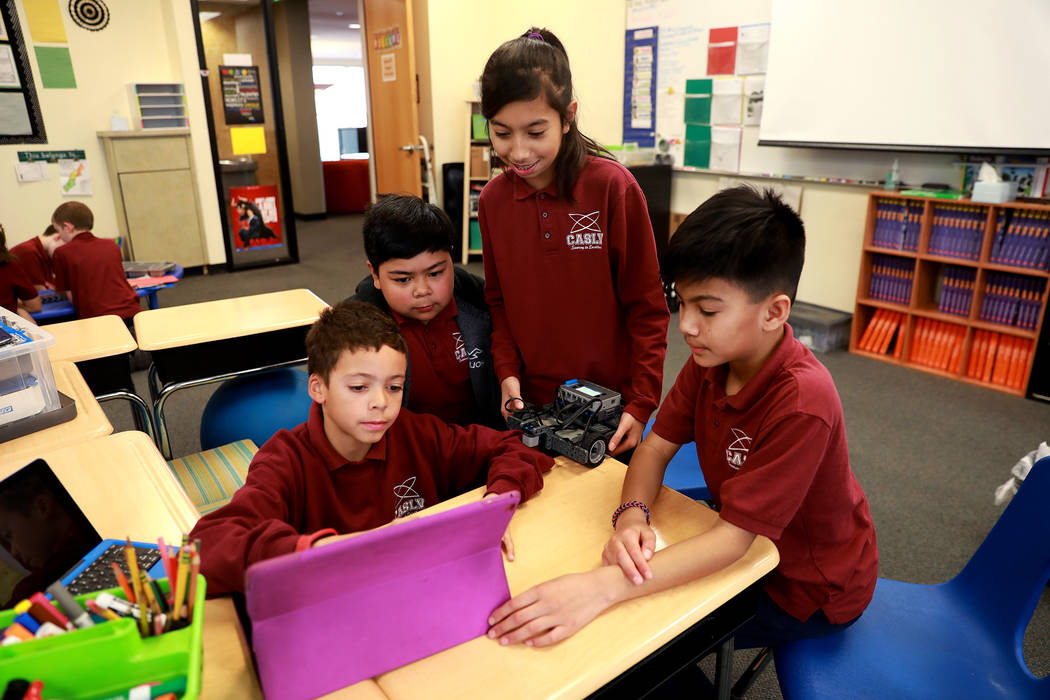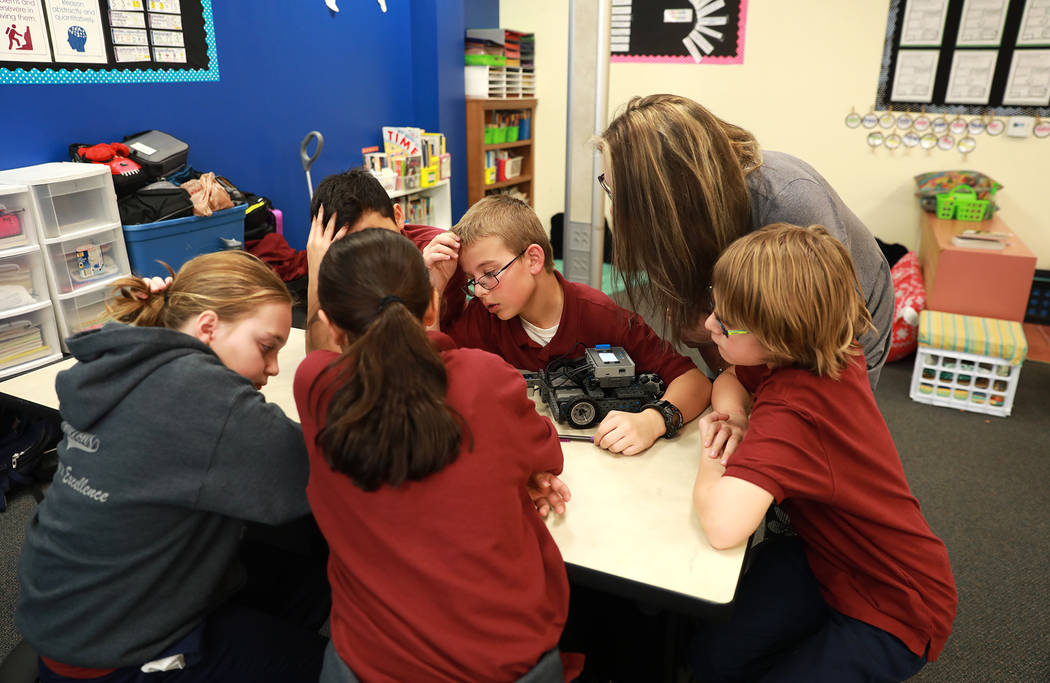 One group programmed its robot to go in circles, over and over, until the end of time.
Another struggled to get its robot to stay straight; it kept veering to the right. A third group had just sent its robot 7 inches in a straight line and was navigating a left-hand turn.
The fifth-graders were using coding and the engineering design process to solve problems in class recently, learning skills their teachers hope they carry with them to careers in a wide range of fields, including computer science.
Project Lead the Way is a nonprofit organization that develops science, technology, engineering and math — referred to as STEM — curricula for schools. Coral Academy of Science Las Vegas, a charter school, is the only elementary school in the area offering the program. It recently secured grand funding to purchase the required materials.
Nancy Bleuer, a fifth-grade teacher at the Centennial Hills campus, serves as the lead coordinator. She attended training over the summer and has been working on the projects with her class. The aim is to expand the program to some of Coral Academy's other campuses.
Her students would certainly sign off on that.
"It's definitely fun to learn how to code a robot," said 11-year-old Peyton Glover.
In their first challenge, the students worked with a robot attached to a remote controller and navigated a fake minefield of hazardous waste. The used to robots to pick up and transport chemicals, avoiding the need for human contact.
Then, they upgraded and began working on a robot no longer controlled by a remote, but instead having movement all based on programming and coding, which they set up through software downloaded on tablets.
And that's where they could flex some of their muscles, including setting the code to send the robot in continuous circles.
"We can program all the motors to do what we want them to do and the color sensors and the touch LEDs and all that stuff to what we want them to do," said 10-year-old Ralph Goodwin.
Goodwin was the robot "driver" in the last project, which he said was the most exciting thing he had done so far. He and his hazmat helper were able to remove all the hazardous waste in less than two minutes.
"People use robots all the time now," he said proudly. "If anyone decides to become an engineer and we already have experience in the engineering process, trial and error and all this other stuff, it could be really useful."
Contact Meghin Delaney at 702-383-0281 or mdelaney@reviewjournal.com. Follow @MeghinDelaney on Twitter.
Engineering design process
Students at Coral Academy of Science Las Vegas use the "engineering design process," similiar to the "scientific method" to problem solve in the class. Here's what the engineering design process entails:
Ask: Identify the need and constraints
Research the problem
Imagine: Develop possible solutions
Plan: Select a promising solution
Create: Build a prototype
Test and evaluate prototype
Improve: Redesign as needed