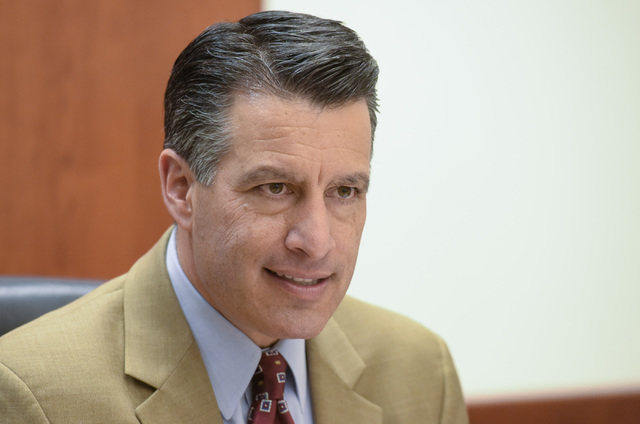 CARSON CITY — Gov. Brian Sandoval signed a bill Wednesday allowing more noncitizens to obtain teaching certificates in Nevada, a move that could help ease a critical teacher shortage in Clark County.
Assembly Bill 27 paves the way for the state superintendent to license immigrants with temporary legal status if a teacher shortage exists.
Nevada's previous law allowed licensure of noncitizens only if a district had a shortage in a subject the person was qualified to teach. The new law allows immigrants who lack citizenship but are otherwise entitled to work in the United States to be licensed if any kind of shortage exists.
The bill won unanimous approval in both the Senate and Assembly.
At Wednesday's bill signing ceremony in the governor's office, Sandoval said the law, which took effect immediately, is an "important moment for education in our state."
"It can make a difference rolling into the next school year," he said, particularly with the "crisis we have in Southern Nevada."
Clark County, among the nation's largest school districts, has hundreds of teaching positions needing to be filled.
Dale Erquiaga, Nevada's superintendent of public instruction, added that the law will not only open doors for the state's immigrant population, but also bring more bilingual teachers into classrooms and expand cultural diversity.
Uriel Garcia, a 22-year-old Nevada State College student, was among those who attended the bill signing. Garcia came to the United States from Mexico when he was 12 years old.
He has a work permit through President Barack Obama's deferred action for childhood arrival program, a policy allowing qualified noncitizens brought to the U.S. as children to live, work or attend school without fear of deportation.
Garcia said he wants to be a teacher and finished his course work at Nevada State College. But until the bill was signed, he was unable to obtain a license required to do his student teaching.
He told the governor he plans to be one of the first to apply for a license under the new law so he can complete his student teaching requirement and pursue a career in the classroom.
Members of the Nevada Hispanic Legislative Caucus also attended the signing and hailed the law.
Assemblywoman Olivia Diaz, D-North Las Vegas, said it allows so-called DREAMers, young immigrant beneficiaries of Obama's policy, "who have passed criminal background checks and have received work permits and meet all other standard requirements to now become licensed teachers in Nevada."
State Sen. Mo Denis, D-Las Vegas, said the law will give immigrants who attended school in Nevada a means to pursue their chosen profession.
"It makes sense for us to hire someone trained in our own university system," Denis said.
Licenses are issued by the Nevada Department of Education. More information can be found on the agency's website www.doe.nv.gov.
Contact Sandra Chereb at schereb@reviewjournal.com or 775-687-3901. Find her on Twitter: @SandraChereb.

RELATED STORIES
Assembly rejects gender-based school restroom bill
Sandoval's scholarship bill heads to Senate floor
Assemblyman seeks repeal of Common Core in Nevada schools
Sandoval challenges legislators to adequately fund education
Assembly to consider private school scholarship program
Bill would provide grants to low-income students
Teachers who have sex with students would have to register as sex offenders
See all of our coverage: 2015 Nevada Legislature.