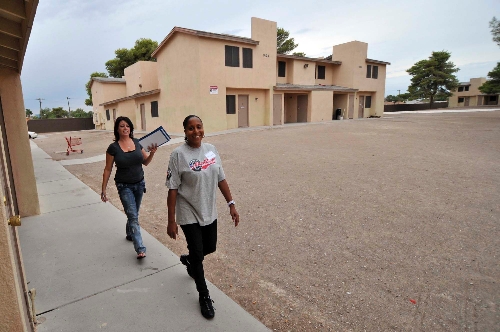 At 9:30 on a recent Saturday morning, Leolar Moore got an unexpected knock at her door.
Her son's assistant principal and the head counselor from Desert Pines High School, 3800 Harris Ave., were there to find out why her son wasn't enrolled in school this year.
This situation happened at about 300 homes across the valley Sept. 10 as part of the Clark County School District's Reclaim Your Future initiative. District officials and community volunteers went door-to-door from bases at 10 high schools across the valley to get struggling juniors and seniors back in school and on the path to graduation.
The Reclaim Your Future program was modeled after a Washoe County School District initiative, now in its third year.
About 20 volunteers, including Clark County School Board Trustee Lorraine Alderman of District D, met at Desert Pines and went through brief safety training. They broke into six groups and set out to find 20 kids they expected to be enrolled this year.
For Desert Pines assistant principal Barbara Collins, it wasn't her first visit to Moore's home regarding her son. Moore instantly recognized Collins, hugged her and invited them in.
Collins, Desert Pines counselor Theresa Matoza and former Desert Pines teacher Stacia Ladson visited three other homes that day, but Moore's was the only current address.
The other students are, for the moment, lost outside the system.
Moore's home near East Charleston Boulevard and U.S. Highway 95 is, like all the homes they visited that morning, in a low-income neighborhood.
The apartment was dark inside, as the shades in the windows blocked what little light there was on this cloudy day. An old stereo blasted hip-hop music, and VHS tapes were scattered atop a small TV. The single piece of furniture was a purple, legless chair on the floor.
Her son was there that morning but wasn't going to come out of his room, Moore said.
Moore said she's going to try to get him to go back to Desert Pines.
Collins and the others came back to the school after an hour of searching for kids. As long as they can get one kid back in school, it will be worth it, Collins said. Equally important, she said, the community got involved with the school, and they were able to reconnect with some parents.
"Success for me," Collins said, "is defined by the relationships we get back."
Desert Pines has one of the lowest graduation rates in the district at just under 50 percent for the 2009-10 school year. Matoza said many of the students feel they have to drop out because they have kids or they have to work to support their family.
"Many of their situations at home aren't conducive to going to school," Matoza said.
Matoza said there are options available for these students, and the school is willing and able to do whatever it takes to get them back.
Alderman said her group was able to at least speak with a family member or a friend at each residence they visited.
"I think people were touched," Alderman said. "It helps just knowing where these kids are and being able to give some guidance. (The program) has tremendous potential."
Moore hugged Collins one more time before she and the others left the apartment. Moore doesn't know what her son will do, but she said she appreciated the visit from the school.
"You guys really do care about these kids," Moore told them, sounding slightly, and pleasantly, surprised. "That's something you rarely find."
Contact View education reporter Jeff Mosier at jmosier@viewnews.com or 224-5524.