Some schools have too few students, others too many
September 4, 2011 - 12:59 am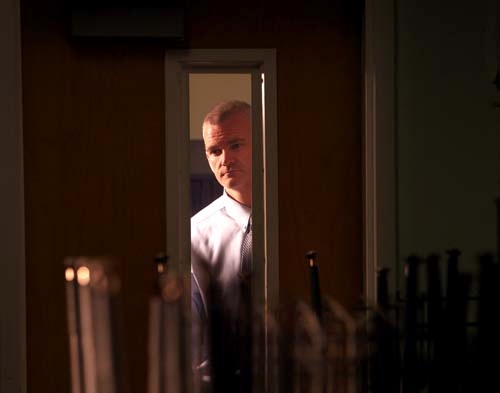 He unlocks the door and flicks on the light switch, revealing a vacant classroom.
Stacked desks, a projector, and a TV stand line the left wall. A long table sits against the right, topped with six computers wrapped in black trash bags.
"It has everything you need, unfortunately just not kids and a teacher," says Cortney Junior High School Principal David Rose as he puts the keys back into his pocket and points to the microphone system that amplifies the teacher's voice through ceiling speakers. "We have several classrooms just like this all over campus, ready to roll."
The school is a quarter vacant. Ten classrooms sit empty.
The Clark County School District — the fifth-largest district in the country — historically hasn't been short on students. In past decades, it set a relentless pace in school construction just to keep up with record growth. Even now, the district isn't experiencing a student drought — its enrollment of 309,000 is just shy of its all-time peak of 311,000.
But in the teeth of a poor economy, school populations have shifted or declined as families move around the city or out of the state. That has left some campuses empty while others are packed to the gills.
The vacancy issue, reflected at Cortney's quarter-empty campus near U.S. Highway 95 and Hacienda Avenue, was an uncommon problem for the district until recently. When Cortney opened in 1998, it had too many students. About eight portable classrooms were trucked in to provide seats for an enrollment of 1,800, Rose said.
But while the district has grown steadily since then, Cortney's enrollment dropped every year to where it sits now at 1,100.
Rose, who lived two blocks from the school for a decade, watched as families left the neighborhood.
Cortney's not alone. About a quarter of Clark County's 357 schools are expected to have empty desks this school year, about 18,700 desks in all, according to a district report. Cortney has 385 open spots, but other campuses have even more.
Lyon Middle School in Overton sits half empty, with 485 open seats. Eldorado High School, near Washington Avenue east of Nellis Boulevard, has 780 empty seats.
But at Lake Elementary School, south of Sahara Avenue and east of Maryland Parkway, the grounds are crowded with 20 portables. That's not a new development at Lake, which is 60 percent over its maximum student capacity, said Principal Larry McHargue. At least 15 of the portable classrooms have been in use for a decade.
Nine district elementary schools are 50 percent or more over capacity, relying on portables for extra space. The district is using 1,170 portables for elementary school classrooms.
Elementary schools are by far the most packed. But four of the district's 217 elementary schools are on the other end, ranging from a quarter to half empty.
Middle and high schools, however, are generally struggling with low enrollments.
OPEN ENROLLMENT FALLS FLAT
Last winter, in an attempt to balance enrollments across the board, the district gave parents the option to transfer students at crowded schools to campuses with vacant seats. Open enrollment allowed families to apply to any of the 103 schools with vacancies without regard to zoning. All they had to do was fill out a form by Jan. 7.
But families didn't bite, primarily because parents were required to provide transportation, several principals said. Only 6 percent of the 18,700 empty seats were filled through open enrollment. Only one child transferred to Cortney.
The lack of response could lead to rezoning to balance out school enrollments, which means redrawing the lines that determine which school a student attends. District officials also may look at returning to year-round schedules at crowded campuses, which would decrease enrollment numbers.
The School Board touched on those options at its Aug. 25 meeting. It's a topic that will be revisited sometime within a month because the problem isn't going away.
THE PROBLEM OF PORTABLES
School Board President Carolyn Edwards has suggested counting portables as part of a school's capacity. Now, only brick-and-mortar classrooms are considered when building capacity is calculated. If this change were made, only two elementary schools — instead of the current 73 — would be considered to be greatly over their limits because they exceed their capacities by 13 percent or more.
Board member Chris Garvey cautioned against making portables a norm, as did others at the Aug. 25 meeting, pointing out that adding portables doesn't add bathrooms, parking spaces or room in the cafeteria to campuses.
Lake Elementary School has to stagger lunch over 2 ½ hours to get everyone in, Principal McHargue said.
"How does anybody know who these kids are?" asked School Board member Deanna Wright about crowded schools where enrollment can exceed 2,000. "It's a buffet line, like cattle."
Portables are supposed to be temporary, said Kelly O'Rourke, principal of North Las Vegas' Craig Elementary School, which is 60 percent over its capacity and relies on 12 portables.
"They're not so portable. They become permanent fixtures," O'Rourke said.
The school has used its portables for more than a decade.
A maximum time span needs to be set for the use of portables at a school, suggested School Board member Linda Young.
"We really need to look at this very carefully," Young said. "A long, hard look."
REZONING
Rezoning may be the answer. But families don't like to be moved, Wright said. "They buy a house to go to the school."
But zoning may have to change as the population shifts or materializes differently than forecasted.
The northwest valley's Escobedo Middle School is a prime example of reality not conforming with the predictions for growth. The school has been open only five years and was built to accommodate the Providence master-planned community.
"Providence was going to be another Green Valley Ranch," said Principal Stefanie Machin, referring to an example where expected growth never happened.
But then the housing bubble burst and so did Providence's growth, she said. As a result, nine of her classrooms are empty.
Rezoning could fill the seats, but is a "double-edged sword," she said. Busing students there would cost more and "parent outcry" would be significant.
"Providence will grow," she contended. "In time."
She advised waiting to rezone because Clark County hasn't reached a new norm and is still in transition, as are families.
O'Rourke, principal of Craig Elementary School, knows of many students whose families moved to California last year to live with extended family.
Leavitt Middle School Principal Keith Wipperman knows of unrelated families in his northwest Las Vegas school who have moved in together because one can't afford the mortgage payments.
His school sends letters to all students during the summer. The postal service returns letters for those who have moved and not provided an address change.
"We had a summer of more returned mail than ever before," he said. "You get a stack and you don't know where they ended up."
Contact reporter Trevon Milliard at tmilliard@reviewjournal.com or 702-383-0279.
Top schools under and over student capacity
Elementary School, Percent Over
Lake, 60.5
Ronzone, 57.8
Crestwood, 56.7
Ira Earl, 54.9
Dearing, 54.7
Elementary School, Percent Under
Wendell Williams, -43.4
Fitzgerald, -30.3
Hancock, -26.9
Hayden/Duncan, -26.1
McCaw, -23.9
Middle School, Percent Over
Cashman 30.2
Hyde Park 15.5
Mannion 13.7
Webb 11.3
Harney 10.4
Middle School, Percent Under
Sandy Valley, -71.9
Lyon, -54.0
Orr, -32.0
Fremont, -26.3
Cortney, -26.1
High School, Percent Over
Foothill, 16.4
Valley, 15.8
Rancho, 15.6
Centennial, 13.3
Coronado, 13.2
High School, Percent Under
Eldorado, -32.8
Desert Oasis, -23.6
Sierra Vista, -23.5
Mojave, -22.4
Liberty, -22.0