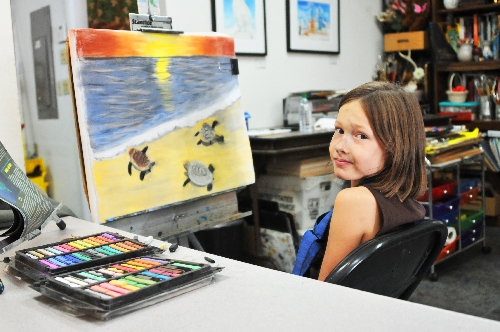 By the end of her art class, 8-year-old Kayla Riach had dark streaks on her cheeks, nose and forehead from inadvertent scratching.
"I tell them, 'If you don't look like a coal miner when you go home, you're not doing it right,' " said art instructor Barbara Sindelir. "(Kayla) took it to heart."
Sindelir teaches at Art From the Heart, an artist co-op and gallery at 4020 N. Tenaya Way. It is one of many sites in the Las Vegas Valley offering summer art classes for children and adults.
"I think everyone is an artist, and it just sometimes takes a little instruction," Sindelir said. "(Art) is very gratifying for people. They get a great sense of accomplishment."
Kayla was using pastels to draw shadows under sea turtles. The shadows needed to be dark gray with a hint of gold to match the sand of her beach at sunset.
"I love to draw," Kayla said. "It's just fun."
She said she draws a picture a day at home. She is really into horses at the moment.
Kayla started attending weekly classes in March. She, like every kid in the class, had to start from the beginning.
Students begin drawing shapes with charcoal on newsprint and move on to shadows and shading.
Jennifer Wilson, 12, was finishing her last lesson in charcoal, drawing a vase, a basket and a candle. She paid special attention to the shadows cast from a spotlight.
A student at Leavitt Middle School, 4701 Quadrel St., Jennifer has always been into art. She remembers drawing stick people in her younger years.
"I love it," she said. "I always had a feel for it. I like how when I'm drawing a certain piece, I can put my own emotions in it. If I'm happy or sad, the piece changes."
She moved on to the next lesson, the color wheel, and graduated to pastels.
Jennifer mixed blue, red and yellow – the primary colors – to create secondary colors, then tertiary ones.
"They learn to use complementary colors for shading and how to mix them," Sindelir said. "It's very beneficial. They need it for shading. The way it occurs in nature, shadows are never gray. They're a darker color of what they fall on."
Nearby, 10-year-old Ellyna Min was re-creating a scene from Arches National Park in Utah. She has been coming to the class for about a year. Students are free to pick their own subject once they reach the pastel stage. Kids rummage through the gallery's collection of photo calendars, books and other publications. They can even bring their own photo to draw.
Every time they finish a drawing, they sign and date it, and Sindelir sprays it with Sprayfix to help prevent smudging.
These and other students' creations are scheduled to be displayed at Art From the Heart through July 14. A reception is scheduled from 6:30 to 8 p.m. Saturday.
Contact View education reporter Jeff Mosier at jmosier@viewnews.com or 224-5524.