Thiriot Elementary's Dream Garden yields lessons for students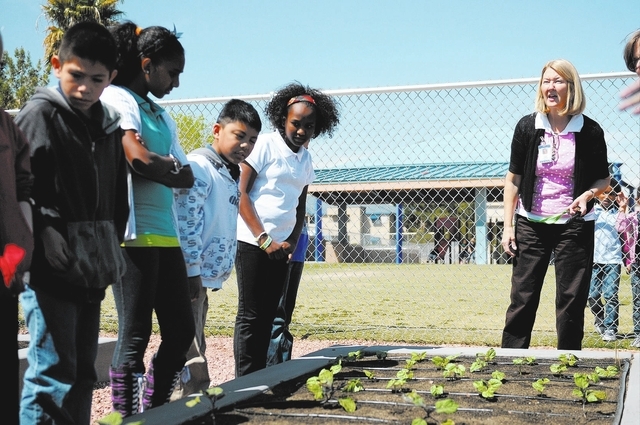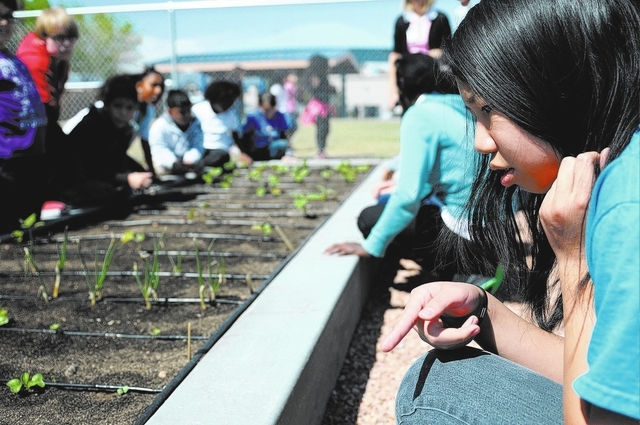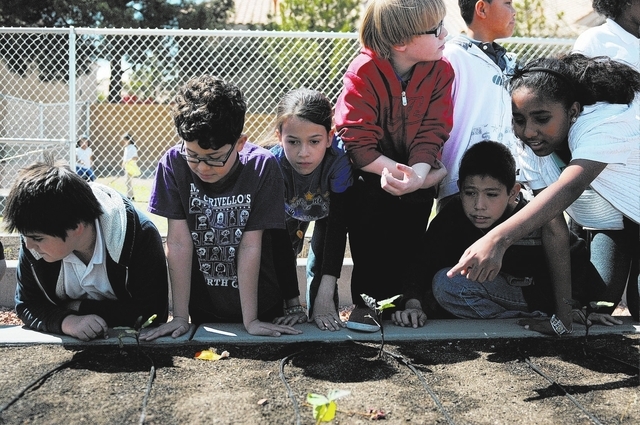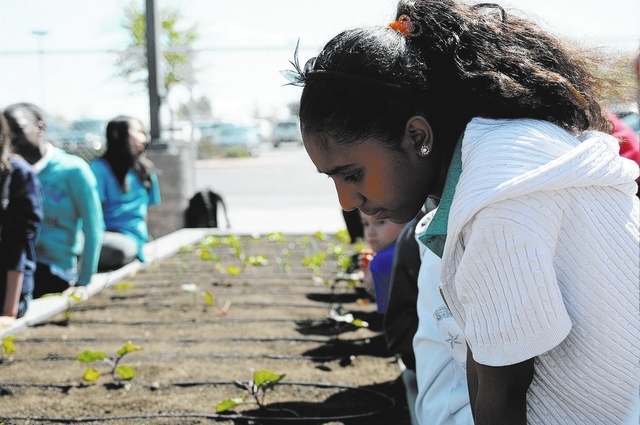 About 260 Thiriot Elementary School students are on track to earn their green thumbs.
The school, 5700 W. Harmon Ave., partnered with Create a Change Now, a nonprofit that fights childhood obesity by educating children on healthier eating habits. The partnership is aimed at creating a garden for the school's third- through fifth-grade students.
The students planted strawberries, tomatoes, onions, eggplant, peppers and more March 19, according to principal Sonya Holdsworth.
"The students voted on calling it The Dream Garden because we are the Dream Catchers," Holdsworth said. "We're really excited about it."
Learning strategist Shawna Karl came up with the idea last year when she wanted to revamp the school's courtyard and make it a garden. The garden was later moved to the field because the courtyard was too shaded, according to Holdsworth.
"Create a Change Now went out and sought a sponsor to actually build the garden for us," Karl said. "Penta Building Group built the cement planters, put the fence around it and did the irrigation system."
The school also received soil donations from the Springs Preserve, picnic tables from The Home Depot and other items from Sam's Club and Star Nursery.
"We're hoping this brings more parents and the community into our school," Karl said. "We've really put Thiriot on the map."
Through Create a Change Now, the students will learn about nutrition by planting fruits and vegetables, said founder Candace Maddin.
"We're fighting childhood obesity by teaching children where these foods come from," Maddin said. "We hope that they'll think about what they put in their mouth after this."
Once the food is harvested, a chef from the nonprofit will teach the students how to prepare and cook the items they have grown. The children are then sent home with copies of recipes.
"We've received comments from parents saying that their children have come home and asked them to make the recipes they learned from school," Maddin said. "It's really fulfilling for us. It's lets us know we're making a change not only for the students but their families, as well."
Since most of the school's students live in apartments, they don't understand how food is grown because they don't have access to gardens, according to Holdsworth.
"Kids think their food is made at the grocery store," Maddin said. "They don't have a clue what it's like to pull a fresh carrot out of the ground. We're really getting back to the basics with organization."
Teachers are set to create not only science lessons in the garden but also teach language arts, math and fitness skills.
"The garden extends our classroom beyond just the four walls," Karl said. "Now we're out with nature, and we're able to study science all around us."
A school yard sale is scheduled from 8 a.m. to 1 p.m. May 3 in its parking lot to raise funds for the garden. Parking spaces are used to sell items and cost $10 for one or $15 for two. Call 702-799-2550.
Create a Change Now also works with Thomas, McWilliams, Detwiler, Lunt, Warren and Bracken elementary schools. For more information, visit createachangenow.org.
Contact Southwest View reporter Caitlyn Belcher at cbelcher@viewnews.com or 702-383-0403.