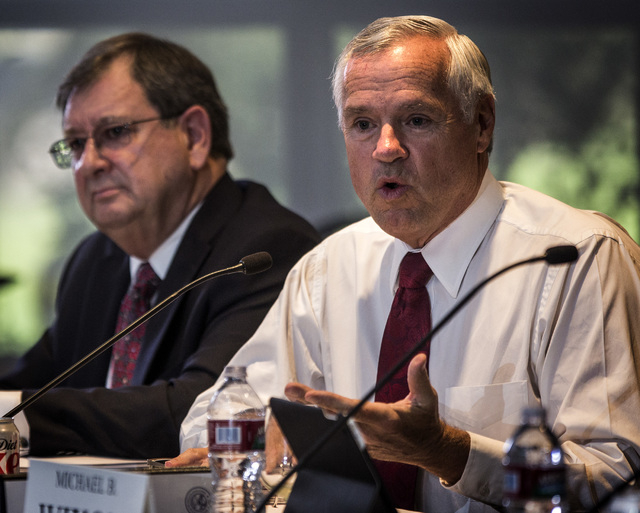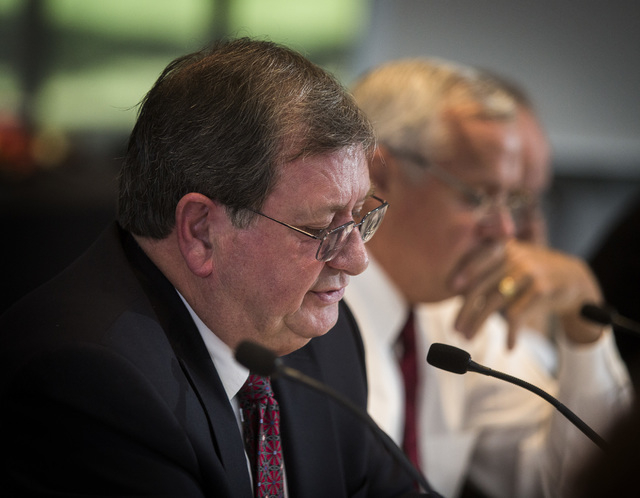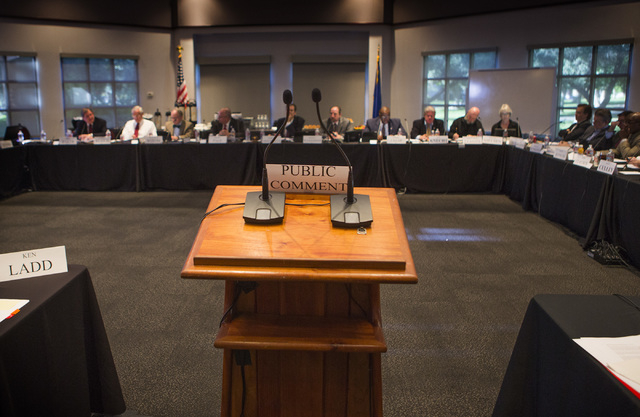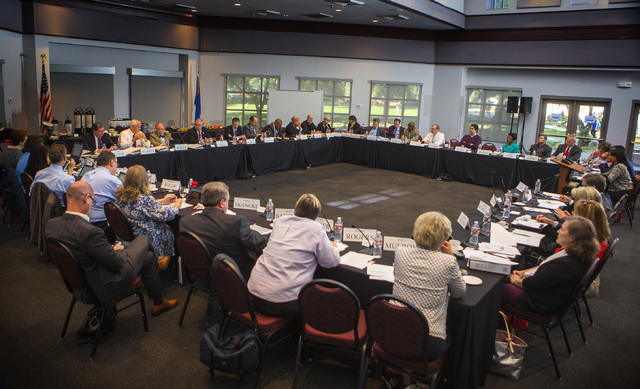 A medical doctor, a business school administrator and the UNLV provost were unveiled Monday as the three candidates to be the next president at University of Nevada, Las Vegas.
Ricardo Azziz, president of Georgia Regents University, Len Jessup, business school dean for the University of Arizona, and John White, provost of UNLV, were announced as the finalists during a UNLV presidential search committee meeting at Marietta Tiberti Grand Hall in the Richard Tam Alumni Center. About 80 people attended the meeting, including the search committee and members of the board of regents.
All three candidates will next come to UNLV in November to visit the campus and meet with administrators, faculty, students and the public.
Azziz, who is a medical doctor, led Georgia Regents University for the past five years and is the CEO of the Georgia Regents Health System, which includes overseeing a more than $1 billion budget.
Azziz, who is fluent in Spanish, was recently considered for the presidency of other universities in Florida and Texas.
In a statement from Georgia Regents University, Azziz "has become a prominent voice in the broader national conversation around the future of higher education as he has shared the challenges and opportunities of the GRU experiences. Universities and health care organizations looking for transformational leadership have approached Azziz on a number of occasions, suggesting that he consider bringing his experience to leadership positions in their organizations.
Jessup is the dean of the University of Arizona's Eller College of Management. Prior to leading that university's business school, Jessup held several administration roles at Washington State University, including dean of the college of business and vice president of university development.
Jessup, through a spokesperson, declined to comment at this point in the process.
White was not available for an interview Monday afternoon, but released the following statement: "I am proud of the progress we have made at UNLV but know there is still much for us to achieve. I am honored to be a finalist and look forward to the opportunity to share my vision for the university. Out of respect for the search committee and its ongoing work, I will not have anything further to say at this time."
White came to Las Vegas via Louisiana State University, where he taught for 15 years. White, who holds a juris doctorate, was the second dean of Boyd Law School before becoming UNLV's provost. He assumed the role after Neal Smatresk was named UNLV's president.
Monday's meeting grew contentious at one point as debate ensued about how and when the three candidates were chosen.
Four finalists were scheduled to be named earlier this month, but that meeting was abruptly canceled after two candidates withdrew their names they were made public. Little was revealed about the two candidates who withdrew their names other than one was a woman and the other a man.
A third candidate, who was not among the top four, was then added.
Several Nevada System of Higher Education regents grew concerned that it not be made public which of the three was added on later, which could be seen as a disadvantage.
Higher education Chancellor Daniel Klaich and consultant Jerry Baker, who both vetted hundreds of potential candidates, announced the final three on Monday in alphabetical order.
"We have three people who can be president of UNLV in front of this committee," Klaich later said about the candidates.
Afterward, Board of Regents chairman Kevin Page said he looked forward to meeting all three candidates.
"I don't think there is a favorite. We have three candidates that have three diverse backgrounds and they all bring different strengths and weaknesses," Page said.
Campus visits by the candidates will be conducted the week of Nov. 10. Each candidate visit will include forums with faculty, students, staff, the public and the wider community in what could be a two-day interview process.
Baker added that the visits should not only be viewed as a chance to meet the candidates, but also to market UNLV. A candidate must still accept the post if the job is offered, Baker said.
The search committee will meet on Nov. 17 and 18 and decide whether to make a recommendation to the full board of regents. The Board of Regents will then decide whether to hold a special meeting to pick a president.
Baker's Atlanta-based company was hired in May at a cost of $150,000, regardless of the time involved, to conduct the search.
It's been a year since Neal Smatresk announced he would step down as president of Nevada's largest university to become president of the University of North Texas for about double the salary.
Don Snyder has led the school since the Board of Regents appointed him interim president in February. Snyder, a former member of the UNLV Foundation's board of trustees and dean of the William F. Harrah College of Hotel Administration, cannot be considered for the position.
Contact Francis McCabe at fmccabe@reviewjournal.com or 702-224-5512. Find him on Twitter: @fjmccabe