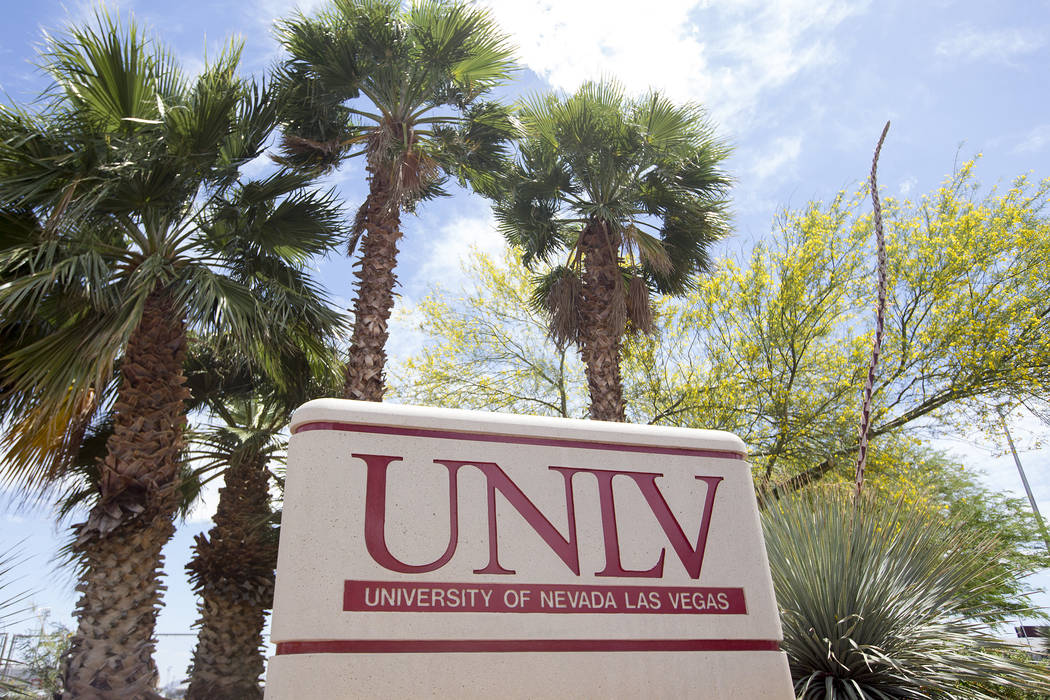 UNLV is located just outside the boundaries of the glittering Las Vegas Strip, but alumni believe there's a better way to define its presence in Clark County.
Joel Laub and Chip Johnson began an effort in 2015 to rename Swenson Street as University Parkway or University Boulevard to give the campus more clearly defined boundaries and signal UNLV's presence to Las Vegas visitors.
"We've had conversations with other alumni," Laub said, "and people would ask, 'What's the entrance to the university?' Nobody had a definitive answer. That's what we want to create at UNLV."
Swenson Street heads out of McCarran International Airport toward Tropicana Avenue and the UNLV campus to the right, where the Thomas & Mack Center is the most visible building.
"The general plan is to create a very positive image of UNLV for all of these millions of visitors who are coming to Las Vegas," Laub said. "Right now, we're missing a lot of visual stimulation."
The idea morphed into a project for UNLV marketing students. Matthew Iles and Brandon Bragg conducted focus groups with students and the business community to determine the idea's viability.
"When you ask someone what they consider to be the main entrance, they said whatever entrance they use," Iles said. "It all depended on how they got to campus."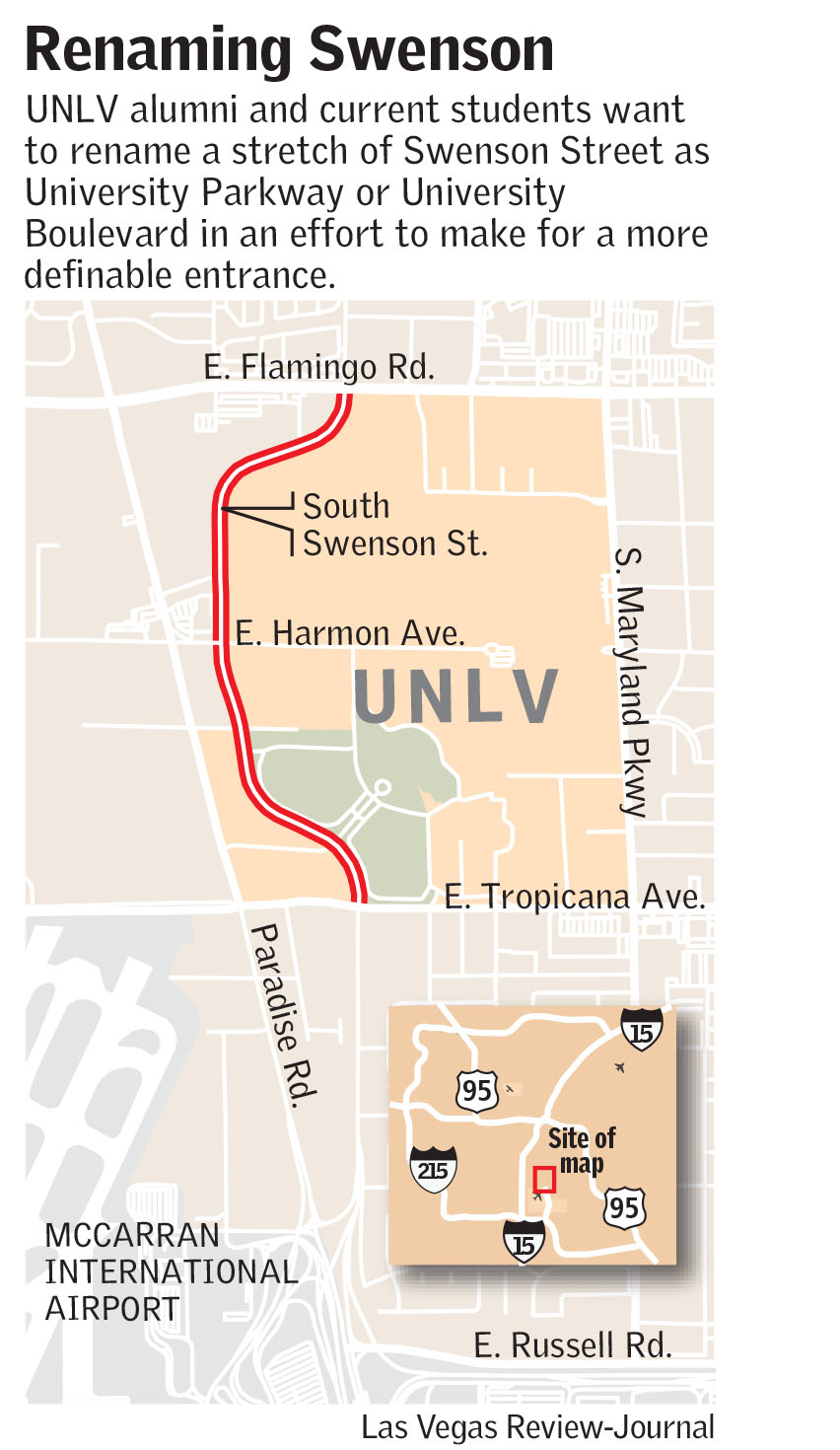 Iles also photographed and counted the street signs that would need to be changed — a task that could cost tens of thousands of dollars.
They also consulted public records to determine when Swenson was first built.
"We think we've narrowed it down to around 1967 or so," said John Osborn, assistant dean for external relations for UNLV's Lee Business School, adding that they've also consulted longtime residents of the valley, including Mark Hall-Patton, to determine the origin of the name Swenson.
"We've done extensive research, but we have not definitively figured out who the street is named after," Laub said.
In their research, Laub said they also found a dead-end road, about a quarter-mile long, named University Avenue, which is near Swenson. He said the name of that road will also need to be changed so as not to confuse emergency personnel.
Much of their research has focused on the portion of Swenson that stretches from the airport to Flamingo Road. However, Laub said county commissioners suggest the name change should apply to the entire length of Swenson, which reaches Desert Inn Road.
"There's still a lot of questions to answer," Osborn said. "We're trying to be very thorough and trying to be very well prepared."
Those involved with the project would like to have the name changed by September, when it would coincide with UNLV's 60th anniversary.
Contact Natalie Bruzda at nbruzda@reviewjournal.com or 702-477-3897. Follow @NatalieBruzda on Twitter.
A landscape corridor
UNLV alumnus Joel Laub said the name change is an important step. However, he sees it as just one component of the overall idea of creating definable boundaries for the university. He would also like to see the university engage in a two-mile beautification project from where the university begins at Tropicana Avenue to the MGM Grand.
"Everybody has made comments about how visually unattractive that area is," Laub said. "Adding a landscape corridor will have a huge, positive impact."