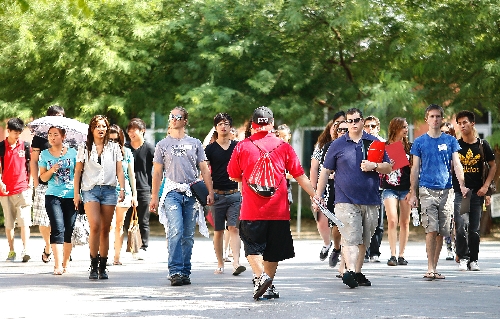 Think about 1993. What you were doing, where you lived, the job you had and the clothes you wore, the music you listened to and the dead you mourned.
And then think about how old you were at the end of 1993.
Richard Chavez and most of the rest of the incoming freshmen at UNLV weren't even born yet.
Sobering, huh?
"It's always been a dream of mine to go to UNLV, ever since I was a little kid," said Chavez, 18, who grew up in Ely.
He and more than 900 other students, mostly freshmen, were moving into the dorms last week. Classes start today.
Chavez said he's going to major in political science. He wants to be a lawyer. He got jazzed about the legal profession while working in a lawyer's office while he was in high school.
He's already figuring on attending UNLV's Boyd School of Law, a well-established and respected institution that is perennially ranked in the nation's top 100 law schools.
The law school opened as Chavez was getting ready for kindergarten.
It has become a national pastime to gently mock college freshmen — and older folks — every year with the release of the Beloit College Mindset List, a compilation of pop culture trivia and other inane stuff that shows how things have changed over the years.
The Internet has always existed! Ferris Bueller is old! Remote controls are everywhere!
The list, put out by a small college in Wisconsin, is intended to remind professors that the incoming freshmen class doesn't necessarily see the world the way the professors do.
In 1993, UNLV's enrollment was 19,682. It's expected to be about 28,000 this year, where it's been for several years.
In 1993, the Strip did not exist as it does today.
Since then, Treasure Island, MGM Grand, Luxor, Monte Carlo, New York-New York, Bellagio, Mandalay Bay, The Venetian, Paris, Planet Hollywood, Wynn Las Vegas, Encore at Wynn Las Vegas, Palazzo, the massive CityCenter and The Cosmopolitan have all opened.
"Yeah, back when my dad came here, it was just the Flamingo," said freshman Alexa Terrazas, who also moved into the dorms last week.
Terrazas, 17, is from the Los Angeles area, but she said she has family in Las Vegas. She's visited many times.
She wants to major in hospitality, which made choosing UNLV easy.
"They're the No. 1 school in the country," she said.
She'd like to be an event planner, a job idea she got after watching her mom plan parties at their house as a hobby.
Terrazas said she was in fourth grade when the Sept. 11, 2001, terrorist attacks happened. The United States has been at war almost as long as she can remember.
Kalin Scott-Wright was in elementary school, too, back when everything changed. He went to Walmart the other day and bought supplies — Band-Aids and stuff — for himself for the first time in his life.
"I feel like I'm an adult now that my mom left," he said on dorm move-in day. "I'm on my own now."
Scott-Wright is from the Los Angeles area, and he chose UNLV because he's hoping to join the football team.
Yeah, a guy born the year NBC lost both "Cheers" and David Letterman is old enough to play college football.
So does he feel young and naive?
Does he feel like he's barely lived, while everyone else is watching the years pass by and their hair turn gray?
Of course not. He gets that he's still a teenager. He gets that he has a whole lot of life left to live.
But he also gets that there's another generation coming up behind him, which will have its own list of things everyone else, including him, will probably marvel at long after's he's graduated from college.
"Remember when people used to … ?" everyone will say.
Contact reporter Richard Lake at rlake@reviewjournal.com or 702-383-0307.
CHANGING LANDSCAPE
Since the birth of most of today's college freshmen in 1993, Las Vegas has seen many changes:
• UNLV's student body increased from 19,600 to 28,000.
• Since 1993, Treasure Island, the MGM Grand, Luxor, Monte Carlo, New York-New York, Bellagio, Mandalay Bay, The Venetian, Paris, Planet Hollywood, Wynn Las Vegas, Palazzo, the massive CityCenter and The Cosmopolitan have all opened on the Strip.
• Clark County's population more than doubled, from 900,000 to almost 2 million.
• The UNLV Runnin' Rebels' only national championship came in 1990, before today's freshmen were born.
• In 1993, Interstate 215/Las Vegas Beltway existed only as an idea.