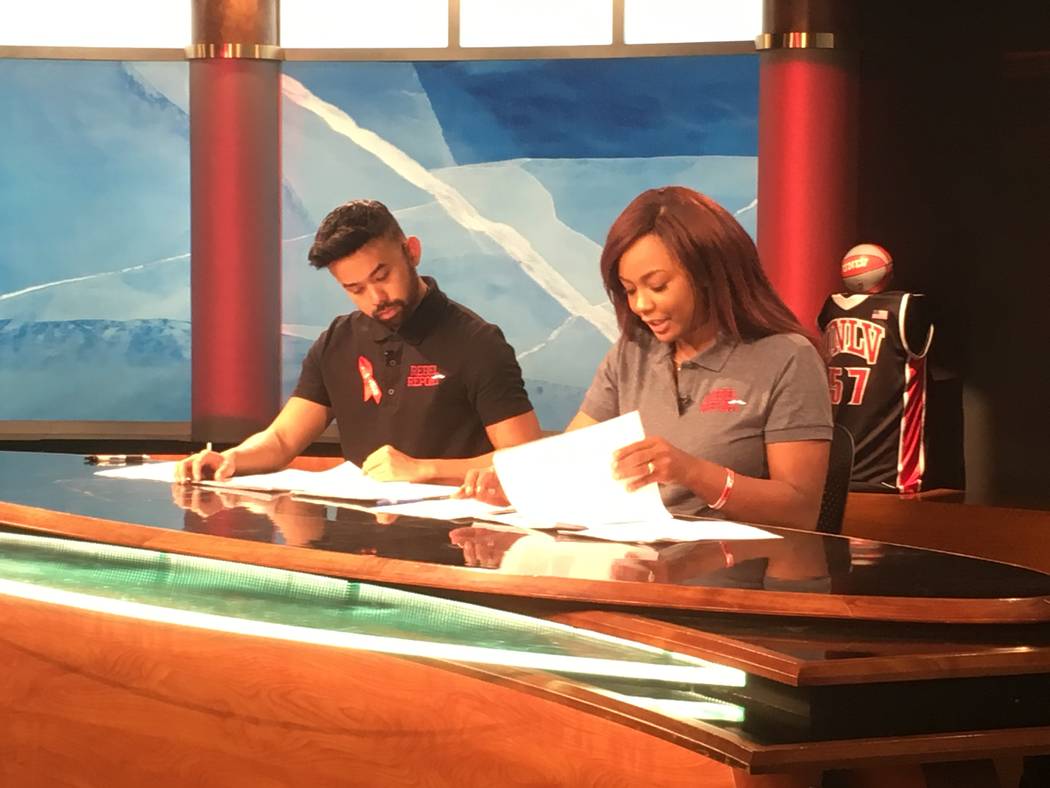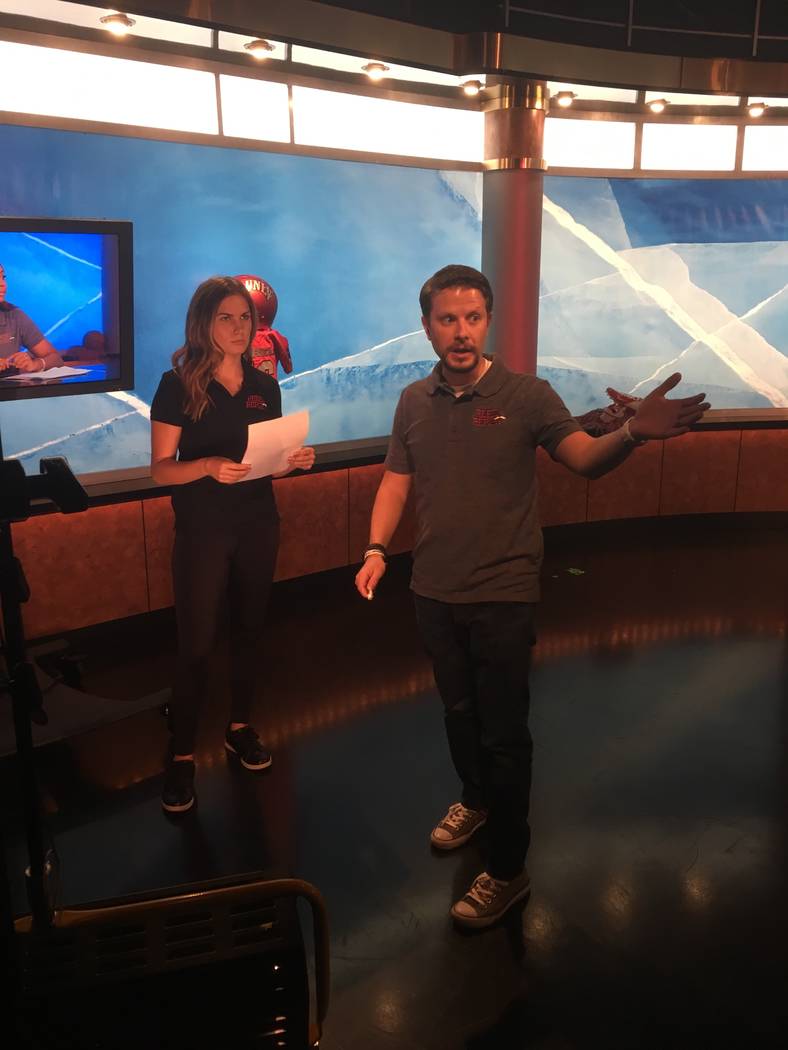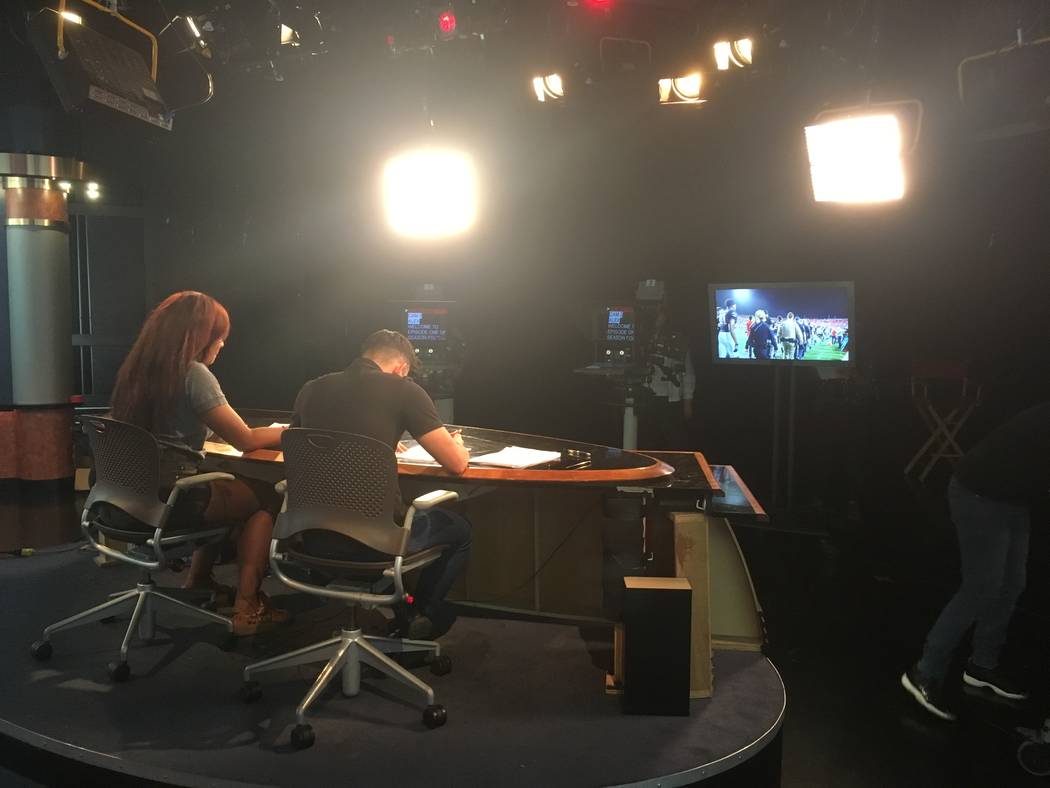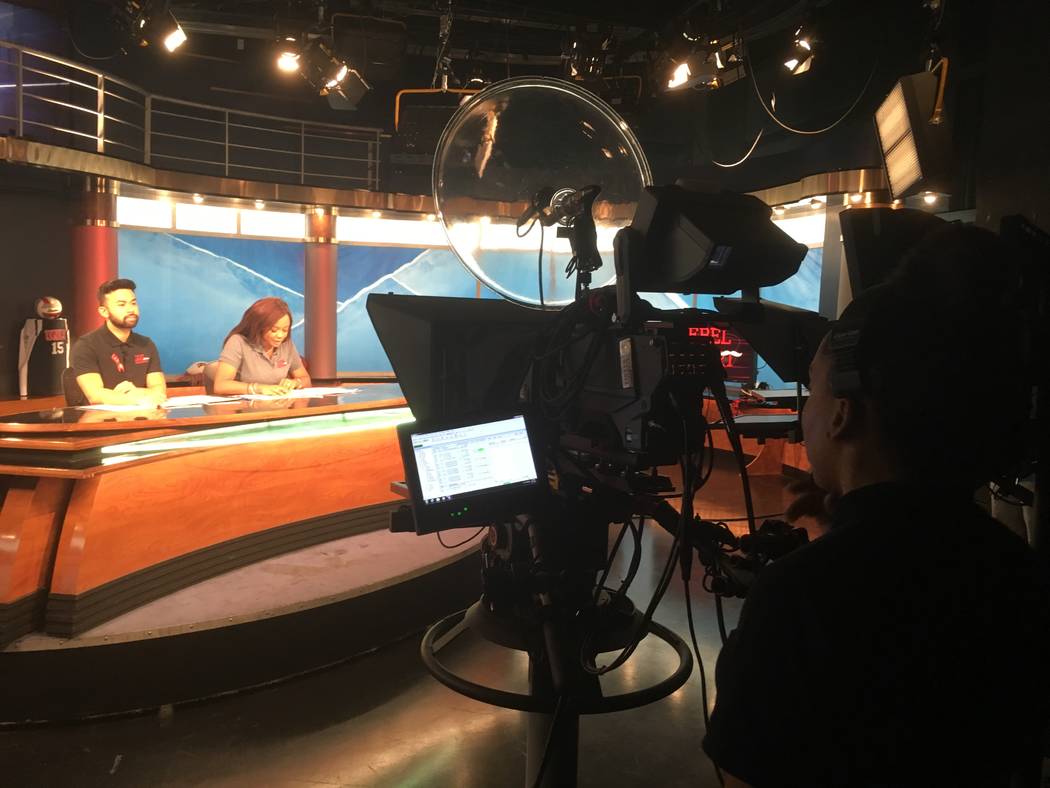 Students involved in UNLV's sports-themed "Rebel Report" TV show swap roles each week, ensuring each gets experience behind the anchor desk, holding a microphone and operating equipment.
They also get a crash course in deadline pressure. Jon Castagnino, the social media sports coordinator for the Hank Greenspun School of Journalism and Media Studies, makes sure of that.
"I cannot ask you to do things more than once," he enjoins as about a dozen students chat, check equipment or repeat tongue twisters to loosen up during the first filming of the fall semester. "When I say that specific shot needs to go into a story, it's not arbitrary."
Then, "I didn't see anyone posting on social media about today being our first day. We need to do better."
He spots a student glancing at her cellphone.
"No phones unless it's class-related. … Is this class-related?"
It is, she promises.
"All right, everyone get to their spots," Castagnino tells the students who have gathered to begin creating the fourth season of "Rebel Report."
Three large cameras train on anchors Arlynda Gregory and Alex Wong.
Four, three, two, one …
"Hey Rebels, my name's Alex Wong," he says into a camera. "We're getting ready for first show of the season of 'Rebel Report.' We're going to talk about how the sports community has come together. …"
Wong eventually trips up and asks to start over. Multiple classmates will do the same in the following hour, perhaps a sign of new-semester rust.
Fresh memories
That episode was filmed 11 days after the Oct. 1 shooting and focused on the reaction in the sports world. Reporter Lindsey Dovali filmed a segment about first responders being honored at the UNLV football team's Oct. 7 home game vs. San Diego State. Other segments touched on a Lakers preseason game in Las Vegas, the Vegas Golden Knights and former Rebels and Bishop Gorman center Stephen Zimmerman Jr.'s thoughts on the attack.
Subsequent episodes of the weekly show have involved less melancholy subject matter, such as the university's men's and women's soccer teams, UNLV football's "Ninth Island Showdown" victory over Hawaii and Las Vegas Lights FC, a minor-league soccer team set to begin play in 2018.
Evolving goals and opportunities
Senior Summer Crawley, who was operating a camera during the Oct. 12 production, is in her second year with "Rebel Report." The broadcast journalism major and track-and-field athlete from California said sideline reporting appeals to her, but she has shifted her focus to Twitter updates as social media continues to proliferate as a journalism tool.
"One of my stories was for the first Golden Knights game; they had the (pregame) ceremony for the first responders and victims," Crawley said. "Being there and reporting on it, it was very emotional. I could feel the heaviness in the arena. At the same time I was very fortunate to be there, because it's an opportunity I otherwise wouldn't have been able to get."
Crawley said she's pleased to see more opportunities for women opening in sports media, and that three of the 15 reporters she saw at the Golden Knights' Oct. 10 home opener were women.
"I'm a basketball fan, and there are a lot of women reporting" on it, she said. "It gives me hope that if they can do it, I can do it as well."
Gregory, a journalism and media studies major from suburban Chicago, also is in her second year with "Rebel Report." The longtime sports fan spoke frankly about the challenges of being on camera.
"People are always sort of judging, no matter what," she said. "You have to look a certain way; in the back of your mind, you're always wondering if you look OK. Reading a story, you have to learn to cover up your emotions."
Gregory and other students said they don't mind Castagnino's sternness.
"'Rebel Report' is very lifelike," she said. "Jon, he tells us all the time that this is not like the real world, that he's trying to make it as close as possible."
Castagnino has experienced the real world of journalism via on-air jobs in far-flung locales such as Casper, Wyoming, and the southern tip of Texas. The Las Vegas native and UNLV graduate jumped at the chance to return home, accepting an on-air job with KVVU-TV, Channel 5 about a decade ago. He stayed there for eight years.
In 2015, Castagnino was diagnosed as having intestinal cancer. He had surgery and is cancer-free, and he didn't have to undergo chemotherapy. Still, the experience resonated.
"Life changed at that point, and I reassessed what I was doing," he said. "That was part of the reason I saw this (job) opportunity at UNLV, and I thought it might be time for me to take a little bit of a turn from the hustle of bustle of local news."
Castagnino said he wanted to created a class based on real-world experience — "the job before the real job."
"Some students, it comes as a shock to them when you hold them accountable," he said. "I don't want to coddle them at all, because I know how tough this industry is. Nobody coddled me at all in my career, and when I got sick, I was still working through that. There's nobody out there in this industry who's really giving you kudos … I don't want to give them any misconceptions about that in college."
All about drive
Castagnino said he usually can tell whether a student is destined for career success.
"There are students I see and identify, and I'm like, wow," he said. "It's really about their own drive. Are they accepting of their responsibility as a journalist? Are they staying for the whole game instead of just the first half? That's what I look for initially. If I see a student with a passion and that drive, I know they're going to be successful."
Wong, from California, was a freshman at UNLV in 2010. He took a break from school and returned in 2013, and he said news delivery has changed dramatically during his two tenures.
"I get my news from Snapchat," he said. "It has a discoveries tab with CNN, Buzzfeed … 17 magazines are on there. In 2010, we just had Facebook. I don't think people were even getting their news on Facebook then."
He, too, praised Castagnino's deadline-oriented approach.
"Jon's a really nice guy, but he's going to act like an executive producer and treat it like a job," Wong said. "As college students, when do you flip your thinking cap from 'I'm a college student' to 'I'm working'?
"With Jon, I've flipped my thinking to, 'I have a job. I am a journalist.'"
Contact Brian Sandford at bsandford@viewnews.com or call 702-380-4531. Follow @nweditor on Twitter.
Emmy win
"Rebel Report" received an Emmy this year in the student programming category from the Pacific Southwest chapter of the National Academy of Television Arts & Sciences.
'Rebel Report'
Online: unlvtv.unlv.edu/the-rebel-report
Schedule: Episodes are released on Thursdays. Episode eight was set to post Nov. 30.