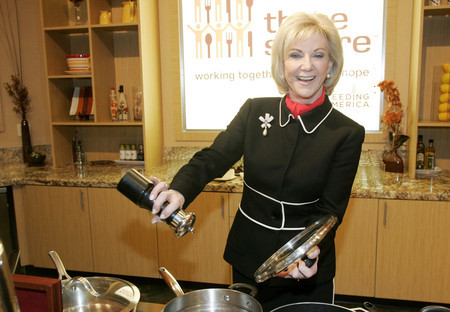 Elaine Wynn presented a huge check — both literally and figuratively — to Three Square Food Bank on Thursday to help the agency feed hungry children.
The director of Wynn Resorts brought an oversized check prop along to the food bank, where she announced a $1 million donation for its BackPack for Kids program. The program provides weekly bags of food to needy children in the Clark County School District so they have plenty to eat over the weekend.
"This is an investment in our children, our families," Wynn said. "This is saying to them, 'We believe in you.' "
Saying, "This is not a company check," Wynn emphasized that the donation was a personal gift from her and resort developer Steve Wynn as part of her involvement with the Communities in Schools organization that works to keep kids in school.
The Wynns filed for divorce March 5.
Nearly half of the children enrolled in the school district receive free or reduced-cost meals during the week, according to Communities in Schools.
Many of the children would go hungry on weekends without help, said Julie Murray, Three Square's president .
More than 5,000 children receive food through the BackPack for Kids program each week, she said.
The children, who are referred for the program through their schools, each get about 5 pounds of "kid-friendly" food a week that requires no preparation or adult assistance to eat.
The Wynns' donation will help "make sure every child who needs food gets it," Murray said.
Contact reporter Lynnette Curtis at lcurtis@reviewjournal.com or 702-383-0285.