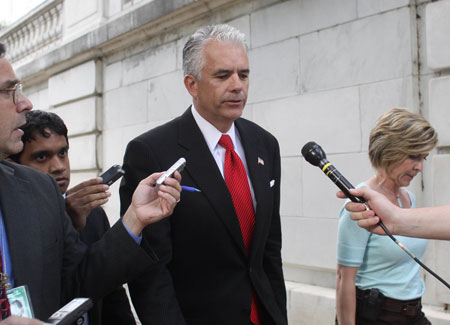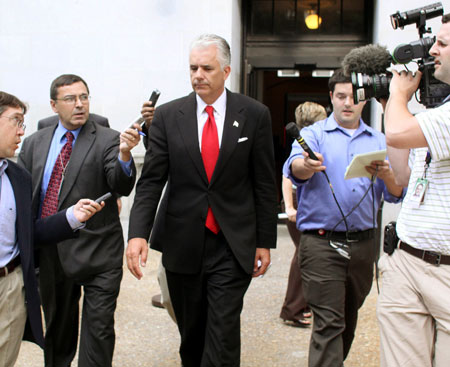 WASHINGTON — All eyes were on Sen. John Ensign as he returned to the Senate today, but the Nevada Republican declined to say anything more about his extramarital affair and the ensuing scandal that has embroiled him and the Las Vegas couple involved.
Ensign ran a gantlet of reporters and photographers camped outside his office on his way to cast his first vote since he hurriedly departed Washington on June 16. He rushed to Las Vegas to acknowledge a forbidden relationship, believing the story was about to break in the national media.
Ensign declined to supply further information about his relationship with Doug and Cyndy Hampton, former aides to Ensign and once close friends of the senator and his wife, Darlene.
In response to questions about the Hamptons and whether he planned to resign, Ensign repeatedly told reporters he would not add to comments he made last week. Those remarks still have left questions lingering about the dalliance and its aftermath.
Ensign, 51, has admitted he and Cindy Hampton, 46, a former treasurer for his political funds, had an affair over nine months, from December 2007 and August 2008.
Subsequently, Ensign's office has charged that Doug Hampton, who worked as a top administrative aide to the Nevadan from November 2006 to May 1, 2008, had made an "outrageous" demand for cash and other financial benefits.
For his part, Doug Hampton, 47, pleaded for help from the Fox News Channel to expose Ensign. In a June 11 letter to anchorwoman Megyn Kelly, Hampton said Ensign's "relentless pursuit of my wife led to our dismissal in April 2008."
"The actions of Senator Ensign have ruined our lives and careers and left my family in shambles," Hampton said in the letter. The Hamptons through their attorney, Daniel Albregts of Las Vegas, have declined to talk further.
Meanwhile, a government watchdog group said today it was preparing to file a complaint against Ensign with the Senate Ethics Committee, which has jurisdiction to investigate "allegations of improper conduct that may reflect upon the Senate."
Citizens for Responsibility and Ethics in Washington will file a complaint this week, Executive Director Melanie Sloan said.
The Ensign case "does have a lot of tentacles," Sloan said. "We are going to ask the committee to investigate because the facts are not all out."
Sloan said Hampton's allegation that he and his wife were dismissed because of the affair should be investigated.
"If either of them were fired because of the affair it would violate Senate Rule 42," Sloan said. That is the rule against discrimination in Senate employment practices.
"Even if the affair was consensual you wouldn't get to terminate somebody because she is no longer having sex with you, and you cannot terminate her husband," Sloan said.
Also, after a week of silence, the Nevada Democratic Party weighed in today, calling for Ensign to answer questions including whether the Hamptons were fired and whether he paid severance to Cindy Hampton out of his own pocket, as the New York Times reported last week.
"It's time for John Ensign to answer these questions, so Nevadans can put this matter behind them, and so that their senator can move on and focus on the work he was elected to do," said Phoebe Sweet, the party's communications director.
Against that backdrop, Ensign returned to his office in the Russell Building about 3:15 p.m. today. He refused to answer questions, and remained behind closed doors until shortly after 5:30 p.m., when he emerged with Sen. Sam Brownback, R-Kan., himself the target of an ethics complaint. The two made their way across the street to the Capitol to vote on a tourism bill.
Asked why he had lodged an accusation of extortion against Doug Hampton, Ensign said: "First of all, I never said that. Second of all, I have no more other comments to make. I refer you back to my statements I made in Las Vegas."
In describing the alleged demand for money by Hampton, Ensign aides did not use the term extortion.
Asked whether he was considering resigning from the Senate, he said: "I have said what I am going to say on this matter and have done what I am going to do."
Ensign spokesman Tory Mazzola said later Ensign does not plan to resign.
"I've just been getting back to work," Ensign said. "I talked with some individual people and am trying to get back to just serving the people as best I can."
Ensign acknowledged he had called other senators since his return, but his office did not say whom. He also met with his staff individually and in small groups, telling them he was "disappointed" in his actions. Reaction among staffers was "mixed," according to several of them.
Ensign's office would not say whether Ensign had asked Brownback to accompany him to the Senate chamber, or whether Brownback volunteered. Either way, it spared the Nevadan from making a potentially awkward entrance by himself to join colleagues in the Senate "club."
For several minutes in the Senate chamber, Ensign stood near the front of the well on the Republican side, making conversation with Brownback.
Eventually, a freshman Republican, Jim Risch of Idaho, who is a member of the Senate Ethics Committee, came over and shook his hand.
Over the next 10 minutes, he was approached by 18 other senators, including a half dozen Democrats, who either patted his back, touched his arm or shook his hand in greeting. Sen. Lindsey Graham, R-S.C., gave him a hug.
Senators who greeted Ensign included Republican leader Mitch McConnell, R-Ky., Lamar Alexander, R-Tenn., Jon Kyl, R-Ariz., Orrin Hatch, R-Utah, Jeff Sessions, R-Ala., Bill Nelson, D-Fla., John Kerry, D-Mass., Chuck Schumer, D-N.Y., and Mark Warner, D-Va.
Sen. Johnny Isakson, R-Ga., another member of the Senate Ethics Committee, also shook his hand in greeting.
Sen. Tom Coburn, R-Okla., who Hampton said was present at a February 2008 gathering where Ensign was confronted about the affair, asked Ensign to sit for a conversation. It could not be determined what they were discussing, and Coburn declined to comment to a reporter.
Ensign eventually slipped out of the chamber, eluding reporters. He declined to comment later, but said through his spokesman that senators were "very gracious" in their greetings to him.
Sen. Harry Reid, D-Nev., was on the other side of the chamber and did not approach Ensign. Reid spokesman Jon Summers said later the two senators had not met or spoken since Ensign's return.
Once it is filed, the ethics complaint against Ensign would be reviewed by the six-member Senate Ethics Committee whose membership is three Democrats and three Republicans. Its chairwoman is Sen. Barbara Boxer, D-Calif.
The outcome of any complaint ranges from its dismissal to a recommendation that the senator be expelled for improper or illegal conduct. The committee does its work in secret under strict confidentiality rules, and there are no timelines for taking action, leading some ethics watchdogs to complain about its effectiveness.
At least four other senators currently are being investigated by the Ethics Committee, the Justice Department or state authorities, according to the Citizens for Responsibility and Ethics in Washington, or CREW.
The group is considered one of the more aggressive Capitol Hill watchdogs under Sloan, a former federal prosecutor and attorney on the House and Senate judiciary committees.
The group has filed complaints involving lawmakers of both parties.
Since January of 2008 it has filed ethics complaints against Brownback for "misleading fundraising"; Sen. John McCain, R-Ariz., for "failure to disclose gambling winnings"; Sen. Christopher Bond, R-Mo., for his role in firing a former federal prosecutor; Sen. Norm Coleman, R-Minn., over a questionable rental deal; and Sen. Mary Landrieu, D-La., for obtaining a $2 million earmark four days after receiving campaign donations from the beneficiaries.
The Senate Ethics Committee has not disclosed the outcome of those complaints.
The group also urged the House and Senate to investigate members of Congress who might have received favorable loans from Countrywide Financial, one of the leading firms tied to the collapse of the market in subprime mortgages.
Contact Washington Bureau Chief Steve Tetreault at stetreault@stephensmedia.com or 202-783-1760.