Ex casts more doubts on singer's war injury claims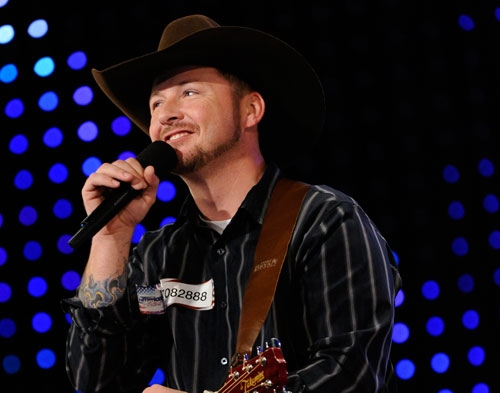 MINNEAPOLIS – Timothy Michael Poe won over the crowd and the judges of NBC's "America's Got Talent" even before he began to sing, with his moving story of blocking a grenade blast in 2009 to save his buddies in Afghanistan – an act of heroism he said broke his back and left him with a brain injury.
When a judge remarked during the episode broadcast Monday on the disappearance of Poe's stutter during his cover of a Garth Brooks song, he spun another tale: He discovered his talent only after his speech therapist suggested he sing in the shower to help with the stutter.
The truth, according to an ex-wife, was that Poe not only was never hurt on the battlefield, he had been singing "pretty much his whole life" and spent four years fronting an alternative rock and cover band in Rochester, Minn. A MySpace page last updated in February 2009 for the Rochester band Crawl Space lists Poe as vocalist.
Singing was the least of Poe's fictions, according to the Minnesota Army National Guard, which has issued statements contradicting Poe's account on the television show, igniting a firestorm online, especially among veterans and on military blogs, over Poe allegedly claiming glory and sympathy to which he's not entitled.
The Guard says its records show Poe never was injured in combat in Afghanistan or Iraq.
"It's embarrassing for me and it's embarrassing for his children and it's embarrassing for the military," said Shannon Conroy, who was married to Poe from November 2005 until this April.
In the "America's Got Talent" episode that aired Monday, Poe told judges Howie Mandel, Howard Stern and Sharon Osbourne that he spent 14 years in the military that included being attacked in Afghanistan.
"I had volunteered for a team to go out and clear buildings and help out with the wounded," Poe said during a taped interview on the show. "There was a guy who comes up with a rocket-propelled grenade. I saw it coming down, and by the time I turned and went to jump on top of my guys, I yelled 'grenade' and the blast had hit me."
Poe has declined multiple requests for comment from The Associated Press. Military records show he served with the Guard from December 2002 through May 2011, as a supply specialist. They show he was deployed in Kosovo from October 2007 to July 2008, and then served in Afghanistan for about a month in mid-2009. The sergeant was honorably discharged in 2011 because of a medical disability.
"His voice, and the fact that he was in the military, the true part, should've been enough to get him by," Conroy said. "His singing alone is amazing, and I will never doubt that, but he goes a little too far."
The 35-year-old San Antonio man claimed when he spoke to WFAA-TV of Dallas last month that he was also wounded in Iraq in 2005, when his truck was hit by a roadside bomb.
In a detailed rebuttal Thursday, Lt. Col Kevin Olson, a spokesman for the Minnesota Army National Guard, wrote that none of the military records that Poe's fiancée, Carrie Morris, provided to reporters back up his claims that he was ever injured in combat. However, he said, other documents indicate Poe suffered the injury that led to his medical retirement while training at Camp Atterbury in Indiana in mid-July 2009 before he deployed to Afghanistan. He also said there were no official records showing that he ever deployed to Iraq or was injured there. He said Poe reported to Camp Shelby in Mississippi "for pre-mobilization training on Sept. 21, 2005, but ultimately did not deploy" to Iraq.
Conroy told the AP that Poe broke his back in November 2005 in Mississippi, and was treated at Fort Benning in Georgia until March 2006, when he returned to Minnesota for back surgery. She said Poe was in Afghanistan for a short time in 2009, then went to Germany for medical treatment.
The ex-wife said she got "very conflicting stories" from him and people in his unit about what he was treated for. She says Poe told her a rocket-propelled grenade had gone off near his convoy, while people in his unit told her Poe was never hurt in battle and instead had been injured during a training exercise before he went to Afghanistan and then experienced symptoms of the same problem while deployed.
In another discrepancy, it was confirmed Thursday that Poe gave "America's Got Talent" and WFAA a photograph of another soldier and passed it off as himself. The caption of the original picture on the official military website Defense.gov says it shows Staff Sgt. Norman Bone serving in Afghanistan in 2006. Morris said Poe accidentally submitted the photo because he was in a hurry and didn't take the time to look at which picture he was sending.
"It was a complete accident," Morris said.
Morris said Poe "feels like America is turning their back on him" and that it's hard for her to listen to all the attacks.
"It's hard. I'm about to marry this man," Morris said. "He is a good father. He is a good man. He is a good friend."
Poe is being savaged by veterans and on military blogs and in social media.
Nick Colgin, a medic who earned a Bronze Star for valor during his 15-month deployment in Afghanistan, said fabricated tales of heroism dishonor other veterans whose service goes unnoticed.
"There's 2.4 million veterans of Afghanistan and Iraq and for someone to go on national TV and bring disrespect to them and their service – it's inexcusable," said Colgin, who came home in 2008 with a brain injury after a rocket-propelled grenade hit the side of his Humvee.
John Kriesel served in Iraq until a roadside bomb hit his Humvee, killing two of his buddies and costing him both of his legs.
"He was a veteran. He has nothing to make up. Being a veteran is honorable," Kriesel said. "Why lie about what you've done?"
It's unclear whether Poe could face any legal action. While the federal Stolen Valor Act allows prosecution when people make false claims about receiving medals, Poe didn't say anything about medals in passages that have aired. The U.S. Supreme Court is expected to rule within a few weeks on whether the law is constitutional.
Kriesel said he hopes someone does prosecute Poe if he lied about his service.
"The thing I think is funny is he lied to become famous," Kriesel said. "He got his wish, he's all over the news now and I don't think it's for the reasons he wanted."