January 23, 2009 - 10:00 pm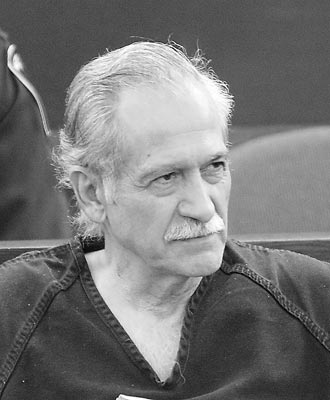 As a couple, Jeffrey Preciado and Kimberly Long were a wreck. Both were using drugs and alcohol and the police had been called out to their house several times for domestic disturbances, according to Preciado.
Their real trouble started, however, when Preciado turned to his father, Edward Preciado-Nuno, an ex-FBI agent and Marine, to help him evict Long from Preciado's house.
Preciado-Nuno, 61, confronted Long about leaving the house on Nov. 13, 2008.
By the end of the morning, Preciado-Nuno was in the hospital being questioned by police and Long was dead from blunt force trauma to the head. Preciado-Nuno, an FBI agent for 25 years, had beaten her with a hammer, authorities said.
Preciado-Nuno was in court Thursday for a preliminary hearing. At the end of the hearing, Las Vegas Justice of the Peace Eric Goodman ruled that Preciado-Nuno will stand trial in Long's slaying.
Goodman also granted Preciado-Nuno $250,000 bail. If he can raise it, Preciado-Nuno would have to surrender his passport, wear a GPS monitoring device and be confined to house arrest.
Clark County prosecutor Giancarlo Pesci argued against bail, saying that Preciado-Nuno told police he can "fly off the handle."
Preciado-Nuno, who retired to San Diego several years ago, appeared in court in shackles and chains. He didn't speak during the hearing.
Preciado-Nuno said he hit Long in self-defense after she struck him with a hammer. A medical examiner on Thursday testified that Long had at least a dozen wounds to her head, including six injuries to the back of her head. She also had defense wounds to her hands and arms, including a fractured forearm.
Richard Wright, Preciado-Nuno's attorney, said the former FBI agent and his son weren't plotting to kill Long.
"That's simply out of the question," he said.
Francesca Velgos, a close friend of Long's, didn't believe that Long would have tried to attack Preciado-Nuno. She described Long, a 31-year-old mother of four, as a non-confrontational person who worked as a dealer at the Gold Coast.
"She couldn't even open a jar of pickles," Velgos said. "She was a weakling."
The slaying occurred after a dispute between Long and Preciado-Nuno's son. The couple had been together for five years. During that time, they had a son together. The youngest child is with Long's family and her three other children are out of state with Long's ex-husband, Velgos said.
Authorities said Preciado and his father wanted to evict Long from his house, near Durango Drive and state Route 160, after the couple got into a fight several days before the slaying. Police were called to the house during the incident but didn't take Preciado or Long into custody.
Preciado testified on Thursday that several days after the fight, he went to a local police station to make a report against Long. He said he and his father wanted to evict Long from his house and to gain custody of their infant son. The report would help their claims.
The men wanted to confront Long and secretly record the incident with a video recorder and audio recorder. They wanted to catch her saying something incriminating, Preciado said. However, Preciado said that they didn't set up the recording devices inside the house.
On the morning of the incident, while Preciado was at the South Point, Preciado-Nuno confronted Long and got into the fight that led to her death, authorities said.
After the slaying, police interviewed Preciado-Nuno. During the interview, Preciado-Nuno called Long "lazy" and a "pig," said Las Vegas police homicide detective Tod Williams. Preciado-Nuno told police that Long "pissed me off" and conceded that he had been taunting Long, Williams said.
Another detective, Carlos Acosta, said Preciado-Nuno maintained that he was acting in self-defense.
Acosta said Preciado-Nuno told police: "She hit me with a hammer so I hit her back."
Contact reporter David Kihara at dkihara@reviewjournal.com or 702-380-1039.