Ex-TV talker Roselli finds 'Boy' adorable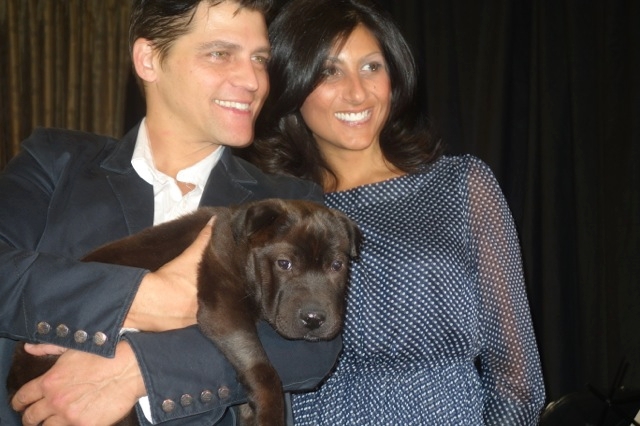 "Jersey Boy" Deven May and former TV morning anchor Dayna Roselli have amped up their romance.
They've been a couple since the holidays, and there they were Thursday, on stage together, showing support for an injured dog at the Nevada Society for the Prevention of Cruelty to Animals big fundraiser.
Roselli said the relationship "has been wonderful. He's been super supportive in this time when I can't work."
She was referring to her one-year noncompete clause after her termination at KLAS-TV (Channel 8) caught many by surprise in June.
Their mutual interest in community work "has been a great bond," something that brings them both "great joy," she said.
Roselli had seen "Jersey Boys" twice before interviewing May last year after the show moved from The Venetian to Paris Las Vegas. They ran into each other again in August and spent Christmas together.
"I find him adorable," Roselli said. "I really admired his work."
They walked on stage at Spanish Trails Country Club with Mike, a rescued 4-month-old Shar-Pei suffering from a broken jaw and broken leg.
May, who plays tough-guy Tommy DeVito of the 1960s and '70s singing group The Four Seasons, "wanted to adopt him (on the spot)," said Roselli, "but the recovery period will take another month."
THE SCENE AND HEARD
Tribute events are piling up for former UNLV basketball coach Jerry Tarkanian, who this month was voted into the Basketball Hall of Fame. KDWN-radio, 720 AM, will honor Tarkanian at a May 3 meet-and-greet at 5 p.m. at Bahama Breeze on Paradise, part of a First Friday Nevada event. Piero's Italian Cuisine owner Freddie Glusman, a longtime friend of Tark, has put together a May 18 private party for more than 100 at Piero's. …
Siegfried and Roy will be honored at the Animal Foundation's 10th annual Best of Show event from noon to 3 p.m. Sunday at The Orleans. Fifty dogs are up for adoption from the Lied Animal Shelter. Clint Holmes will host, with Holly Madison and Channel 8 anchor Denise Valdez introducing the special-needs dogs. …
Grammy-nominated British singer-songwriter Ed Sheeran, who performed "The A Team" with Elton John at the Grammy Awards on Feb. 10, will perform poolside at the Garden of the Gods on Sunday for Nobu Hotel's official opening. …
Washington Nationals star Bryce Harper from Las Vegas made it a special night for a group of Las Vegas singers Thursday. After the delegation performed the national anthem, Harper hit his eighth homer of the season in the Nationals' 8-1 win over the Cincinnati Reds.
SIGHTINGS
Mike Love of the Beach Boys and his wife, Jacqueline, celebrated their 19th anniversary Wednesday at Sammy Hagar's Cabo Wabo Cantina at Planet Hollywood Resort. … The Tacoma Rainiers, the Triple-A farm team of the Seattle Mariners, taking in Terry Fator's show at The Mirage. … Joe Jonas of the Jonas Brothers, with girlfriend Blanda Eggenschwiler at "Zarkana" (Aria). … Zowie Bowie's Chris Phillips, in attendance at the NSPCA event Thursday but unable to perform as planned. "I lost my voice," said Phillips, whose voice got a workout late Tuesday/early Wednesday when he served as the first roastee of the Showbiz Roast.
THE PUNCH LINE
"You know what the worst job in America is? It's newspaper reporter. I guess the pollsters forgot to ask the guy who cleans the toilets at Dodger Stadium how things are going for him." — Jimmy Kimmel
Norm Clarke's column appears Sunday, Wednesday and Friday. He can be reached at 702-383-0244 or email him at norm@reviewjournal.com. Find more online at www.normclarke.com. Follow Norm on Twitter @Norm_Clarke. "Norm Clarke's Vegas," airs Thursdays on the "Morning Blend" on KTNV-TV, Channel 13.