Families get into spirit of Renaissance Festival
October 13, 2008 - 9:00 pm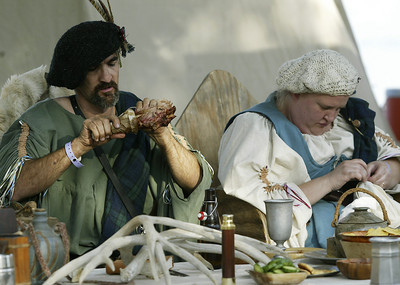 The contemporary American family loves a good show of breasts and transvestites, but they don't take kindly to staged violence against women. I came to this conclusion after checking out one of the biggest, happiest family days of the year: the Age of Chivalry Renaissance Festival at Sunset Park.
As thousands of families milled about (and hundreds brought baby strollers with babies in them), gobs of women pranced around them in bodices so tight, their cuppeths runneth over, like half-covered balloons squeezed beyond the bounds of physics. Put another way:
"There's a lot of women with scary tah-tahs!" said Candy Thomas, 21, of Henderson.
"They do tah-tah miracles!" her friend, Becca Solitto observed. "The RenFair is f—ing awesome!"
Thomas also noted another, smaller trend.
"There's a lot of transvestites," Thomas said. "They can't hide their 5 o'clock shadows."
There were more people in costume on Saturday at the fair, compared to Sunday. But both days pulled in loads of 20-somethings. That's because, as Randi Albrecht, 26, said:
"Well, there's beer and turkey legs: check and check."
Albrecht wasn't dressed in costume, but she did volunteer for an interactive exhibit by bending over, sticking her head through a wooden stock, and letting a costumed guy flog her bottom.
"I'm really, really angry," she said afterward. She didn't think it would hurt so much. I asked her to describe the pain.
"You want to see my ass?" she said.
No, that's OK, I said. She pulled down her jeans anyway. Thong. Cheeks. Bright red.
"It hurt!" she said.
Despite the pain, she was enjoying herself at RenFair, a bargain at $10 per person.
"It's actually a lot better than I anticipated. People are hard-core," she said.
Albrecht did yield another reservation. She and her husband, plus their friends, were suspicious of a rotund belly dancer they saw at the belly dancing stage:
"We weren't sure if she was pregnant or not. There should be laws," Albrecht snarked.
Families clearly took easily to the belly dancing, the flogging, the transvestites and ye olde prostitute characters.
But what's also interesting is that since families began populating Renaissance festivals, RenFests now cater to them by toning things down.
For one thing, RenFest softened the Elizabethan battle re-enactments, which are more lighthearted lately, and they don't show sexually violent behaviors that were commonly associated with the years between, say, 1558 and 1603.
So on Saturday, dozens of parents and grandparents applauded merrily from the stands, next to their babies, kids and early teens, while watching warriors pretend to stab each other and bop each other on the head.
If they had seen this same sort of battle some years back, they would have witnessed a graver scene where warriors hauled away female prostitute characters.
To be blunt, "men used to get REALLY frisky with the women" on the field, said Brian Cole, a drummer in Saturday's English army/battle re-enactment. "They would get physical, and (women would) get carried off" kicking and screaming. "You know — the spoils of war."
"It's much more family that it was," said Melissa Prince, who plays a "wench" character in her Renaissance troupe. "They (families) like things more politically correct. … The customers don't want to see women die."
Judging by the tone of their voices, Cole, 22, and Prince, 29 — two California "fair brats" raised by RenFest-loving parents — didn't sound thrilled about these less-authentic developments.
But both fair brats claimed they were, in fact, pleased to please people. And Cole said kids benefit by seeing this form of education "instead of just reading it out of a book."
On the other hand, Prince was frustrated at a previous RenFest when mothers in attendance mistook her and other women, who were wearing authentic period-prostitute makeup, for clowns.
"We were the whorehouse of the town," Prince said. "And everyone thought we were clowns. Moms would say (to their kids), 'Go take a picture with the clowns!'"
A good thing about families at RenFest is many get into the spirit. Hundreds upon hundreds of ticket-buyers were dressed in very impressive, ornate costumes extending beyond the Renaissance time frame of the 14th to 17th centuries.
There were quite a few Johnny Depp pirates, plus some Harry Potters, Xena the Warrior Princesses and Conan the Barbarians. Boys, girls, men and women (children through seniors) wore fairy wings, chain mail headgear, knight costumes, kilts, capes, swords, corsets, crushed velvet, contemporary goth, three-cornered hats, tiaras, garlands, and, most fitting, Peter Pan caps.
The appeal for the outfitted is easy to boil into pop psychology. As Prince said, it's a fantasy life away from everyday tedium and routine.
"When you're in character, you don't have to think about your cell phone bill. You don't have to think about your cable bill," she said.
A costumed gentleman who was helping his wife prepare her loom told me he takes part in his Renaissance group or guild, The Empire of Chivalry and Steel, partly as a release from his "high stress" job at the DMV.
Coincidentally, he also said it is wise to learn to live off the land as he has, in case America follows the path of Hitler and Napoleon by overreaching, then descending back into a nation of do-it-yourselfers.
As you can see, a lot of RenFesters are earnest. On the other hand, some people told me they went solely to make fun of RenFesters. Either way, I overheard only two serious whiners.
One girl in her late teens told her friend/date, "I can't believe I'm not more (drunk or stoned)."
I listened to another woman tell her date he's in for a big surprise if he thinks he can ever treat her "that way" again.
You can be all cynical about RenFest and say it's stupid, ha ha. But brothers Bryan, 13, and Alex McLeod, 14, watched a joust with joy and signed up for lessons on how to hold wooden replicas of guns and pikes, and how to charge forward at an advancing army from 500 years ago.
"It was really cool," Alex said.
Another way of looking at it is the obvious, which the drummer guy, Cole, summed up as: "You can walk around and look like a nerd, and it's socially acceptable."
Which reminds me of a Roger Ebert quote about why God would create "such an absurd creature as a moose": "In charity, we must observe that the moose probably does not seem absurd to itself."
Moose, meet the RenFester.
Doug Elfman's column appears on Mondays, Tuesdays and Fridays. Contact him at 383-0391 or e-mail him at delfman@reviewjournal.com. He also blogs at reviewjournal.com/elfman.
Video