Family schedules funeral for auto mechanic Barrier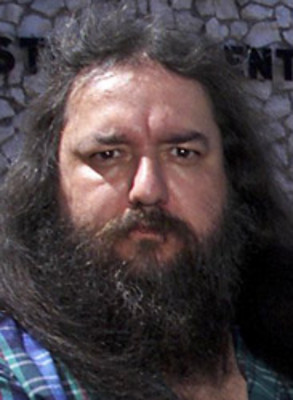 A funeral for James "Buffalo Jim" Barrier will proceed Saturday, family members said, after their private pathologist performs an independent autopsy on the auto mechanic's body late Thursday.
The service will take place at 11 a.m. at Palm Mortuary, 1325 N. Main St.
Steve Miller, a former Las Vegas city councilman and close friend of Barrier's, said two huge buffaloes with streaming glass tears will be placed in front of the mortuary.
Barrier was found dead in a Boulder Highway Motel 6 on Sunday afternoon. A Clark County medical examiner told family members that a preliminary examination of the 55-year-old's body indicated he died the evening before.
Room 105, where a maid discovered Barrier's body on a neatly made bed, was rented out at 8:22 p.m. Saturday.
Before his death, the boisterous Barrier, long engaged in a battle with Crazy Horse Too owner Rick Rizzolo, received death threats and warnings.
Barrier assisted the federal government in a criminal investigation that resulted in Rizzolo receiving a prison sentence of one year and one day for tax evasion. Rizzolo was formally released from custody April 4.
Las Vegas police determined Sunday that Barrier's death was from natural causes.
Police officers handed Barrier's cell phone and wallet to his daughters, who were called to the motel Sunday to identify the body.
Barrier's Rolls-Royce, found in the motel parking lot, is now tucked away in the garage of a family friend.
Family and friends are adamant that Barrier was murdered. They have hired a private investigator and pathologist to probe his death.
The Clark County coroner's office performed an autopsy on Monday, and a medical examiner told the Barriers that no drugs were found in their father's stomach and it did not appear he had a heart attack.
Still, Barrier's daughters chose to seek a second opinion.
The four Barrier daughters, who range in age from 15 to 26, also hired a forensic team to dust for fingerprints on Barrier's Rolls-Royce, his wallet and his cell phone. They believe their father was murdered in the Rolls-Royce or that his killers were in his vehicle at one point.
They also believe the killers touched his wallet. Jennifer Barrier said her father carried at least a thousand dollars in cash at all times. When his wallet was found in the motel room, it contained a single $1 bill.
The private investigator will also attempt to view security camera footage from the motel and the adjacent Boulder Station hotel-casino.
Las Vegas police launched an investigation at the family's request.
The FBI also is investigating Barrier's death, daughter Jennifer Barrier said.
Contact reporter Adrienne Packer at apacker@reviewjournal.com or 702-384-8710.