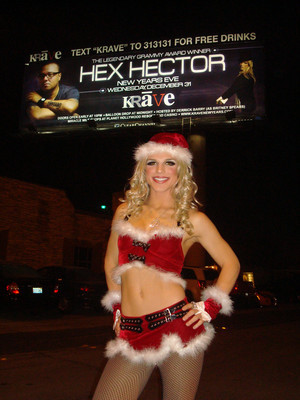 A Britney Spears impersonator found out Friday that the competition between local gay nightclubs is getting toxic.
Derrick Barry, a former cast member of "An Evening at La Cage" who made the top 40 cut of "America's Got Talent" last summer, said security guards for Piranha nightclub asked him to leave the area while he was having photos taken of him under a billboard promoting his New Year's Eve hosting at Krave nightclub.
Barry was dressed as Spears in a Santa Claus outfit during the photo shoot.
"It's the first time I've encountered this. It's a slap in the face," said Barry, who said Piranha owner Paul San Filipo was at the club's entrance when the security guards ordered him off the grounds.
Barry said he was told he was not welcome at Piranha as long as he was promoting Krave, where he is hosting New Year's Eve and doing the countdown.
"It's not right. Straight celebrities are allowed to go back and forth between to host at clubs," he said.
YOUNG AT HEART
You're never too old to enjoy a night on the town with the Chippendales.
Taking a dialysis-be-damned attitude, Christina Vickery, a resident at Prestige Senior Living at Mira Loma, celebrated her 90th birthday last week at the Rio's male revue.
Vickery, who has been making themed sock monkeys for years, was prepared for her first male revue.
After being brought on stage for some special attention from the Chips, she whipped out a sock monkey that wore only a miniature jacket and a G-string stuffed with a tiny sock.
"We'll be back," promised Solinea Isbell, the activities director (and former showgirl) who set it all up.
THE SCENE AND HEARD
Alicia Jacobs, entertainment reporter at KVBC-TV, Channel 3, is reporting that Donald Trump's Miss Universe pageant is "most likely" headed for Las Vegas. Trump, who was on the brink of holding the event in Dubai, has been negotiating with the Las Vegas Convention & Visitors Authority since Dubai stipulated Miss Israel could not participate, Jacobs said. The event would be held at Planet Hollywood Resort, which also hosts the Miss America and Trump's Miss USA pageants. …
I'm in Lincoln, Neb., home of the Cornhuskers, prime beef and The Leggy Blonde, for a Christmas break. The column will return next Sunday. Happy holidays, folks.
SIGHTINGS
Russell Brand, the flamboyant British personality who reportedly has twin daughters who live in Las Vegas, was spotted in front of the Christmas tree at Town Square on Thursday with a preteen girl. Brand, who called President George W. Bush a "retarded cowboy" while hosting the 2008 MTV Video Music Awards, left his BBC radio show under pressure in October after leaving lewd messages on the voice mail of revered British actor Andrew Sachs, 78.
Brand has been romantically linked to Las Vegas writer Tanya Vece, who recently authored "Itch, Love Stories about Heroin," a story about the late Layne Staley of Alice in Chains. …
Future Hall of Fame pitchers Greg Maddux and John Smoltz, snapping off curves at Pole Position Raceway on Friday. …
Criss Angel, making it rain with $100 bills during his dual birthday party Friday with girlfriend Holly Madison at LAX nightclub (Luxor). Angel turned 41 Friday and Madison turns 29 on Tuesday. Among their group in the VIP section: Playboy pals Bridget Marquardt and Allison Waite and artist Michael Godard. Also at the club: country singer Chris Young and the rock band Papa
Roach. …
Kevin Federline, with his new girlfriend and friends at Lavo (Palazzo) and Tao (Venetian) on Friday. …
Rapper Mike Jones, making an impromptu performance at Poetry (Forum Shops at Caesars) on Friday. He also led the crowd in "Jingle Bells."…
Former member of Fleetwood Mac and '70s solo artist Bob Welch, sitting in with the Patty Janura Band on Cleopatra's Barge at Caesars Palace on Wednesday. He sang a rockin' version of Jerry Lee Lewis' "Great Balls Of Fire."…
NFL Hall of Famer Joe Theismann, grabbing lunch Friday at Johnny Rockets in The Venetian. …
Legendary illusionists Siegfried and Roy, singing "Silent Night" with the Oompa band and more than 120 of their friends at their annual Christmas party Thursday at the Hofbrauhaus Las Vegas. Everyone brought a toy to brighten Christmas for kids. …
Four players from BYU and four from Arizona, on stage taking publicity photos Wednesday with "Stomp" (Planet Hollywood Resort).
THE PUNCH LINE
"It's beginning to look a lot like Christmas, 1929." — From David Letterman's "Top Ten Least Popular Holiday Songs."
Norm Clarke can be reached at 383-0244 or norm@reviewjournal.com. Find additional sightings and more online at www.normclarke.com.