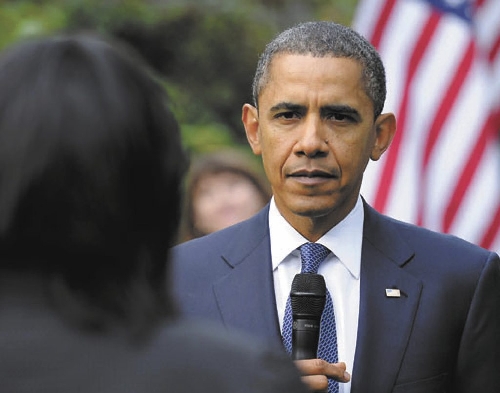 SEATTLE — In a last-ditch effort to prevent electoral dis­aster, President Barack Obama and Democratic allies are vigorously wooing women voters, whose usually reliable support appears to have softened.
From blunt TV ads to friendlier backyard chats, they're straining to persuade women that it's the Democrats who are on their side and it's in women's vital interest to turn out and vote in the Nov. 2 elections, which could give Republicans control of one or both houses of Congress.
In Seattle on Thursday, Obama told women and others that "how well women do will help determine how well our families are doing as a whole." Accompanied by women who own businesses, he spoke in a family's backyard about the economy's effects on women and outlined ways he said his policies have helped them.
Later, trying to rekindle the enthusiasm of his presidential race, he all but ordered thousands of cheering supporters at a packed University of Washington arena to get out and vote, though he is not on the ballot.
Campaigning for one of the Democrats' female senators, Patty Murray, who is in a tight re-election fight, Obama attracted a bigger crowd than the 10,000 who could fit into the arena.
With the elections less than two weeks away and Democrats fearing big losses, candidates, party allies and others are joining Obama in seeking women's votes by hitting Republican opponents — in ads, mailings and speeches — on issues such as abortion rights. In every corner of the country, they are arguing that the GOP would erase progress American women have made under Democratic control of the White House and Congress.
The latest Associated Press-GfK poll underscores the Democrats' concern: Women long have leaned toward Democrats but, at a time of great economic unrest, those who are likely to vote now split fairly evenly between the two parties, 49 percent favoring Democrats, 45 percent Republicans. That is a significant drop from 2006 when Democrats had a double-digit edge. The current margin mirrors 1994, the year of a Republican wave that swept Congress.
In House races — where women have sided with Democrats by an average of nine points since 1976 — women are now about evenly split between Democrats and Republicans, in the latest Washington Post-ABC News poll. That is a sharp drop-off from four years ago, when women chose Democrats by a 12-point margin and put them in the majority.
The news for Democrats is much worse among white men, who are embracing Republican candidates by a greater proportion than ever before. But women matter more: As a whole, men lean Republican, while women usually act as a counterbalance for Democrats.
Celinda Lake, a Democratic pollster, said Democrats are seeing an erosion with women who did not attend college, especially because of the economy.
"They do not think the administration's economic policies are working for their families and worry about the priorities of this administration, and wonder if they get it," Lake said.
Women could hold the key for Obama and his party as Democrats look to minimize expected losses at all levels of government in a year when, particularly on the Republican side, female candidates top ballots in statewide races in Connecticut, South Carolina, California, New Hampshire, New Mexico and elsewhere.
Hope for the Democrats: A lot of women are undecided, and more than a third who are likely to vote say they could change their minds before the election.
With that in mind, the White House, Democratic candidates and outside groups are reaching out to female voters , mostly by casting the Republican candidates — some of them women as well — as out-of-step with their concerns.
Democrats argue that the gender gap in their favor isn't disappearing but simply becoming less of a sure thing.
Although it has failed to rescue Senate candidates in Missouri, New Hampshire or Wisconsin, it is still holding strong for Murray in Washington, as well as for Gov. Joe Manchin in West Virginia and Chris Coons in Delaware.
In Nevada, where Senate Majority Leader Harry Reid, D-Nev., is locked in a close race with Republican challenger Sharron Angle, there is a Democratic advantage among female voters, albeit not as pronounced as it has been in the past.
"The firewall that was six feet high is now four feet high," said Brad Coker of Mason-Dixon Polling & Research, which has conducted polling in Nevada and elsewhere.
On Election Day a week from Tuesday, women could make the difference in a couple of dozen extraordinarily close congressional races scattered across the nation and in a half dozen neck-and-neck Senate contests that could determine whether Republicans rise to power, among them Washington state, Nevada, Colorado, Illinois, West Virginia and Pennsylvania.
Women also could affect governors' races from coast to coast, including the biggest prizes of the year in Ohio, California and Florida.
Top Democrats publicly shrug off the notion that women are fleeing the party, but the intense focus by the White House and candidates on this generally reliable constituency shows a concern.
Women are less tuned into the election than men, with 54 percent of women who are likely to vote saying they have a great deal of interest compared with 67 percent of men, according to the AP-GfK poll.
Still, nearly half of women say they want to see Democrats retain control of Congress, compared with 41 percent who would prefer the GOP. Men are the reverse.
Women likely to vote also are more apt than men to say they trust Democrats more than Republicans — or they trust the two parties the same — on most issues tested, including creating jobs.
The Washington Post contributed to this report.
OBAMA VISITS LAS VEGAS TODAY
(Travel affected)
Members of the public can attend today's rally with President Barack Obama.
Where: Orr Middle School Park, 1562 E. Katie Ave., Las Vegas.
When: Doors open at 3:30 p.m. Program starts at 4:30 p.m.
Transportation: Free round-trip shuttles will be offered from several locations, between 1 and 9 p.m. The last shuttle to the event will depart at 5:30 p.m. Pickup points are the following:
• Dr. William U. Pearson Community Center, 1625 W. Carey Ave., North Las Vegas.
• The University of Nevada, Las Vegas Student Union (entrance at Maryland Parkway and Harmon Avenue).
• Harrah's Las Vegas employee parking lot behind the hotel-casino.
• MGM Grand Convention Center.
Security: Avoid bringing bags; expect airportlike security. No signs, banners or laptops.
Tickets are not required, but an RSVP is encouraged at: my.barackobama.com/ page/content/ MAF-LasVegas-RSVP
Las Vegas Review-Journal