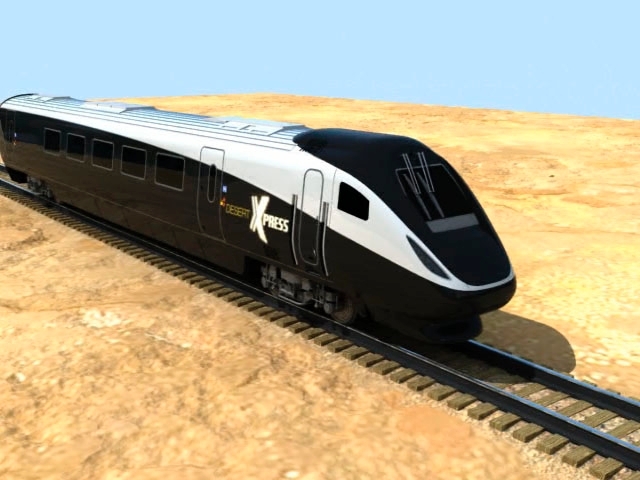 WASHINGTON — The government has halted its review of a multibillion-dollar loan request for high-speed rail line connecting Las Vegas and Southern California, a potentially staggering hit to the ambitious project.
The development is a blow for XPressWest, which has envisioned itself having a major role in the region's future. The company's plans call for electric trains whisking passengers at speeds up to 150 mph between Las Vegas and, for starters, Victorville, Calif.
But two Republicans who have raised questions about the rail plan said they were told the Department of Transportation has decided to "indefinitely suspend its review of the XPressWest loan application."
The department has not announced its move, but the lawmakers — Sen. Jeff Sessions of Alabama and Rep. Paul Ryan of Wisconsin — said their staffs were briefed and were told that "serious issues persist" with the application and that there are "significant uncertainties still surrounding the project."
The lawmakers disclosed the decision in a letter to Comptroller General Gene Dodaro, who heads the Government Accountability Office that has been reviewing the bistate project at their request. The letter began circulating among interest groups on Thursday.
The XPressWest application for a $5.5 billion loan has been backed by Senate Majority Leader Harry Reid, D-Nev., who spoke recently with President Barack Obama about it.
Reid said Friday it is too early to turn off the lights.
"The administration has not permanently foreclosed the possibility of such an investment and I remain committed to working with them and with (principal developer) Tony Marnell and XpressWest to secure this vital investment for Nevada," he said.
While confirming the loan process has been suspended, a statement delivered by Catherine Levy, an XPressWest spokeswoman, said, "It is our understanding the project still is being reviewed. We await further information and direction from the (Obama) administration."
"I believe high-speed rail is an important aspect of Nevada and the country's future," Reid said. "In Las Vegas, I-15 to and from California is absolutely clogged and we must do everything we can to make it easy and safe for travelers to visit Las Vegas. But it's also vital we do this right."
According to Sessions and Ryan, the company was informed of the decision by Transportation Secretary Ray LaHood on June 28. It would have been one of LaHood's final acts before leaving office. His successor Anthony Foxx was sworn in on July 2.
While in Nevada last week, Reid told reporters he had spoken with Obama about the project. It could not be immediately determined if that conversation took place before or after XPressWest was notified the application was being put aside.
The XPressWest application had been under review since December 2010. The project was previously called Desert XPress. Reid disclosed in April that investors were struggling to come up with funding to enable approval of a loan of about $5 billion. The federal infusion would finance the bulk of the $6.9 billion project.
It also has run into political problems. Sessions and Ryan, who are the top Republicans on congressional budget committees, pressed LaHood to reject the loan.
"The risks to the taxpayers from financing this project are untenable," they said in a letter to the transportation secretary in March. They cited a report from the Congressional Research Service that said "few if any" high-speed rail projects have earned enough money to cover costs.
Critics have pointed to the proposed terminus at Victorville, 80 miles northeast of target customers in Los Angeles, as a reason to question the project's viability. Investors envision Las Vegas-to-Victorville as the opening leg of a high-speed rail network that eventually would stretch to other cities in the West.
A year ago, XPressWest reached agreement with the Southern California transit authority to extend the California terminus to Palmdale, about 50 miles closer to Los Angeles.
Contact Stephens Washington Bureau Chief Steve Tetreault at stetreault@stephensmedia.com or 202-783-1760. Follow him on Twitter @STetreaultDC.
Letter from Sens. Jeff Sessions of Alabama and Rep. Paul Ryan of Wisconsin