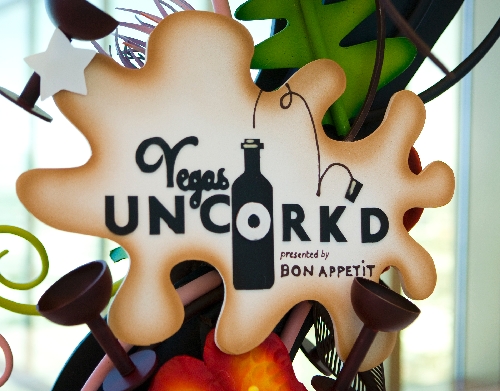 If you're fond of stuffing high-class food into your pie hole, then congratulations, because the world's top chefs are here to feed you this weekend at Uncork'd.
Uncork'd is like "Caligula" without the public sex, running through Sunday at hotels across the Strip — a gorge-a-thon of tastings, dinners and events starring dozens of chefs, from Bobby Flay and Kerry Simon to The Man himself, Joël Robuchon.
One oddball outing is Saturday's "Crushed: Wine That Rocks" at the Palazzo (10:30 p.m.; $115-$175; VegasUncorked.com).
That's where chef Joe Bastianich joins rocker Scott Ian, and they encourage you to drink wine while listening to Led Zeppelin (being performed by Six Foot Nurse, Ian's cover band).
"We thought all Led Zeppelin songs should be paired with wine," says Bastianich (whose Vegas restaurants include B&B Ristorante, Enoteca San Marco and Carnevino).
Bastianich will explain wines in relation to your senses and Zeppelin.
"Then," Ian says, "we obviously play a concert, and by this point people are also drunk — that makes it a lot of fun for everybody."
WHO WANTS TO ROOM WITH 'GIRLS'?
The MGM Grand has two new shows this weekend. Dance crew Jabbawockeez plays the Hollywood Theatre starting today. And "Girls Night: The Musical" begins Saturday at Studio 54.
Originally, execs wanted to put both shows in one room, which is why we say so in today's Neon. But we printed Neon, then execs changed their minds. (Probably because, who wants to be roomies with girls, with their stuff lying everywhere?)
PRE-SIGHTINGS
Pussycat Dolls' Nicole Scherzinger walks an 11:30 p.m. red carpet Saturday at Caesars club Pure. … Rapper Sean Paul performs this afternoon at Ditch pool party at the Palms ($25; local women get in free). … Tyrese, Sean Paul, Wayne Brady and Floyd Mayweather Jr. are supposed to walk an 8 p.m. red carpet today at MGM's Tabu lounge to promote Jabbawockeez's MGM show. … And comics legend Stan Lee welcomes ticket-buyers for "Iron Man 2" at the Palms at 7:30 tonight. He has a red carpet at 6 p.m. Saturday at the Palms.
PUKING ON FANS' FEET
"One time in Germany, we finished this set, and on the last note of this song, I took two steps, and then I just threw up a couple of buckets worth of dinner."
— Pat Seals of Flyleaf, who once vomited Red Hots on a fan. He's a funny interview in today's Neon section. Flyleaf plays tonight at the Hard Rock pool.
Contact Doug Elfman at delfman@ reviewjournal.com. He also blogs at reviewjournal.com/elfman.