Festival traffic to be routed through Nellis during world's biggest rave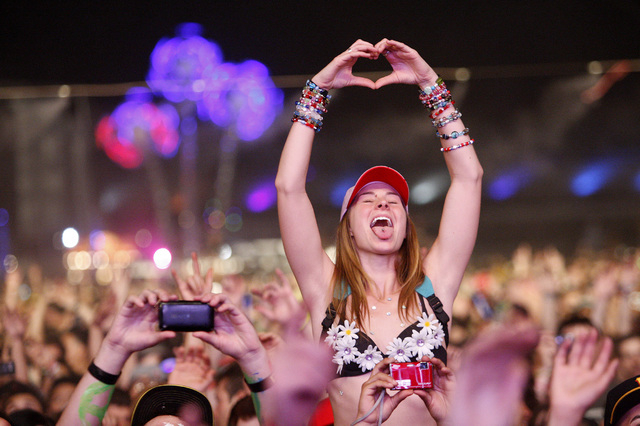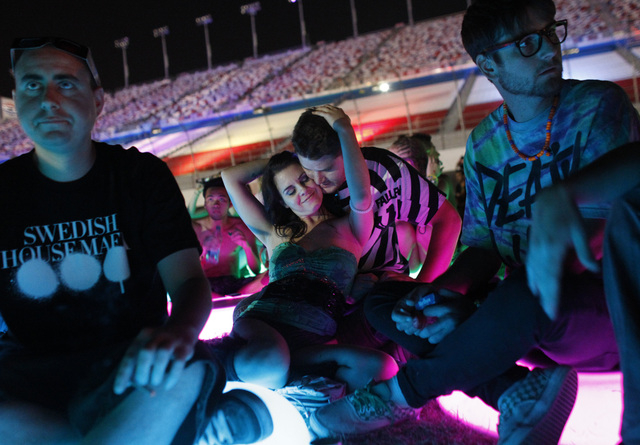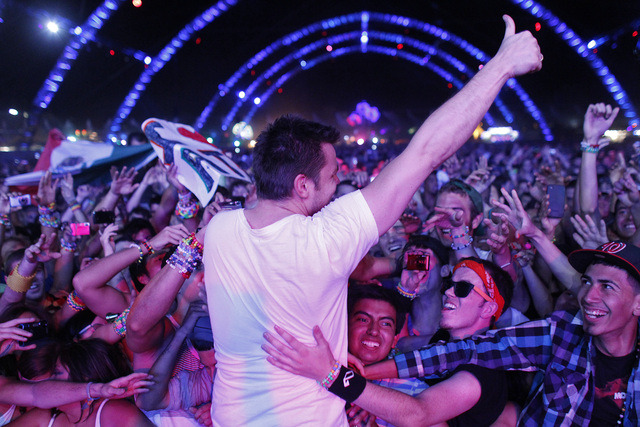 Taxicabs and buses taking Electric Daisy Carnival fans to and from the Las Vegas Motor Speedway, the site of the dusk-to-dawn electronic music festival June 20-22, will be allowed to drive through Nellis Air Force Base to avoid traffic.
Representatives of Insomniac Events, founders of the festival that is expected to attract 130,000 people a night, arranged the access with base personnel.
"Insomniac continues to work closely with local transportation companies and officials to make getting to and from Electric Daisy Carnival as smooth as possible," said Jennifer Forkish, Insomniac's vice president of communications. "As with prior years, taxis and shuttle buses will have a dedicated route designed to relieve congestion on the main arterials leading to the Las Vegas Motor Speedway."
Normally, the public can't access Nellis for security reasons. Occasionally, people have been allowed through the base gates for major events, such as the Aviation Nation air show of years past.
The traffic transportation management plan were coordinated and approved by multiple agencies, including the Metropolitan Police Department, Clark County, the Nevada Department of Transportation and the Nevada Highway Patrol.
Representatives of Nellis' public affairs office were unaware of the transportation arrangements and wouldn't address base concerns Tuesday.
It's not the first time cabs have been routed through Nellis. Similar arrangements have been made for the event for the past two years and for some of the largest NASCAR races at the speedway.
This year's festival, which is sold out, is expected to draw the largest crowd in the history of the event. In past years, traffic has been extremely heavy on Inter­state 15 and on Las Vegas Boulevard North, which flank the speedway.
Organizers aren't specifying the route at the request of Nellis officials, but in previous years, cabs have taken Lake Mead Boulevard east to Hollywood Boulevard, north on Hollywood through the base gate, then northeast around the base runway to a gate on Las Vegas Boulevard at the speedway.
Base officials warned Insomniac they won't allow cabs to stop on the base for any reason and that cabs must adhere to speed limits and won't be allowed to pass slower traffic on the two-lane roads.
Cab company owners noted that the route through Nellis would constitute "legalized long-hauling" — the practice of taking a passenger on a longer route than necessary for a higher fare.
But it's also a classic example of how a longer route may be a better route. A cab driver familiar with the route said a trip to the speedway from the MGM Grand would take about 1½ hours with the traffic anticipated on I-15 and Las Vegas Boulevard. The longer route through the base would take about 45 minutes, the driver said.
"It's great community cooperation for a major event," said Charles Harvey, administrator of the Nevada Taxicab Authority.
Harvey said that in previous years Electric Daisy Carnival fans became frustrated with traffic on Las Vegas Boulevard and parked and walked from as far away as Craig Road.
"This plan should alleviate that from happening," Harvey said. "Officers at the gates will wave cabs through and there will be some checkpoints along the way to make sure they're following all the rules."
A cab fare from mid-Strip to the speedway normally costs around $50, but the longer route could bump that up to at least $60.
Other transportation companies also are capitalizing on providing transportation to the event.
Vegas Strip Transportation, collaborating with online concierge I Love Vegas, is offering 30-passenger shuttle bus service to the speedway from the Crazy Horse III Gentlemen's Club. The bus, which has a full bar, a 2,000-watt sound system, Wi-Fi, satellite TV, a PlayStation video game console, an onboard computer, refrigerator, freezer and restroom, will offer rides to the festival for $100 one way or $150 round trip.
The same company offers a 12-passenger limousine with custom pickup and drop-off options for $1,300 one way or $2,500 round trip.
Insomniac's Electric Daisy Carnival website also is promoting a helicopter shuttle to the festival on Maverick Helicopters. Festival flights run $500 one way, $800 round trip per seat. A seven-passenger helicopter can be chartered for $3,000 one way or $5,000 round trip.
Contact reporter Richard N. Velotta at rvelotta@reviewjournal.com or 702-477-3893. Follow him on Twitter @RickVelotta.