Finance company shuts down vehicles too soon, lawsuit alleges
September 16, 2014 - 2:57 pm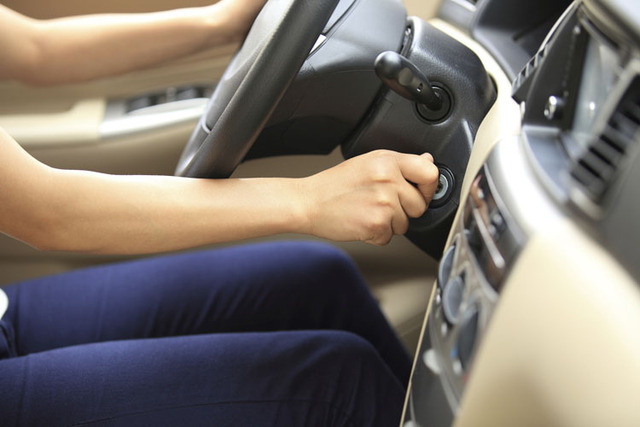 A financing company uses global positioning software to remotely shut down vehicles well before customers legally default on payments, according to a class action lawsuit filed by the Legal Aid Center of Southern Nevada.
The lawsuit filed last week in Clark County District Court against C.A.G. Acceptance LLC alleges that the company's use of Passtime Elite GPS system violates Nevada law. The lawsuit argues that the device should be used the same as if the vehicles were being repossessed.
But an executive with the Arizona-based defendant said the GPS system it uses complies with Nevada law.
John Pena, C.A.G.'s general manager, had not received a copy of the lawsuit. But he said his assistant addressed the Nevada Legislature on Passtime systems just last year.
The company, which operates in Nevada and Arizona, has used the devices for at least eight or nine years, and finances about 3,000 vehicles, Pena said. Each of the financed vehicles are equipped with what Pena called "a GPS starter interrupt system."
"I'm quite certain we're within our legal rights in the use of our Passtime system," Pena said.
The lawsuit centers on a single mother of two struggling to make car payments. She doesn't work because she must care for her youngest child, who is chronically ill with asthma and eczema.
In early September 2013, Mary Gibbs-Bolender bought a 2005 Chrysler Town &Country LX at Chapman Chrysler Jeep in Henderson.
The next month, after making her first payment, she moved and had to pay her daughter's medical expenses out of pocket, the lawsuit said, so she called the company and told them she couldn't pay the installment on time.
C.A.G. allowed her to make payments on the first of every month instead of the 21st.
Nevada law defines a default for nonpayment as "failure to make a payment later than 30 days past the due date."
After five months of payments, Gibbs-Bolender wrote a check that was "dishonored," and her minivan was disabled on March 11, which the lawsuit said was 20 days before the vehicle should have been shut down. Eventually, she had the vehicle reactivated, but the following month, she told the company she couldn't make the payment, and it deactivated her car on the 16th.
The lawsuit calls the issue "an intrastate controversy."
"This is one instance where technology is being used to harm those who are struggling to make ends meet," Dan Wulz, an attorney with the Legal Aid Center, said in a news release. "The danger of using this technology in this way is that it entirely ignores Nevada's laws about repossessions after default of payment. If the lender can't send someone out to repossess your vehicle after a default, why should they be able to press a button and disable it before the statutory time?"
Without specifics or pointing to the defendants of the lawsuit, the news release said the legal group knows of "other victims of this type of electronic repossession," including a case in which a woman's vehicle was shut down while she drove 60 mph on Interstate 15.
The system C.A.G. uses will not shut off a running vehicle, according to Pena.
"That would be irresponsible, and we simply don't do that," he said.
The system starts to beep the day payments are due, he said. There's an additional two-day grace period, during which the device continues to beep, and customers can punch in an emergency code to start the vehicle within the first five days of the payment being due.
Payments can be made by phone or online.
"As long as somebody is making their payments on time, they never have a problem," he said, adding that the company is "lenient with financing" to keep people driving. "I just have absolutely nothing to hide with the use of our systems."
Pena's company must know where the vehicles are located and have the ability to shut off engines, he said, "realizing a great many of the people we have financed have had credit difficulties in the past."
Pena said he was aware of Gibbs-Bolender but could not comment directly about her situation.
Contact reporter David Ferrara at dferrara@reviewjournal.com or 702-380-1039. Find him on Twitter: @randompoker.