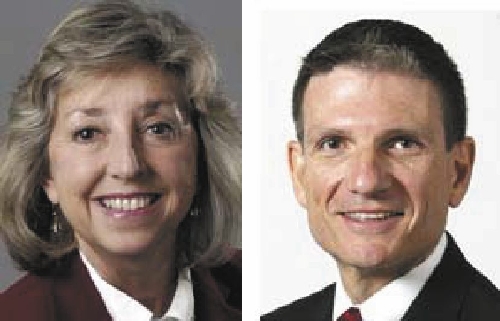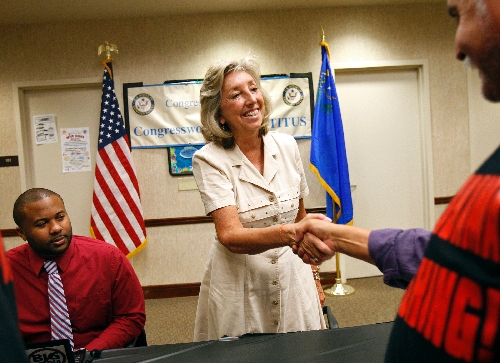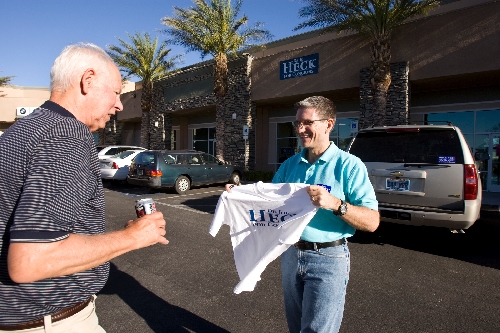 In the span of about five minutes on a recent Friday, Dina Titus' political life flashed before her eyes.
Moments after a speech on Nevada's housing crisis, a constituent approached the freshman Democratic congresswoman to say he was worried new federal home lending regulations would put his mortgage lending firm out of business.
"We would just hit the un­employment line," Vatche Saatdjian said, referring to restrictions on the controversial lending practice known as yield-spread premiums in the financial reform bill Congress passed earlier this summer.
"We all have families. We all have children," Saatdjian said.
A few minutes later, Titus was in her office listening to a couple on the verge of homelessness because of apparent shady lending and foreclosure assistance scams and a medical crisis. They asked for any help that could be available.
"I'm so scared to lose my house," said the 68-year-old woman, who asked that her name not be used in print because her family didn't know she had a serious medical condition.
She told Titus her story through tears as her husband, 73, sat nearby in silence.
It was a microcosm of the political crosswinds buffeting Titus as she tries to defend her seat in Congress from Republican challenger Joe Heck.
On one hand, many recession-weary voters aren't convinced that the $787 billion American Recovery and Reinvestment Act, the Patient Protection and Affordable Care Act, and Wall Street reform measures approved by the 111th Congress have done any good, especially considering the official unemployment rate in Nevada is around 15 percent.
They are fearful of the growing federal deficit and, like Saatdjian, worried that government intervention could do more harm than good.
Others, like the distraught couple, are desperate for relief from a recession that has crippled the local economy and are hopeful programs such as those backed by Titus and the administration of President Barack Obama can offer a safety net until the economy recovers.
They are looking for more government intervention and think Obama and Democrats in Congress haven't gone far enough to ensure that the little people, not just Wall Street and the rich, have an opportunity to join the embryonic economic recovery.
"People are angry. They are frustrated. I am too," Titus said in an interview after meeting the distressed home­owners. "I don't blame them one bit. I share their frustration."
Then there's Heck. The former state senator is a physician, small-business owner and Army reservist.
He is energetic, articulate and a considerably tougher target than, say, Sharron Angle, the hard-right Republican challenging Senate Majority Leader Harry Reid, D-Nev., in a race that is overshadowing the Heck-Titus contest.
"Heck doesn't come across as your standard-issue, scary right-winger," said David Wasserman, House editor of the Cook Political Report. "He comes across as a business guy and a doctor."
Add it all up and it amounts to one of the toughest races in the country for Democrats to defend in their effort to maintain control of Congress and one of the most important for Republicans to grab if they want to oust the party in power.
"It is an important seat to watch," said Nathan Gonzales of the Rothenberg Political Report. "This is a competitive district that can be a bellwether for the national political climate."
Incumbent digs in
The challenge has Titus digging in for a two-pronged approach.
She must defend her role in perpetuating controversial policies such as the health care bill, the economic stimulus and Wall Street reform.
"If you look at what pundits and scholars are all saying about this Congress or even this president, more has been done in a short amount of time since probably the New Deal, but at least since the Great Society," Titus said of the accomplishments. "The problem is it has been so fast and furious you haven't had time to stop and reflect on all the good things that are in these bills."
During the interview Titus stood behind her vote for the health care bill, but said she would have preferred an earlier version of the bill that included the so-called public option, a government-sponsored insurance program that would have competed with private providers.
But she saved her most enthusiastic policy defense for the stimulus, arguing that it has so far brought about $2 billion in spending to Nevada and saved millions of jobs around the country.
"The stimulus bill was absolutely necessary, and I would vote for that again," she said.
She cited a bonding provision operators of McCarran International Airport in Las Vegas relied on to finance construction of a third terminal building.
"Go shake hands out there at the airport, in the new terminal, 1,800 jobs. I stood out there and shook every one of those hands at a shift change," she said. "Ask those 1,800 if they're satisfied with the stimulus, because they wouldn't be working if it hadn't been for the bonding provisions in the recovery act."
She also emphasized her efforts to ensure foreclosure prevention assistance could be extended to homeowners who were up to 125 percent upside down with their mortgages, as opposed to the 105 percent limit the Obama administration originally proposed.
Titus said it was a move aimed at helping homeowners in her district, 70 percent of whom she said are upside down.
Her first campaign ad of the season highlighted her housing efforts by featuring homeowners her office helped stay in their houses.
"Every person who gets protected from a scam is a success," Titus said.
The second part of her campaign is to define Heck as too conservative for the district and in favor of unpopular ideas such as privatizing the Social Security program, charges Heck says are untrue.
"His positions are the same as Sharron Angle's, but people don't know that because there has not been any coverage of the race," Titus said.
a determined challenger
Although Titus is likely to spend millions of dollars executing her strategy, it doesn't appear to phase Heck.
He lost his last campaign for state Senate in 2008 by 765 votes to Democratic newcomer Shirley Breeden, who rode Obama's coattails and benefited from what many observers say were some misleading charges the state Democratic Party leveled at Heck.
Heck is determined not to let it happen again.
"They are trying to distract voters," he said of the early Titus attacks. "The fact is that Dina is afraid to talk about the issues and wants to distract attention from what is going on in Southern Nevada."
During a lengthy interview, Heck several times made a point to emphasize that his is a long-term, strategic approach to major issues, in contrast to what he characterizes as an effort by Titus and Democrats to paper over big problems with short-term, unsustainable government programs that are driving the deficit to dangerous levels.
Heck was adamant that his vision for Social Security, for example, would extend the life and effectiveness of the program.
In short, it calls for giving newcomers to the system the option of investing their share of Social Security how they see fit, while continuing to feed employer contributions into the existing system.
Heck bristles at the suggestion from Titus that he wants to privatize the program and disputes the logic critics use when they say someone who invested Social Security in the stock market before the recession would have lost much of their savings.
"But what if they had put it into gold? They'd be probably one of the most well-off retirees right now compared to anybody," Heck said. "You can put it into an FDIC-insured certificate of deposit and make a better return than you can on Social Security."
Heck's approach to the housing crisis and the economic issues contrast with Titus'.
In general, Heck is skeptical about direct government intervention and favors cutting taxes and creating a business environment he says will give employers the confidence to hire more workers.
That vision calls for keeping capital gains and estate taxes low by extending tax cuts from the administration of George W. Bush.
Heck said enacting his vision would create jobs that would lead to better health care, a more stable housing market and a stronger economy.
"If you look at all the other crises we are experiencing, and I think you can relate them to the fact we have the highest unemployment rate in the nation and people are out of work," Heck said. "This administration has dumped a lot of money to try and create jobs right away, and our unemployment rate continues to go up. That obviously does not work."
A close race, closely watched
Polls show voters in Congressional District 3 haven't decided whether they agree with Titus or Heck, leaving the two in a statistical tie.
Analysts say a tie actually represents an advantage for Heck, as undecided voters late in a race tend to break toward the challenger.
What's more, recent polling shows Titus has an unfavorable rating of 44 percent in Congressional District 3, slightly higher than the 42 percent of likely voters who view her favorably.
Heck's favorable/unfavorable ratio is 35/16, with 33 percent neutral and 16 percent of voters not recognizing him.
That leaves room for Titus to use her fundraising advantage to tilt the race back in her favor.
She had $1.2 million in campaign cash on hand, compared with Heck's $362,138, at the end of the most recent reporting period.
Outside groups are also weighing in, with the Republican and Democratic congressional campaign committees each putting the race near the top of their priority lists.
Wasserman said between Titus' high unfavorable rating and outside money pouring in, the incumbent funding advantage will be blunted.
"There is such a thing as diminishing returns," Wasserman said, noting broadcast time is limited and more voters have already formed negative opinions about Titus.
"As long as Heck can get up on the air and introduce himself it won't matter much."
Contact reporter Benjamin Spillman at
bspillman@review journal.com or 702-477-3861.