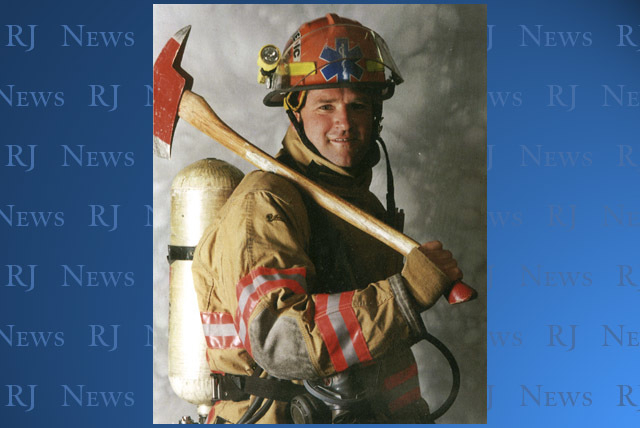 It was never about John; it was always about others.
For John DeLucchi's wife, Denise DeLucchi, that's how she'll always remember her husband.
DeLucchi, 54, a 23-year veteran of the Las Vegas Fire Department, died Oct. 19 from brain cancer.
He was a firefighter, paramedic and engineer during his time with the department, and helping others was something he loved doing.
"He loved being a firefighter," Denise DeLucchi said. "He was so excited to help people and he loved going to work every day."
DeLucchi was also an avid cook at station No. 6, at Torrey Pines Drive and Oakey Boulevard, and his "one-pot chicken" was his co-workers' favorite dish.
"He would get a big roasting pot and throw chicken thighs, drumsticks, vegetables and anything else from the refrigerator inside the pot and cook it," said Capt. Brian Gray. "He was a little bit of a clown at our station. He was just a character."
Denise DeLucchi said that when her husband was sick and wasn't able to work, his fellow firemen would joke and say, "John needs to get better so we can eat again."
Gray knew DeLucchi for 18 years, and the two worked together at the same station for the last decade. DeLucchi was always one for making jokes and having fun, but still took care of business.
"He was always reliable. He got the job done," Gray said. "He was very matter of fact. He always said there was only one way to do things and that was the right way."
DeLucchi was also a dedicated leader of the Boy Scouts of America for more than 20 years. Former Boy Scouts would visit him when they got older and thank him for everything he did for them.
"He was everybody's friend, and everybody wanted to be friends with him," Denise DeLucchi said. "He once saved three people's lives in one day and said it was the most exciting day of his life."
DeLucchi was an avid outdoorsman and spent time riding ATVs and camping with friends and family. Gray, who spent time with DeLucchi outside of work, said he was always about everybody else. He was a family man who spent a lot of time teaching his kids how to work with tools, cars and motorcycles.
Gray recalled several instances when DeLucchi would comfort children when their unit responded to a call.
"We'd be in a rough part of town and John would help the kids who had just gotten their bikes bumped by a car or they were hurt and he'd say to them, 'I know they make you kids tougher around these parts, you're going to be fine,' " Gray said. "I'm going to miss how he brought a light-hearted approach to everything."
"Everybody knew John and they loved him," Denise DeLucchi said. "He influenced a lot of people. He loved to help people, and that's why being a firefighter was the perfect job for him."
DeLucchi is survived by his mother, his wife, two sisters and his three children. A motorcade carrying his casket will drive from station No. 6 at 8:45 a.m. today to the Mormon Church at 10070 Azure Drive.
A U.S. flag will hang from two ladder trucks over Azure Drive as the motorcade nears the church.
Funeral services will be held at 10 a.m. before the motorcade transports DeLucchi to the cemetery, where a private service will be held.
Contact reporter Steven Slivka at sslivka@reviewjournal.com. Follow @StevenSlivka on Twitter.