Firefighter retirement enriched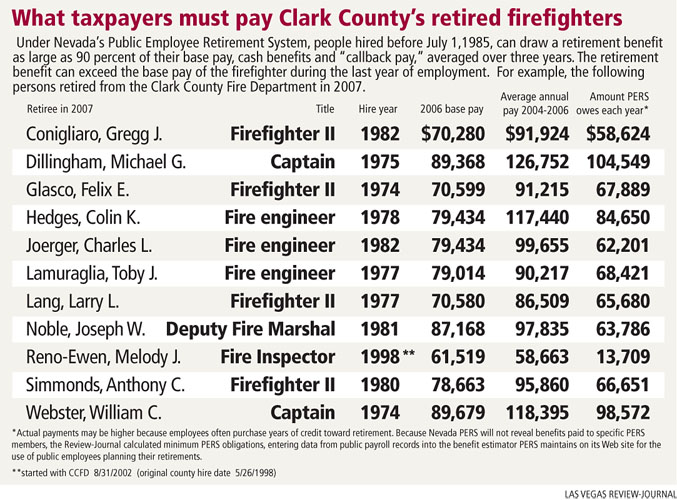 Clark County Fire Department employees routinely received extra pay, in the years immediately preceding their retirement, that will substantially increase their retirement pay, the Review-Journal discovered in an analysis of department payroll records.
The practice called "spiking" has been reported in other public agencies as well and was the root reason for certain reforms to the Nevada Public Employee Retirement System passed by the 2009 Legislature. Spiking is also thought to be an important reason for the PERS system's unfunded liability, reported at $7.2 billion.
To dent that deficit, county contributions to PERS in the first pay period in July will increase from 33.5 percent to match 37 percent of a firefighter's or police officer's earnings, and from 20.5 to 21.5 percent for all other employees. Some public employees pay part of the contribution themselves, but Clark County firefighters and others have collective bargaining agreements under which employers pay all.
PERS contributions for employees in the Fire Department were $21.2 million in calendar year 2008; the projection for calendar year 2009, with increased contribution rates, is $23.2 million, according to Don Burnette, Clark County's chief administrative officer.
State Senate Bill 427, passed in the last days of the 2009 Legislature, set a 10 percent limit per year on increases in PERS-eligible compensation during an employee's last five years of employment.
"The limits are not on how much an employee can be paid, but on how much is considered in the PERS calculation," said Steve Hill, chairman of the Las Vegas Chamber of Commerce and one of the advocates who fought for the bill. "The purpose of the limit was to eliminate the possibility that the system could be manipulated to increase retirement benefits.
"We did no research to determine how often that manipulation takes place but were told by a variety of sources that it does. It came up often enough in discussion, with those who should know, that we feel it happens on some kind of regular basis."
Officers of the firefighters union, Local 1908 of the International Association of Fire Fighters (IAFF), did not respond to e-mail and phone messages asking for an interview on the subject.
PERS payments to employees are calculated according to the highest 36 months of pay during the years when an employee worked for a PERS member agency. The last 36 months usually are also the highest-paid.
Besides base pay of salary, paid vacation and paid sick leave, other forms of pay have been considered in the calculation, such as "premium pay" for specialized training, and especially "callback pay," for returning to duty on short notice.
"Those things make spiking mostly a police and fire issue," Hill said. "There are many ways to increase your pay if you're a policeman or a fireman, and not nearly so many if you're a teacher or an accountant."
The chamber proposed changing the law to consider only an employee's base pay in calculating retirement pay and over the last five years of employment instead of the present three years of highest pay. A compromise retained the three-year calculation basis but added the 10 percent-per-year speed limit on PERS-eligible wage increases over the last five years. Callback pay will be eliminated from calculations; overtime pay was eliminated years ago.
The fiscal effect of the changes will be felt gradually, however, because they apply only to employees hired after Jan. 1.
Studying the databases of four Southern Nevada fire departments showed spiking is no myth. It was most pronounced in the Clark County department, present in the Las Vegas department, and undetectable or absent from the Henderson and North Las Vegas departments.
As might be expected, the base pay of employees in all four departments tended to be greatest during the three years preceding retirement.
But in the Clark County department, other forms of pay, which are used to calculate an employee's retirement benefit, were given to the soon-to-retire more generously than to other employees.
To measure that trend separately from the normally greater salaries of more experienced, longer-term employees, the Review-Journal compared PERS-eligible payments as a percentage over base pay for all employees in the four fire departments.
In a few cases, an employee's PERS-eligible pay consisted entirely of base pay. But the median PERS-eligible pay in 2006 was 19 percent higher than base pay for employees in the Clark County department. And for those who would retire the next year, the median was 27 percent higher.
The larger share of PERS-eligible pay also translates into larger paychecks.
One of the 2007 retirees who received that median 27 percent additional PERS-eligible income made $5,578 more that year than if his PERS-eligible pay had been only 19 percent greater than base pay, the median of all employees. His job description was firefighter II, and his total pay was $99,187, of which only $70,580 was base pay consisting of wages, vacation, sick time and holidays.
The higher proportion of PERS-eligible pay in his check meant that Clark County also paid extra money to the Public Employee Retirement System. Because the contribution rate changed mid-year from 32 percent to 33.5 percent and records provided to the Review-Journal don't show how much the firefighter earned in each half of the year, it isn't possible to calculate exactly how much more. But assuming the extra earnings were evenly distributed through the year, the county's PERS contribution for the individual would be $29,334. If his PERS-eligible earnings hadn't spiked, the county would have paid $1,827 less.
Calculating the effect on his lifelong retirement benefits also would require data unavailable to the Review-Journal, but they will be higher also.
The ratio of PERS-eligble pay for the 2007 retirees to other employees was also higher in other years approaching their retirement. In 2005, the ratio of medians stood at 29/19 percent over base salary; in 2004, 24/19; in 2003, 21/19; in 2002, 21/17.
A preretirement pay "spike" doesn't imply manipulation by managers; it is virtually automatic under the terms of the county's contract with Fire Fighters Local 1908.
Aside from the base pay, the most significant element in PERS expense appeared to be longevity pay. Upon completing the fifth year of service, a Fire Department employee is contractually entitled to a lump sum payment of 2.85 percent of his previous 12 months pay for everything else. Thereafter, the employee gets 0.57 of one percent for each year of employment.
But the increasing percentage is applied to a figure that itself increases rapidly — gross pay, which includes overtime, otherwise ineligible for inclusion in retirement calculations. Gross pay includes premium pay for special training, and other categories that themselves tend to loom larger in an employee's paycheck as he serves longer with the department. So longevity pay becomes not only an increasing employee cost, but an increasingly high percentage of that eligible for matching payments to PERS.
Thus, for the average employee in 2006, the median longevity pay was $6,449, and the median percentage of PERS-eligible income was 7.2 percent. But for those who would retire the next year, the median longevity pay was $13,886, and it constituted at least 12 percent of PERS-eligible pay for most of them; the median was 13.5 percent.
The next most significant is callback pay, for returning to duty after going off shift. Callback differs from ordinary overtime in its fiscal impacts. Both are paid at time-and-a-half, but ordinary overtime has not been counted for years in determining an employee's highest 36 months of pay, nor does a PERS-participating entity have to pay a matching percentage into PERS. In the Clark County Fire Department, an employee who had less than 12 hours prior notice to return to work is paid callback rather than overtime.
Battalion chiefs are supposed to assign both overtime and callback to employees based upon lists of those who have volunteered to work extra hours. Within those lists, seniority is one of the preferred considerations, which tends to concentrate callback pay in the paychecks of employees who will soon retire.
Clark County paid $16.4 million in overtime to Fire Department employees in 2007, the last year of data available when the Review-Journal began its analysis. It spent $3.7 million in callback pay, but because the later figure had to be matched at the rate of 33.5 percent to PERS, Clark County owed PERS an additional $1.2 million. The total it paid PERS for all Clark County Fire Department employees was $19.8 million, Burnette said.
Callback made up 5.3 percent of all PERS-eligible pay for CCFD employees in 2007, but the seniority rules make both callback pay and overtime much more important in the paychecks of senior employees.
County records show that one of the employees who retired in 2007, a fire engineer named Colin K. Hedges, made $28,019 in callback pay in 2006, and $29,873 in conventional overtime. The two together constituted nearly 35 percent of his $165,690 pay for the year. The callback pay alone was 17 percent of his income, and about 21 percent of his PERS-eligible income. During the last three complete years of employment, his PERS-eligible pay ranged from 35 percent to 46 percent over his base.
Plugging his 29 years of county employment into the PERS Web site benefits calculator, he seems to have won a retirement benefit of about $84,650 a year, for a job which offered less base pay — $79,434 — in 2006, the last full year he had it.
Capt. Michael G. Dillingham made $16,254 on callback shifts in 2006, but only $1,848 in conventional overtime, in total pay of $133,889. The callback was 12 percent of his PERS-eligible income and about 12 percent of his total. In the last three calendar years before his retirement in 2007, his PERS-eligible income ranged from 35 to 55 percent higher than his base pay. The PERS calculator says the former captain will get about $104,549 a year for retiring from a job that paid a salary of $89,368 in the last full year he worked it.
The Review-Journal was unable to reach either man for comment.
County Comptroller Ed Finger said PERS personnel routinely audit an employee's reported pay records, "if there is callback pay in the high 36 months," and added that the Fire Department has been careful to make sure that all pay labeled as callback actually met the agreed-upon definitions.
Despite new limits on the circumstances under which callback is counted toward retirement benefits, their fiscal effect will come very slowly.
A year-old statewide rule says callback is PERS-compensable only in cases of emergencies declared by the jurisdiction's governing body. In Clark County's case, that is the County Commission or the county manager. However, the rule applies only to those hired after July 1, 2008. Nearly 700 Fire Department employees hired before that date will get retirement incomes based on the old rules.
Similarly, the recent elimination of callback entirely from the PERS calculations will apply only to those hired after Jan. 1.
Dana Bilyeu, executive officer of PERS of Nevada, explained, "That is deemed to be a benefit change, so under the contract clause of both the state and federal constitutions, that kind of change can only be done prospectively, and there is case law all over the country saying that."
The higher concentration of PERS-eligible pay for soon-to-retire employees also was found in the Las Vegas Fire Department, but not every year. Only 11 employees retired in 2007. In 2006, their median PERS-eligible payment was 11.2 percent higher than their base pay, compared to 10.5 percent higher for the entire department. But in 2005 the extra payments were slightly in favor of average joes, who had a median 12 percent higher than base compared to 11 percent for the soon-to-retire.
Part of the difference in county and city rates of PERS-eligible pay might lie in the contract differences. In the city contract, for instance, longevity was calculated upon base pay only, and was not inflated by overtime or incentives as it was in the county.
In Henderson, employees who retired in 2006 earned PERS-eligible income at about the same rate as everybody else in the Fire Department. In 2005 the median was about 97 percent of base income. In 2004, it was about 1 percent higher than the base. In 2003, most employees did a little better than the pending 2006 retirees; the department-wide median was 2 percent higher than the base, while the short-timers median was about equivalent to their base. The Henderson department's PERS-eligible pay proportions work out lower than other jurisdictions because Henderson no longer makes a PERS contribution for holiday pay, according to a city spokesman. Also, few Henderson employees get longevity pay, which was dropped from their contract in 1984. And callback pay does not gravitate to the senior employees.
"Any time we saw anything that indicated anyone was trying to artificially spike their PERS through creating callback situations, we work very closely with the union leadership to make sure our policies would not allow for that," said Doug Stevens, chief of the Henderson Fire Department.
"We have a system whose goal is fair and equitable distribution of callback and overtime."
Department members who wish to work extra hours sign up to do so, and a running total of how much each has worked is kept. Those who have worked the fewest extra hours have the first choice of whether to work more.
The North Las Vegas Fire Department had too few retirees in the study years to calculate and compare meaningful median rates.
Anyone who wants to read the county's fire contract must make special efforts. The contract contains a special clause, added in the last negotiations with the county in 2007, stating that the county may not place the collective bargaining agreement "in whole or in part on any Web site," as is frequently done with other public documents. It also states, "The Union and County agree that the only way the public shall obtain a copy of this collective bargaining agreement is a request in writing to the Union or the County." The latter clause seems counter to Nevada's open records law, which says anyone may inspect or copy a public document by simply asking to do so during business hours.
The clause is not binding on others who did not sign the contract, so it is available to read on the Review-Journal Web site, at www.lvrj.com/fire_contract.
This version is marked to indicate new language included when the contract was approved by a 6-0 vote of the County Commission in February 2007, and includes the cover documents the commissioners received at the time.
Those who voted for it were commissioners Susan Brager, Tom Collins, Yvonne Atkinson Gates, Chris Giunchigliani, Rory Reid and Bruce Woodbury. Absent that day was Commissioner Chip Maxfield.
The pact expires June 30.
Contact A.D. Hopkins at adhopkins @reviewjournal.com or 702-383-0270.
Firefighters' contract