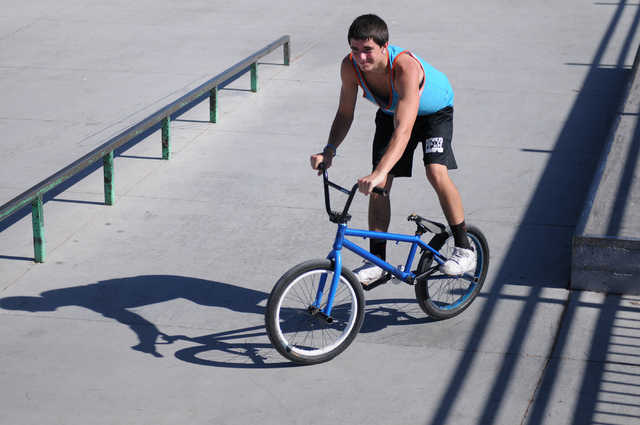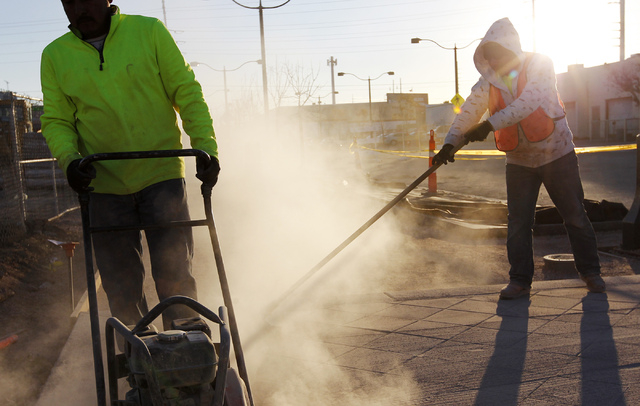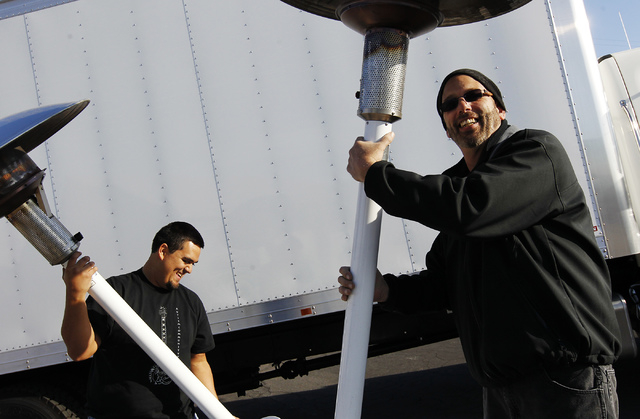 It's beginning to look a lot like Christmas in the Las Vegas Valley, as cold weather will continue through the weekend with chances of snow flurries, rain and freezing temperatures.
Time will tell whether the weather will bring a winter-wonderland feel to the several holiday events happening around the valley this weekend.
Meteorologist Clay Morgan, with the National Weather Service's Las Vegas office, said there is an advisory in effect about winter weather conditions at elevations above 3,000 feet, such as the Summerlin and Red Rock areas.
Residents, be warned: Temperatures are expected to be in the 30s this morning, and the afternoon might see some precipitation from rain mixed with snow flurries. Morgan said it will get colder but "not enough for any snow to stick" for long.
"We're concerned more about Sunday and beyond," he said. "There could be some hard freezes."
Morgan said blustery winds should not be a problem, and he forecasts "just a little bit of a breeze, enough to make it feel colder."
"It's going to be cold, but the record (low temperatures) will be pretty hard to beat," he said.
In the Spring Mountains, 2-4 inches of snow are expected to fall, and it definitely will be cold enough to stick.
Despite the weather today, about 10,000 people are expected to don their gay apparel and participate in Opportunity Village's annual fundraiser, the Las Vegas Great Santa Run.
"We're on, rain or shine," Opportunity Village spokesman Crystal Kovacs said.
The Santa Run starts at 8 a.m. with entertainment by Jabbawockeez, Jeff Leibow of "Jersey Boys" and Opportunity Village's all-Elvis dance troupe, OV Elvi, at the Third Street Stage at the Fremont Street.
Shania Twain is set to be the grand marshal for the event and will lead her own team with rewards for beefy donations.
The fun run starts around 10 a.m. Adults can join in the jollies for $50 at the event, $35 for children.
"We'll be a little bit chilly, but once people start running, they'll warm up," Kovacs said.
The Lake Mead National Recreation Area headquarters will distribute marshmallows, graham crackers and chocolate for a campfire s'more roast, from 4-7 p.m. today. The event features Smokey Bear, Puddle the Blue Goose and Mojave Max.
The annual Lake Mead Boat Owner's Association's Parade of Lights is from 6:30-9 p.m.
About 50 boats decked with lights and holiday decorations will depart from Las Vegas Boat Harbor and Lake Mead Marina and travel toward Boulder Beach, which is the best place to watch the parade.
Sunset Park will be showing off its two-year, $11.7 million renovation during the Sunset Wonderland Holiday Festival until Dec. 22.
The festival offers an ice skating rink, holiday crafts and activities, horse-and-buggy hay rides around the lake, holiday performances from local youth groups, a Ferris wheel and pictures with Santa.
Sunset Wonderland is open weekdays from 4-9 p.m. and 10 a.m. to 9 p.m. on Saturdays and Sundays. Admission is free, but the 45-minute ice-skating sessions cost $8, including skate rentals.
Sessions start every hour on the hour, and tickets can be purchased at Ticketmaster or at the Sunset Park Reservations Office on the northeast side of the lake.
Contact reporter Wesley Juhl at wjuhl@reviewjournal.com (702) 742-3016. Follow him on Twitter @WesJuhl.