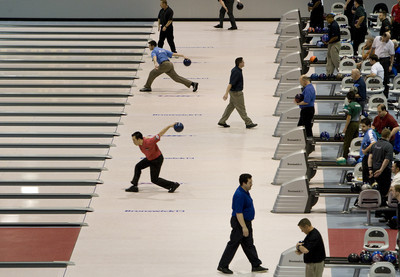 It took about 45 days to build the newest bowling center in Southern Nevada, a state-of-the-art facility that features grandstands and a 400-foot-long LED video scoreboard.
It's a bowling palace worth approximately $10 million … and one that will be torn down in a little over five months.
Not since the days of the legendary Showboat has a bowling emporium been so notable in Las Vegas, a city most industry experts consider to be the bowling capital of the country, if not the world.
And that was before the first of more than 85,000 bowlers from every state and several countries began arriving this week to compete for a $7 million prize fund in the 106th annual U.S. Bowling Congress Open Championships in the temporary 60-lane facility that has been built inside the cavernous Cashman Center.
It's a much-anticipated return of the Open to Las Vegas, which hosted it in 1986. That time around, about 60,000 bowlers competed.
"I went to Billings, Mont., eight years ago in the dead of winter with two showgirls to make our pitch to get it back in Las Vegas," Las Vegas Events president Pat Christenson said of venturing to the site of the 2002 Championships.
Christenson was convincing. The USBC, the sport's official governing body, signed on that year to send the event back to Las Vegas for 2009.
"This event could not have come to Las Vegas at a better time," Christenson said of the area's lagging economy.
For 154 consecutive days beginning Feb. 21, from 7 a.m. to 2 a.m. daily, a total of 700,000 games will be bowled in what had been a vacant Cashman exhibition hall.
A construction crew of 40, led by Las Vegan Lou Trunk, began creating the bowling venue on Dec. 15. They completed the project on Feb. 1.
The Open will feature bowlers with skill levels ranging from those with a 100 average to the sport's elite. Once a men's-only tournament, in 1994 the event began including women, who now account for 17 percent of the field.
Most of the country's 2.4 million USBC-league bowlers, let alone non-bowlers, don't appreciate the sanctity of the annual event. It is the world's biggest participatory sports event and is older than the Indianapolis 500 and the World Series. Debuting in 1901, the tournament is even four years older than Las Vegas.
The tournament only missed 1943-45, during World War II, since its inaugural event drew about 200 players to a six-lane Chicago bowling alley.
This year's number of lanes and tournament duration are event records for the Open, known as the ABC Tournament until 2006.
The country will get a preview of bowling at Cashman on Sunday when ESPN telecasts the championship round of the USBC Masters, an adjunct event considered one of four major annual tournaments affiliated with the Professional Bowlers Association.
The four finalists for the televised finals will be determined tonight, and the public is invited to Cashman for Bowlfest grand opening festivities at 5 p.m. Saturday. Festivities will include an autograph session with top professionals, trick-shot exhibitions and other activities.
For Las Vegas businesses, especially those downtown, the Open will be like rolling a perfect 300 game under very tough lane conditions.
The event is expected to attract 240,000 visitors before its July 24 conclusion. Those visitors will generate more than $100 million of economic impact, USBC officials say.
Cities bid to host the championships, which every three years is at Reno's National Bowling Stadium and moves around the country other years. Its only previous run in Las Vegas was one of the first major events at the then-year-old Cashman Center.
Las Vegas Events' winning bid in 2002 required it to pay the USBC $1 million and provide use of Cashman for free.
The USBC, which will profit from the event, incurred the cost for temporary structures inside Cashman, and the cost of installing — and later removing — lanes, ball returns and automatic pinsetters provided by Brunswick.
The financial commitment by LVE, which operates to attract events to Southern Nevada under a grant from the Las Vegas Convention and Visitors Authority, seems to have been a prudent investment.
The average stay for bowlers and those accompanying them to previous events has been 3.5 days, according to the USBC, but that could go higher for a tourist destination such as Las Vegas. Host cities in addition to Reno over the past four years included Albuquerque, N.M., Corpus Christi, Texas, and Baton Rouge, La. None would be considered a major tourist destination.
"I know many bowlers around the country who are using the tournament as a vacation with their families," said Mike Coffman, who oversees bowling operations for centers owned by Boyd Gaming.
The 17,200 teams of five players each who entered this year's tournament is second only to the 17,285 who took part in Reno in 1995, the year the city's permanent bowling stadium opened. Last year in Albuquerque, 12,615 teams competed.
Kevin Dornberger, USBC interim chief operating officer, is ecstatic over this year's interest, especially with the country's economic woes.
"Bowling is an activity that isn't terribly expensive and it takes people back to simpler times," said Dornberger, 60, a 200-average bowler and former bank executive who will compete in his 34th Open in May.
"The timing is great for us to have the championships in Las Vegas. Had this year's tournament been in Syracuse, N.Y., would we have these numbers? Heck, no."
The Syracuse event drew 9,912 teams in 1999.
Dornberger added, "From the financial numbers I've seen, we'd love to come to Las Vegas again."
"This (event) comes at a really opportune time the way the economy has been," said Dan Stark, vice president of corporate marketing for Boyd Gaming, which owns seven Las Vegas resorts, including four with bowling centers. "All of our downtown properties are close to Cashman, and they will be positively affected."
The event is like a nonstop run of conventions for Las Vegas with 1,000 people attending each day but with a new group arriving every three or four days with full pockets.
"And they're not coming to work. They're here for fun and will only be at Cashman three or four hours a day," said Golden Nugget spokesman Justin McVay.
The Open is the high point of the season for thousands of bowlers, such as 81-year-old Anthony Malone of Erie, Pa., who is scheduled to compete for the 60th year. Two bowlers have competed 71 times, and Malone will become the 10th to enter the 60-year club.
Twenty-nine Southern Nevada residents have bowled in the tournament at least 25 years, and 23 of them — including Boulder City's Glen B. Olson, who will roll in his 52nd Open — are entered over the next five months.
Although Bud Horn, 71, of North Las Vegas, maintains a 210 average at Sam's Town, he no longer competes in tournaments but plans to attend Saturday's opening festivities.
In 1961, Horn became the first in the Masters division to roll a 300 game — he also was perfect in 1976 Classic competition — and he shares a record with the late PBA great Jim Godman for totaling at least 1,800 pins for six games of all events in 11 consecutive tournaments.
"I always looked forward to (the Open); all the pomp and ceremony and the auditorium setting," said Horn, who moved here in 1992 to manage the Santa Fe bowling center in northwest Las Vegas.
"When you're in that setting, I always said you actually feel like you're competing in a sport because you're bowling in a stadium with people sitting in grandstands watching you."
Horn plans to spend a lot of time at Cashman over the next few months. The USBC Hall of Fame member will visit with friends he hasn't seen for a while, such as the legendary Glenn Allison, who rolled a perfect 900 three-game series in 1982.
"We traveled together when we were on the (PBA) Tour and put a lot of miles under us," Horn said of Allison, who is scheduled to bowl in his 58th Open on March 21.
As most of the participants will say, the Open Championships is more than a tournament, a vacation getaway for bowlers and an economic boon for downtown.
It's about bowling memories, and everyone — all 85,000 of them — has at least one story to tell.
Visit lvrj.com/bowling for regular coverage of Southern Nevada bowling, including the U.S. Bowling Congress Open. Contact reporter Jeff Wolf at jwolf@ reviewjournal.com or 702-383-0247.
WHAT IS THE USBC?
The United States Bowling Congress launched in 2005 as an organization to serve amateur adult and youth bowlers. It resulted from the merger of the American Bowling Congress for men, Women's International Bowling Congress, Young American Bowling Alliance and USA Bowling. It is the national governing body for bowling as recognized by the U.S. Olympic Committee. The USBC has more than 2.6 million members and his based in Arlington, Texas.