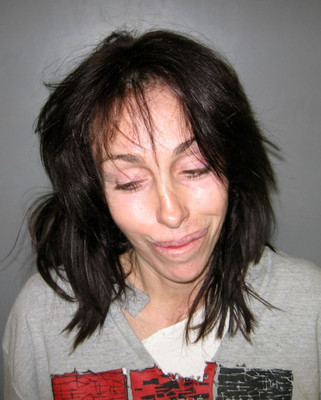 A trip to a plumbing supply store in Pahrump briefly landed the one-time "Hollywood Madam" back in lockup Thursday morning.
Heidi Fleiss, 42, was arrested on charges of driving under the influence and without a license. She also was booked into the Nye County jail for possession of "dangerous drugs" without a prescription.
John Owen, 53, a passenger in Fleiss' sport utility vehicle, was charged with possession of less than 1 ounce of marijuana and being under the influence of a controlled substance.
"He's my plumber," Fleiss explained when reached by phone at her home in Pahrump on Thursday afternoon. "I don't even know his last name."
Fleiss said she hired Owen to help her remodel her bathroom. She was parked in the lot of the plumbing supply store, waiting for Owen to come out, when a sheriff's deputy knocked on her window.
Fleiss said the prescription painkillers tumbled out of her purse as she was searching in vain for her driver's license.
"It couldn't have been more aggravating," she said. "It was an aggravating day."
Nye County sheriff's deputies responded at 9:23 a.m. to a report of a possible drunk driver near Emery Street and Oxbow Avenue in central Pahrump.
Fleiss denied being impaired. She might have swerved her vehicle when she dropped her cell phone, she said, but she passed the field sobriety test with flying colors.
"Big deal, I've got Vicodin without a prescription handy," she said. "I make no apologies. If I want a Vicodin, I'm having a Vicodin."
Fleiss said she took one of the pills about an hour before she was stopped by police because she was sore from all the remodeling work she has been doing around the house.
"I'm 42 years old. I'm not 21," she said. "Every bone in my body is sore."
Fleiss insisted she has a prescription for the medication, which she got about a year ago "from the dentist or something."
She said she doesn't keep her pills in the bottle from the pharmacy because she shares her home with two dozen parrots that easily can bite through the plastic.
Nye County Sheriff Tony DeMeo said the six pills confiscated from Fleiss would be tested to identify them.
But Fleiss hinted that Vicodin might not be the only thing to turn up in the blood sample authorities took from her Thursday.
She said she was in Los Angeles on Wednesday for a court date on a civil case she is involved in. She was "pissed off" that the judge wouldn't listen to her, so after the hearing she went to a girlfriend's house to "party and do some bad stuff."
Fleiss wouldn't say what "bad stuff" she did.
"Well, I don't do heroin," she said. "I don't drink. I haven't had a drink in years."
She added, "I don't care what it (the blood test) shows."
Fleiss was released about noon after paying $1,376 bail. She returned to the jailhouse a short time later to bail out Owen, which cost her $1,264.
"I'm not going to just leave him in there," she said. "What kind of person would do that?"
Fleiss earned her nickname in the early 1990s, when she ran a high-priced ring of call girls in Hollywood. Then she got busted and was sent to prison, becoming a bigger celebrity than some of her clients.
She made headlines again in late 2005 when she moved to Nye County and announced plans for a brothel for women called Heidi's Stud Farm in the tiny town of Crystal, about 20 miles north of Pahrump.
Those plans have yet to materialize, but Fleiss did open a laundromat last year in Pahrump, a town of 39,000 about 60 miles west of Las Vegas. The business, across the highway from where she was arrested Thursday, is called Dirty Laundry.
Fleiss said her only regret is how she looks in her mug shot. She said she hadn't showered and her clothes were covered with bathroom grout and bird droppings.
Before Fleiss can open a brothel in Nye County, she will need the approval of the county's liquor and licensing board.
DeMeo, who serves on that panel, said he couldn't comment on whether Fleiss' arrest might hurt her chances of getting a brothel license, should she ever apply for one.
He did say that the incident "would be taken into consideration" along with everything else that comes up during a background check or is already a matter of public record.
"Remember, everybody's innocent until proven guilty," DeMeo said.
For her part, Fleiss said she doesn't care if Thursday's arrest keeps her from getting a brothel license. "All I care about is that I can never be kept away from my birds."
Review-Journal writer Scott Wyland contributed to this report. Contact reporter Henry Brean at hbrean@reviewjournal.com or (702) 383-0350.