Flowers purchases old Hughes house
September 23, 2010 - 11:00 pm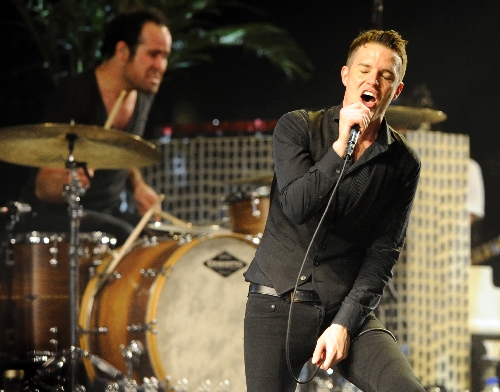 Neighbors along upscale Pinto Lane are buzzing over the new arrivals in Andre Agassi's former residence.
No one's confirming it, but the word on the street is that the new owner is rocker Brandon Flowers, frontman of The Killers.
The property was sold for $3.99 million, with an April 30 closing. The buyer is listed as Banana Split Spendthrift Trust.
Besides Agassi, who lived there when fellow tennis great Steffi Graf joined him in Las Vegas in 1999, other owners of the property have been former Mayor Jan Jones, developer Irwin Molasky and more recently, his stepson Robert Frey, founder of Pure Management Group.
The residence has been known in the real estate community as the Howard Hughes house, who reportedly owned it while he lived in seclusion in the Desert Inn.
Flowers and his wife, Tanya, are expecting their third child. Rumors flew earlier this year that The Killers were breaking up because Flowers released a solo album, "Flamingo."
But, according to reports, Flowers is taking a year's hiatus from The Killers. He's been touring with a new band and backup singers.
NEWTON: 'ZERO DEBT'
Wayne Newton says his prayers have been answered: "We owe nothing at all to absolutely anybody."
"I had always prayed for the day that happens, and it finally did … zero debt," he told KSNV-TV, Channel 3, entertainment reporter Alicia Jacobs in an interview that's airing through the weekend.
"I had so many bogus lawsuits against me, I had no idea now many," he said. "My business manager at the time told me there were two people suing me. Turned out to be 42.
"Although it was sad, the only way to stop it was to file for Chapter 11," he said, adding that he settled $28 million in lawsuits for just $400,000.
The mistake attorneys made, Newton said, was thinking if they got enough publicity through the press, "he's gotta settle with us. What they don't know is I'm not a very good settler."
MAY I RECOMMEND …
Move aside summer. Fall has officially arrived at Bellagio. The annual fall display was unveiled at the Conservatory & Botanical Gardens in the past week.
The firsts include three "fantasy" trees, each weighing 3,300 pounds. It's free and runs through Nov. 27.
THE SCENE AND HEARD
Another trip to the hospital forced Frank Marino to postpone his 25th anniversary celebration Thursday at "Divas Las Vegas" at Imperial Palace. He was rushed to a Las Vegas hospital about 4 a.m. Wednesday, reportedly with complications from his gall bladder surgery two weeks ago.
SIGHTINGS
Skateboarder Rob Dyrdek, buying a gold bracelet and a cigarette lighter at the Gold & Silver Pawn Shop on Friday, while hanging out with Chumlee of the History Channel's hit show "Pawn Stars."
THE PUNCH LINE
"According to experts, the recession is over. Is it really over or is it just pulling a Leno?" — David Letterman
Norm Clarke can be reached at (702) 383-0244 or norm@reviewjournal.com. Find additional sightings and more online at www.normclarke.com.