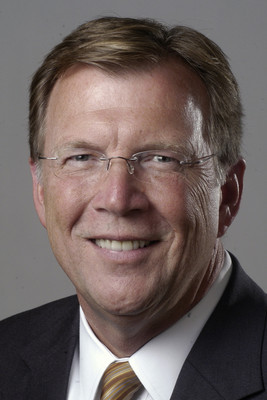 Republican Rep. Jon Porter went on the attack Wednesday, starting a television ad that paints his Democratic challenger, state Sen. Dina Titus, as "a self-serving politician Nevada can't trust."
The first negative ad in what's expected to be a hard-fought battle for the 3rd Congressional District takes Titus to task for her votes to increase taxes and lawmakers' pensions.
"Dina Titus: a public service record that looks like, well, self-service," a male narrator intones as suspense-movie strings play in the background of the 30-second commercial. "With Nevada families struggling, she voted to triple her government-funded pension."
That claim refers to the battle nearly 20 years ago over pensions for state legislators. Titus voted for the 1989 measure that would have increased legislative pensions from $25 a month per year of service to $100 a month — quadruple the original amount.
Titus' campaign called the ad misleading because she would not have benefited from the increase at the time she voted for it. She was a freshman legislator in the 1989 session, and the pension is only available to lawmakers who have served at least 10 years.
But "she voted for a 300 percent pension increase that would eventually apply to her," Porter spokesman Matt Leffingwell countered.
The pension raise, which Titus and other lawmakers overrode a gubernatorial veto to enact, provoked a furor at the time and ended many lawmakers' careers. The increase was repealed in November 1989.
Porter's new ad goes on to paint Titus as a tax hiker for her support of 2003's tax package, the largest increase in state history, and "a job-killing payroll tax on small businesses," which was approved in 1991.
Titus spokesman Andrew Stoddard called the ad "misleading" and out of date.
"Jon Porter continues to focus on things that happened nearly 15 to 20 years ago to distract from his record in Congress over the last six years as a rubber stamp for President Bush," Stoddard said.
Both candidates began airing ads last week, with Titus in a folksy spot that features her mother and Porter in a commercial touting his involvement in the early stages of development of Boulder City's solar electricity plant.
Porter, a former Boulder City mayor and City Council member, was in the state Senate before being elected to the newly created congressional seat in 2002. He is seeking a fourth term.
Porter's campaign said the ad will continue to air today. Both presidential campaigns and the Titus campaign have put their ads on a one-day hiatus to observe the anniversary of the terrorist attacks of Sept. 11, 2001.
Titus, a political science professor and 20-year state senator, was the Democrats' unsuccessful nominee for governor in 2006 and weathered many of the same attacks Porter now is using, noted College of Southern Nevada political science professor Mark Peplowski.
Titus' 2006 Democratic primary opponent, Henderson Mayor Jim Gibson, took a similar line on the pension vote with an ad that asked, "With all this going on, how can she possibly represent you?"
And her general election opponent, Gov. Jim Gibbons, branded her "Dina Taxes" as he sought to depict her as a serial tax hiker.
Peplowski pointed out that the ad contains a non sequitur: Titus' votes to raise taxes have nothing to do with the contention that she is a "self-serving politician," since she also would have been subject to any taxes she levied. "That part of the ad is extremely disingenuous," he said.
Peplowski said the ad's claim that Titus voted to increase her own benefits is a fair one, since "she would have benefited as long as she continued to serve." But he wondered whether the attacks would get much traction when most voters in Southern Nevada have heard them before and supported Titus despite them.
Although she lost the governor's race statewide, Titus beat Gibbons in Clark County and in the 3rd Congressional District, which includes mostly suburban and rural areas of Clark County.
"There isn't anything really enlightening about this ad," Peplowski said. "It's old news, and Dina rather successfully parried it last time."
Contact reporter Molly Ball at mball@reviewjournal.com or 702-387-2919.